Top three Spain nudist beaches or "Playas Naturistas"
In 1979, Costa Natura near Estepona on the Costa del Sol – Spain's first ever nudist beach – was officially opened. Since then nudity has been practised with a vengeance, perhaps as an act of rebellion against a repressive society led by a dictator, which the people of Spain had to conform to for many years. Today there are more nudist beaches in Spain per kilometre of coastline than in any other country in the world and naturists find themselves very well catered for in all areas of the coast.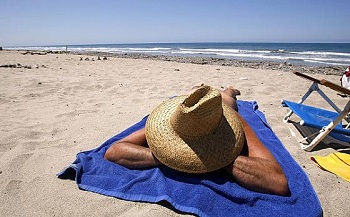 Here are our top three naturist beaches OR 'playas naturistas' in Spain:
Vera Playa Natura, Almeria
Vera Playa Natura in Almeria is one of the most famous nudist sites in Europe and has the largest concentration of naturist accommodation and facilities in Spain. With the Costa de Almeria's dry and hot climate, this three-kilometre stretch of coastline, designated for being in the buff, makes it a naturist's paradise and consequently attracts thousands of tourists each year from all over Europe and beyond.
Lake Negratin, Cuevas del Campo, Granada
Negratin is Andalucia's third biggest reservoir, and with its cosmological landscape accompanied by a ghostly silence, Lake Negratin has an almost eerie magnetism. This remoteness brings a beauty of solitude to the area, making it the perfect place for nature lovers – in more than one sense of the word. The naturist beach at Lake Negratin does not however have the same accommodating facilities of the coastal nudist resorts. But this is what adds to the charm of this eight-kilometre stretch of naturism. The solitude and romanticism of the beach is favourable for some to a busy resort.
Playa El Torn, Tarragona, Catalonia
Nestled amongst a wild and rocky coastline lies Playa El Torn, which despite being a popular nudist beach seems sparsely populated because of the sheer size of the beach. Adjacent to the beach, the El Templo del Sol nudist campsite can be found, which is well-equipped with restaurants, bars, Jacuzzis, swimming pools, a supermarket, and even a cinema.