Visiting Sierra de Cazorla – Andalucia's most admirable natural park
The Parque Natural de las Sierras de Cazorla, Segura and Las Villas, which covers some 214,000 hectares and a staggering fifth of the Jaen province in central Andalucia, is actually more difficult to reach than perceived on the map. With the whole of the park being higher than 600 metres you are forced up bumpy, hair-pined roads lined with a monoculture of unremitting olive groves emblematic of this eastern side of Jaen, until you eventually arrive at the town of Quesada.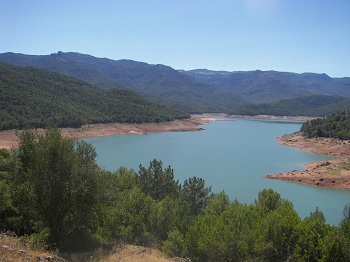 Shortly after Quesada you enter the village of Cazorla the so-called "gateway" to the Natural Park and the terrain becomes significantly more diverse and exciting. The ambiences surrounding the towns within this park are also surprisingly different to the somewhat impoverished and scruffy towns the drive to Cazorla takes you through, which are more typical of rural Andalucia. The town of La Iruela, which despite its precarious position poised on top of a rocky pinnacle, holds an air of prosperity and wealth, which clings to the walls of the many stylish and elegant restaurants and hotels all accompanied by fancy, new sports cars you rarely see hugging the roads of Andalucia.
This natural park comprises of two of the Iberian Peninsula's most important rivers, the Guadalquivir, which starts its 700 kilometre journey here to finish at the Atlantic Ocean, and the Segura, which leads to the Mediterranean.
Amidst the Sierra de Cazorla's wild scenery of tumbling waterfalls, tumultuously overgrown vegetation, copses of pine trees, cavernous canyons and serrated peaks of karsts, lies the source of the great Guadalquivir River, an infant in comparison to its size by the time it reaches the city of Sevilla.  Several lakes grace the many hectares of this stunning territory aiding its diverse and varied landscapes, although Lake Tranco is by far the most impressive.
The Embalse del Tranco is Jaen's biggest lake, which was built in the 1940s and has a capacity of 500 million cubic metres. The dancing diamonds of the crystal blue water come momentarily in and out of sight as the road steeply climbs and falls around towering limestone cliffs, high mountain meadows of rich, emerald grass and wild, vibrant flowers, and thickets upon thickets of dense pine trees some reaching 20 meters into the air.
It would be incorrect to describe this area as undiscovered as, on the contrary, it is tremendously geared up for tourists but in a subtle and tasteful way, and in the months of September and October there is a hive of tourist activity. The River Guadalquivir and the Embalse del Tranco are lined with numerous campsites all snugly positioned amongst the pine trees and beside the water.
For more information on this rather special Spanish natural park, visit: www.turismoencazorla.com.