Covid-19 Holiday Guarantee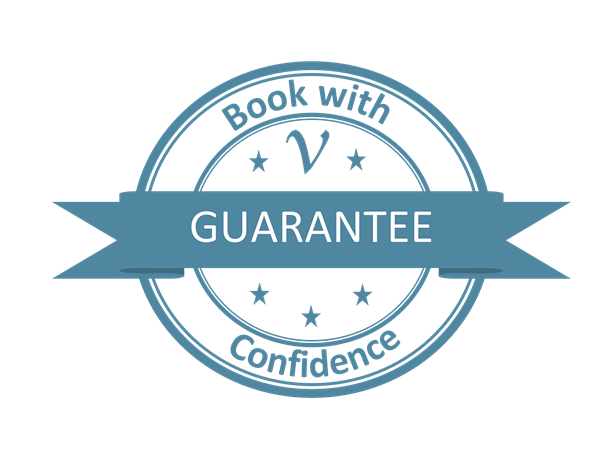 Please also see our Covid-19 Traffic Light System, Covid-19 Testing and Our Experience Travelling Abroad
Book with Confidence – We have you covered
If Government advice prevents your 2021 holiday from going ahead, your money is 100% safe.
With so much uncertainty in the world, we believe more than ever you need a company that you know you can rely on. If you have already booked with us or are currently undecided whether to book, let us put your mind at rest and remove any fear of financial risk.
At Vintage Travel we sell many holidays well in advance and to ensure you can book the property that you really want it is always best to book early and avoid the disappointment of your chosen weeks no longer being available. We would like to offer our assurance that we will do all we can to make your holiday experience as enjoyable as possible. With that in mind, we want to give you the peace of mind that you will get your holiday – or your money back.
For 2021 holidays you will be booking on the basis that the booking will go ahead based on the current government advice at the time of booking and normal booking conditions will apply. If the government advice changes for the worst you will of course be covered by our guarantee below.
If one of the following restrictions are in place within 14 days of the start of your holiday you will be entitled to change your booking without any amendment fee or cancel the holiday and receive a full refund of monies paid to us.
The UK Government requires you to stay in a 'quarantine hotel' when returning from the destination of the property you have booked.

The borders to the destination of the property are closed.

You are required to quarantine on arrival at the destination of your property.
If one of the following restrictions are in place within 7 days of the start of your holiday you will be entitled to change your booking without any amendment fee.
You are required by Government restrictions to quarantine for a mandatory 7 days or more on your return to the UK.

You are under local/national Government imposed restrictions (lockdown) preventing you from travelling.
The small print!
1. Applies to all departures up to 31 December 2021
3. The 'start of your holiday' is deemed to be the arrival date at your property as shown on our Booking Confirmation.
3. Fees and refunds relate to the rental price paid for the property. There may be fees relating to any flight/other travel costs.
4. As per our standard terms and conditions you must have adequate travel insurance in place.
5. Holiday balances must be paid within 10 days of the due date.
6. You will be expected to reduce the quarantine period, using a test and release scheme where available.
FCDO Advice
For the current FCDO advice click here: www.gov.uk/foreign-travel-advice
The government is no longer advising against travel to Spain, Portugal, Greece, France, Croatia, Cyprus, Italy and Turkey.
(Click here to take a look at of our client feedback)
We just love to talk.
I don't think any of us will ever forget the year of 2020. At Vintage Travel we appreciate how many have been affected and in so many ways.
Throughout this crisis we have always tried to do the right thing, not just legally but morally too. We appreciated that many of our clients would want to speak to us in person, and that is why we have continued to have adequate team members ready to take your calls and answer your queries.
We have received 1000's of calls (and made 1000's too), 99.9% of which were answered within just a couple of rings and always in person – never by an automated system! Having been in business for over 30 years we value and respect our clients too much to have it any other way. Thank you to all our wonderful clients who have been so supportive of our team and for the many kind comments that you have sent in.
'A real person not a robot!'
"I needed to change my holiday booking and was able to do this by phone, whereas other companies I have dealt with recently are online only. The staff were really helpful and sent a confirmation immediately."
We look forward to speaking with you again soon.


We are proud in 2020 to have been awarded the Platinum Trusted Service Award from Feefo, along with being voted in the Top 20 in the Condé Nast Traveller's Readers' Choice Awards 2020 – Villa Companies and in the 'Best Villa Companies 2020' by the Sunday Times.
Taking great care of our guests for over 30 years