Loading Results
Sorry, No Villas found
There are no villas that match your search requirements, try broadening your search criteria or give us a call on
01954 261 43101954 261 431.
Looking for inspiration?
Welcome to Menorca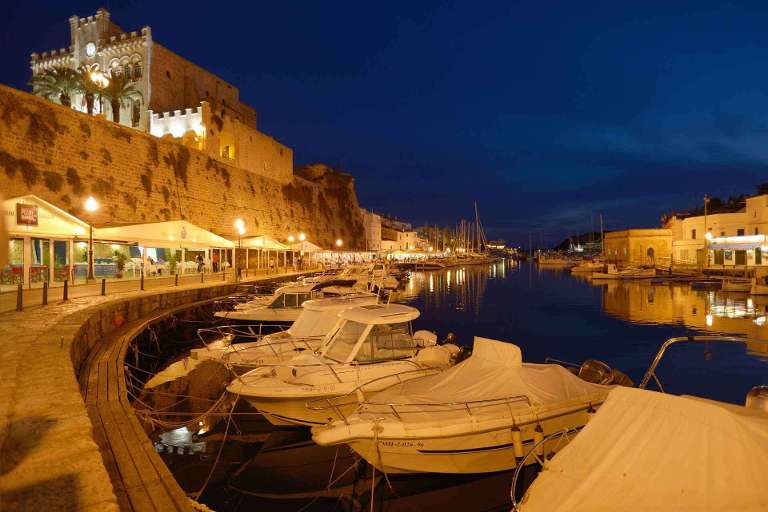 Menorca, the jewel of the Mediterranean, with its countless coves and beaches, crystal clear water, beautiful countryside and laid-back atmosphere.
With 216 kilometres of coastline, the main attractions of the island are the beaches and coves. From bustling resorts full of atmosphere to secluded bays that can still be found deserted in the height of the season, Menorca claims to have more beaches than Mallorca and Ibiza put together.
Apart from that, there is still a lot more to see and do. Known as 'Isla de Azul y Verde' (Island of Blue and Green), Menorca really does have something for everyone- but without all the hustle and bustle of larger holiday destinations.
Great Things to See and Do
Beaches, Coves and Bays
The island's beaches are amongst its most precious treasures, and with so many to choose from, each with its own set of characteristics, the main problem may be deciding which ones to visit whilst here. They range from long stretches of golden sand to tiny coves that are only accessible on foot or by sea and that are surrounded by woodland.
Monumental Menorca
Menorca is a vast open-air museum. Due to its strategic geographical location, the island has been inhabited and controlled by many different civilisations. The Megalithic, Talayotic, Roman, Vandal, Byzantine and Moorish civilisations, along with the Christian conquest of 1287 and the British and French occupations, have all left their mark on the island and given us a wealth of diverse historical sites to explore. Some archaeologists even report that there are more historical sites per square kilometre in Menorca than anywhere else in the world!
Did you know?...
Many of the Island's place names start with 'bini', a word of Moorish origin, meaning 'son of'.
Walking
Menorca really is a walker's paradise. With the rugged Cami de Cavalls that circumnavigates the island to the historical walks around the towns and cities, there are walks to suit all tastes and abilities. Walking is the best way to see the very best of the Menorcan countryside.
Cycling
When it comes to cycling, Menorca offers the ideal setting, with an extensive network of clearly marked routes with maps and information boards along the way. Bicycles allow visitors to reach corners of the island that are not accessible by car whilst enjoying stunning natural scenery.
On the water
Surrounded by calm waters, Menorca offers the ideal place to sail. Whether it is a boat trip around the harbour in Máo, hiring your own boat or chartering a yacht, there are a great number of possibilities.
For keen windsurfers, there is always a breeze in the Bay of Fornells, where novices can take lessons or the more experienced can hire equipment. Water skiing is also available for anyone with a need for speed and kayaking is very popular in Menorca, with many routes and tours available to explore hidden caves and the beaches that can only be accessed by sea.
Read our guide to discovering the historical sites of Menorca.
Towns and Villages of Menorca
The second of the largest of the Balearic Islands, Menorca stretches from the enormous natural harbour of Máo in the east to the smaller port of Ciutadella in the west, a distance of just 45km. See below for a selection of our favourite towns and villages in Menorca.
Ciutadella
Ciutadella is the ancient capital of the Island and is today an important commercial centre. Its harbour, from the sides of which rise the ancient walls of the city, boasts a number of restaurants where fresh fish dishes dominate the menu. A stroll along the sloping street that leads up the banks of the city walls will take you to Plaça d'Es Born, a spacious square surrounded by the noble facades of several old palaces. In its centre is a soaring obelisk commemorating the futile defence against the Turks in 1558.
Did you know?...
La Mola, the well-preserved fortress of Isabel II, is located near port of Máo. It was built between 1848 and 1875 after much pressure by the British, who were threatening to return to the island in order to use it as a base in their defensive operations against the French.
Alaior
Cheese is the main reason to stop at the old market town of Alaior, which has for many years been the nucleus of the island's dairy industry. There are two main companies, both of which have factory shops. The centre of Alaior is a tangle of narrow streets and bright white houses tumbling down the hillside beneath the imposing church of Santa Eulalia, which dates back to the seventeenth century.
Find out more about our villas in Alaior.
Máo
At the most easterly end of the island is Máo, the present-day capital and an important commercial and industrial centre. Its spectacular port, lined with restaurants and terraces, is a particularly popular attraction. After Pearl Harbour, Máo Harbour is the second largest natural deep-water harbour in the world. A short stroll up from the harbour, discover a fine array of freshly caught fish at the Mercat des Peix. There are also stalls selling tapas and local dishes, plus Menorcan wines and beers.
A little further into the town you will find the restored old cloisters of El Claustre d'en Carmen, where the daily market includes locally produced meat, vegetables and fruit, as well as other local products.
Find out more about where to visit in Menorca.
Menorcan Beaches
Menorca is famous for its many fantastic beaches. See below for a small selection of our favourites.
Son Bou
Three kilometres long and forty metres wide, Son Bou is the longest beach on the island and boasts a lively atmosphere, with a number of bars that are open during summer. Towards the western end of its shores is a more secluded area of protected marshland, which is home to many different species of birds.
Did you know?...
Sa Cova d'es Coloms, also known as the Cathedral Cave, is the largest natural cavern on the island. It can be reached from Es Migjorn Gran or from a path leading up from the beach at Binigaus. The cave is some 24 metres high, 110 metres in length and 15 metres wide.
Binibeca
Cala de Binibeca is easily accessible. A stroll down the steps takes you to an expanse of fine white sand overlooked on one side by a small beach bar with thatched awnings and parasols.
A short drive westward from here will take you to the intriguing Binibeca Vell, Poblat de Pescadors, a reconstructed fishing village modelled on earlier times, and winner of prizes for architecture. Its gleaming whitewashed houses form a maze of narrow cobbled streets, joined by low arches, and with cosy bars.
Find out more about our villas in Binibeca.
Cala Morell
This small cove lies to the west of Playa d'Es Bot, its rocky beach being backed by steep banks dotted with pretty white chalets. The approach road descends past a group of caves that are reputed to be the first inhabited caves on the island, dating from the late Bronze and Iron Ages. They are surprisingly sophisticated, with central pillars supporting the roofs, and, in some instances, windows cut into the rock and classical designs carved in relief.
Shopping and Handicrafts
As well as its local wine, cheese, cured meats and gin, Menorca is famous for its fine quality leather goods, pottery and handicrafts.
Footwear
The most famous locally made product is the Menorcan Albarca. This was traditionally a workman's sandal with soles made from recycled car tyres and it has gradually evolved into the fashionable footwear that parades today's catwalks. There are not many people on the island who don't own a pair of these very comfortable sandals. Their simple design has not changed much over the years but they are now available in many different patterns and colours in shops all over the island.
Pottery
The Centro Artesanal de Menorca, a craft centre in Es Mercadal, is the ideal place to see the variety of craftwork that is produced on the island. There is an outdoor display, an audiovisual area with videos showing products being made as well as a shop selling a wide range of authentic crafts including ceramics, jewellery, shoes, lamps, handmade paper, decorated gourds, leather goods and wooden puzzles.
Food and Drink
Present day Menorca gastronomy has evolved over centuries thanks to input from the people and cultures that have passed through the island, and this has created a cuisine full of contrasts and surprises. With French, Catalan and Moorish influences, Menorcan cuisine is renowned all over the world, the most famous dish being lobster stew (caldereta de langosta). Being an island, it is no surprise that the main dishes are made from seafood and fish, which are combined with top quality local products to produce tasty meals that are available in the island's many restaurants.
Did you know?...
Mayonnaise was allegedly invented in Menorca during the French occupation by the Duke of Richelieu's chef in 1756. Originally called 'mahonesa' in Spanish, it is now commonly called 'mayonesa'.
Typical Local Products
Cheese is a typical product that is made all over the island (and always called Queso Mahon). It is still made following ancient traditions and there are several large dairies on the island where it is possible to see the cheese being made and sample the end product.
A large variety of sausages and cured meats is also available, and can often be bought at farm shops. The traditional 'sobrasada' is probably the most famous and is made from pork, seasoned with salt and paprika. Menorcan people actually spread the sobrasada on bread, sprinkle it with sugar, put it under the grill and have it as a tapa.
Menorca's Xoriguer gin production began as a consequence of the British Navy's presence in the port in the 18th century. It is distinctive compared to traditional gin and is used to make the popular fiesta drink 'pomada' when it is mixed with bitter lemon. The island's distillery, on the Máo Port, is open to the public.
Find out more on the origins of Spanish Tapas.