Loading Results
Sorry, No Villas found
There are no villas that match your search requirements, try broadening your search criteria or give us a call on
01954 261 43101954 261 431.
Looking for inspiration?
Welcome to Istria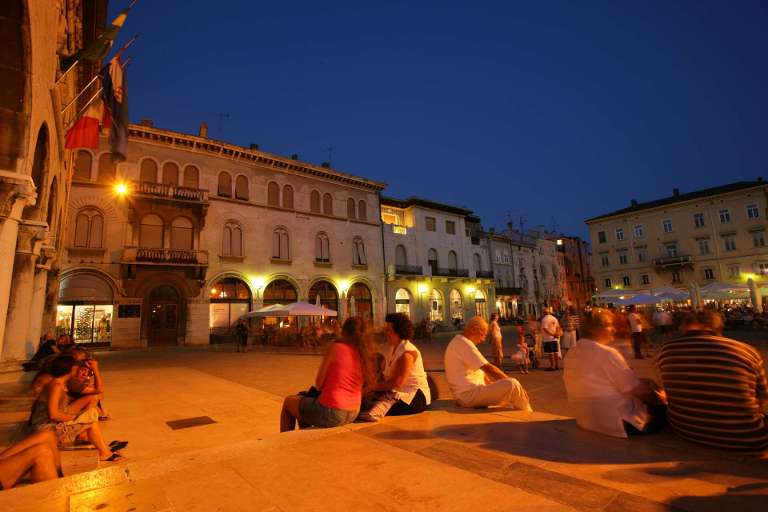 Istria is the largest peninsula in the Mediterranean and the most north-westerly part of Croatia. Heart-shaped, its east and west shores are lapped by the waters of the Adriatic Sea whilst hills and mountains mark its northern border with Slovenia.
Historical landmarks such as Roman monuments and ruins, Byzantine mosaics, Renaissance frescoes and Baroque palaces mix in with the outstanding natural beauty of the Brijuni islands and Cape Kamenjak. Add in an interior dotted with stone-built medieval towns and villages teetering on hilltops overlooking battalions of vineyards and olive groves and you will soon see that Istria has an identity all of its own.
Places to Visit
Self-contained and self-sustaining, with clearly defined boundaries, Istria feels like a miniature continent of its own and the joy of this territory is its manageable scale. Here are a few suggestions of some of our favourite places to visit.
Umag
Unattractive on its outskirts, it is nevertheless worth persevering with Umag. Following signs for the city centre, you'll reach the compact old town built on a peninsula next to a large semi-circular bay with narrow medieval streets opening onto pretty squares. A long breakwater leads into the sea here, and locals say that a promenade along this can reward you with some of the best sunsets in Istria. Umag is the leading port in Istria for the export of wine, and it is well known for its large sports centre which, since 1990, has held an ATP tennis tournament at the end of July.
Novigrad
Translated into English as 'new town', Novigrad is anything but, having been established by the Romans. It has a charming walled old town- look out for the V-shaped indents in the walls, on which archers would rest their bows. It was the Venetians who fortified the town, and used it as a port for shipping oak from the Motovun forest back to Venice. This proud fishing community is today known for its excellent seafood restaurants which line the unusual inner harbour.
Motovun
Motovun is probably the best known of Istria's medieval hilltop towns. Be sure to take in the impressive facades of the buildings which flank the street, all the time bearing in mind that the higher you go, the older they get. Note the Venetian lions decorating the main gate that you pass through just before the summit. At the top, take a walk around the walls, which rewards you with magnificent views. You'll see the dense forest lining the River Mirna and this has great significance, firstly as the prime source of truffles in Istria, and secondly because it was from here that the Venetians harvested oaks, some of which were used a pilings for Venice itself, and others for shipbuilding.
View our villas in Motovun.
Did you know?...
The Kažun- Driving around Istria, you are almost certain to see in fields the Kažun, a round beehive-shaped 'hut' built using the dry-stone technique i.e., without any mortar or concrete. Its roof is constructed by placing thin stone 'plates' in increasingly concentric circles, thereby creating a shallow dome but with a small hole in the top so that a fire can be lit and smoke escape. The material for this would have usually been collected by clearing fields of excess pieces of stone. Farmers and peasants used them for shelter and for guarding vineyards or olive groves as well as for the storage of agricultural tools. The Kažun has become emblematic of authentic Istria and can be found all over the region although they were traditionally prevalent in the south and west in the area around the towns of Vodnjan and Baie.
Grožnjan
Grožnjan is perhaps the prettiest of all the hilltop towns. Completely pedestrianised, it is a charming tangle of narrow streets and alleyways. Grožnjan's story is remarkable; after the Second World War, Istria was divided into two parts. This prompted a large wave of emigration and within six months two thirds of the population had left for Italy, leaving Grožnjan virtually deserted. Ten or so years later, a group of artists and musicians settled in the town and started to renovate the crumbling buildings.
Today it is a thriving centre for artists producing jewellery, ceramics, paintings and clothing, as well as being a meeting point for young musicians from all over the world due to the establishment of the International Cultural Centre of Young Musicians. During the summer months especially, the sound of brass, woodwind and stringed instruments seems to ring out from every corner.
Porec
Porec is one of Istria's prettiest towns. Contained within a narrow peninsula and surrounded by walls, there are many great examples of Venetian architecture to explore, plus the ruins of a couple of 1st century Roman temples dedicated to Neptune and Mars, a pleasant quayside part-backed with cafes and restaurants, and the unmissable 6th century Episcopal Complex of the Euphrasian Basilica.
Sveti Lovrec
Once on the main road between Pula and Trieste, this was an important military base for Venice during the 14th century and has a well-preserved medieval centre. A short walk from the main gate with its Venetian lion (whose strange head is said to represent Attila the Hun) takes you past an attractive 15th century loggia to one of the large ruined defence towers from the old town walls which indicates just how well fortified the town once was.
View our villas in Sveti Lovrec.
Rovinj
The Venetians developed Rovinj, fortifying its walls, but it took Austrian engineers to connect what was a rocky island to the mainland and this natural setting is an incredibly picturesque medieval warren. Here, centuries-old terracotta-roofed buildings cluster around the hill of the former outcrop, crowned by the monumental Church of St Euphemia, whose bell tower was modelled on that of St Mark's in Venice. Far below, a broad harbour, packed with boats is edged with colourful awnings, bright café umbrellas and sugar-almond coloured facades.
Vodnjan
You could be forgiven for thinking that you've been transported to an Italian medieval little town, as Vodnjan is as Italianate as you will find in Istria. Fascinating lanes and alleyways lead off the square, some crowned with intricate archways, others with stone stairways leading to first floor front doors. The area is also well known for its quality olive oil production.
View our villas in Vodnjan.
Pula
Pula, is altogether different. A fascinating town for the visitor, but also very much a working town. Pula's buildings were built on a grand scale, some of which can still be seen today, notably the imposing amphitheatre, known as arena by the locals. Astonishing from the outside, it is less impressive inside having been pillaged over the centuries for its stone. Nevertheless, it's still wonderfully atmospheric to explore, especially the subterranean passages and chambers where lions were kept and gladiators waited nervously! And it's still in use today as the venue for Pula's annual film festival and also for concerts of every type: over the years Placido Domingo, Jose Carreras, Luciano Pavarotti, Elton John, Sting, Status Quo, Tom Jones, Leonard Cohen, Jamiroquai, Foo Fighters and Deep Purple have all played there.
Read more about three authentic villages in Istria.
Beaches
Did you know?...
Naturism in Istria- Organised naturist sunbathing began at Paradise Beach on the island of Rab (in the neighbouring Kvarner region) in 1934. Among the first visitors were the Duke of Windsor and Mrs Simpson but the real naturist expansion started in Istria in the early 1960s when the earliest naturist camps made Croatia the first country in Europe to commercialise sunbathing au naturel. The largest naturist resort in Europe is called Koversada, close to Vrsar, and this opened in 1961, with a capacity for 12,000 guests. This is just one of eight such camps/villages in Istria, although occasional naturists will find isolated coves and stretches of beach to bare it all. Locals are used to it; just keep a discreet distance.
With its rugged indented coastline, numerous islands and comfortable Mediterranean climate, Croatia is a great place for sunbathing and swimming. Most beaches are rocky or pebbly. A few of our top picks are below:
Premantura
Pretty, secluded coves, backed by shady pines, offer rocky access to the sea. Premantura is also the access point to the Cape Kamenjak nature reserve, Istria's deeply notched southernmost point which boasts many bays and intimate rocky coves.
Kupalište Medveja
Said to be one of Istria's best beaches; it has a modern funky feel with café bars and music which you can enjoy on rented four-poster bed loungers.
Mošćenička Draga
Unpronounceable but a pretty little coastal village with a shingle beach, popular with locals and usually not too busy due to its relative isolation.
Rabac
Rabac benefits from a long sweeping beach and a number of more secluded coves. Originally an isolated fishing village, nowadays Rabac is unashamedly a seaside town, developed in recent times by one of Croatia's leading hotel chains around its extensive crescent shaped shingle beach.
Read more about three of the best beaches in Istria.
Istria for kids
Did you know?...
Dinosaurs in Istria- A great many fossilised dinosaur bones have been found in shallow waters along the Istrian coast close to Bale. The reptiles inhabited this area a hundred million years ago and the great amount of remains recovered leads to the supposition that this area was a dinosaur graveyard or a place in which, due to some unknown natural event, they died in great numbers. Palaeontologists have determined that the bones belonged to two species of these giant prehistoric creatures. One of them is brachlosaurus, a four legged herbivore with a long neck about 10 metres in length, weighing about 30 tons. These were the largest dinosaurs known to have existed and their presence indicates that vegetation would have been lush and bountiful in the area. In addition to these finds, the wider surroundings are full of dinosaur traces. Footprints can be seen as Punta Barbana, on Vell Brijuni, the largest of the Brijuni Islands, in the Verudela suburb of Pula, at the Cape of Kamenjak on Istria's southern tip and in Cervar near Porec.
Croatians have a very Mediterranean attitude to children and almost treat them as little grown-ups. Generally, children are welcomed into restaurants and cafes without any fuss. Here a few fun days out for all the family.
The Baredine Caves
A sequence of spectacular vast limestone caverns, an official nature reserve since 1996. Five chambers feature dangling stalactites, rising stalagmites and limestone curtains created over the centuries by channels of running water, culminating in underground lakes 60 metres below ground level.
There are also captive specimens, housed in a small pool, of Proteus anguineus, a kind of salamander indigenous to the karst caves of Croatia and resembling a pale-bodied worm with legs.
The Brijuni Islands
A family trip to the Brijuni Islands is well worthwhile. This archipelago of 14 islands off the south-west coast is accessed by a 15 minute foot passenger ferry ride from Fazana. The islands became famous as the private retreat of President Tito before being awarded national park status after his death, with the largest two opened to tourists.
Dinopark- Funtana
Did we mention dinosaurs? In addition to the footprints on the Brijuni islands, other footprints have been found just to the north of Bale. In recognition of this, a Dinopark has opened in a small coastal town called Funtana. Here you will find life-size dinosaur models set along a boardwalk in amongst natural woodland, as well as skeletons, film screenings, interactive displays, a children's playground and catering facilities.
Read our guide on why Istria is a great place for kids.
Gastronomy
Being subject to the influences of various civilisations over the years, Istrian cuisine successfully throws central European, Romanesque, Alpine and Mediterranean ingredients onto its stove with delicious results!
Some items likely to be found on menus include the following…
Pršut- a dried ham similar to Italian prosciutto but produced in a traditional way handed down through the centuries. The result is an exceptional and extremely popular delicacy whose production is protected by law and registered as an authentic Croatian product.
Did you know?...
The Olive Tree- Planted as a seedling, an olive tree is likely to start bearing fruit in its fifth year, becoming fully mature in year nine. Trees can live for hundreds of years- there is a famous old tree on the Brijuni Islands reputed to be more than 1600 years old- steadily bearing more fruit as they age. They respond best to regular and brutal pruning, particularly after harvest. The trees flower in April or May, after which the fruit soon forms, developing over the summer for harvest in October or November. It is vital to pick early, just as the colour is beginning to change, for maximum freshness and premium vitality.
Wild asparagus- a famed speciality in springtime and usually served with eggs or in an omelette, or in pasta and risotto dishes.
Pasta- widely eaten in Istria, but with a twist. The most common variety is called fuži, served with all sorts of sauces and toppings, such as truffles, stews and goulash, or stroganoff. Gnocchi dishes are also popular.
čripnja cooking- these are meat dishes with potatoes, seasoned with aromatic herbs, baked under a half dome-shaped tin or earthenware covering called a čripnja or peka. The dish is baked on a hearth under hot coals, deliciously softening even tougher cuts of meat, slowly resulting in a phenomenal blending of tastes and juices imparting a moist and smoky succulence.
Truffles- Istrian truffles have become a world-renowned speciality, both the black and white varieties, known for their exquisite aroma and full-bodied flavour. The truffles are found in the north of Istria amongst the moist soil of the dense oak forests of the Mirna valley.
Most restaurants in Istria serve truffles and truffle-related dishes. Among the seemingly endless combinations, try the following: cheese imbued with black truffles, pršut edged with truffle; dried Istrian salami-like sausages packed with truffle.
Boškarin- A rare breed of working ox that fell to as few as 70 in number before local breeders saved it. Now considered a delicacy, its rich meat can only be prepared by licensed chefs and therefore it's not found on all menus.
Read our guide to truffle hunting in Istria.