Loading Results
Sorry, No Villas found
There are no villas that match your search requirements, try broadening your search criteria or give us a call on
01954 261 43101954 261 431.
Looking for inspiration?
Welcome to Corfu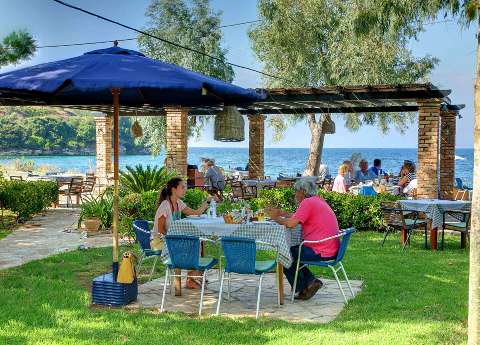 Famous for its fabulous beaches, traditional villages, ancient olive groves and Venetian-influenced capital, Corfu (Kerkyra in Greek) is a deservedly popular holiday destination. The most northerly of the pretty Ionian Islands, it boasts some of the finest beaches in Europe. Its stunning northern coast is indented with scenic coves lapped by crystal clear waters with a backdrop of lush vegetation. The beaches on the west coast are predominantly virgin, sandy and gently shelving; those to the east are smaller, pebbly coves, many of which are only accessed by sea and provide a wonderful excuse to hire a boat and explore the coastline.
EXPLORE...
If you would like to get out and about and discover the island of Corfu, here are a few places that we suggest you visit.
Achilleon Palace
This imposing palace, set up high on a hillside just south of Corfu Town, was built for the Empress Sissi of Austria. Fascinated with Greek mythology, she named the Palace after her hero Achilles, and decorated the beautifully landscaped grounds with statues of her heroes and heroines. Built in the early 19th century, the Palace was more recently seen as a casino in the James Bond film 'For Your Eyes Only' (much of which was filmed in Greece) and its grounds make for a pleasant visit, especially in clear weather when the views are breathtaking. Our property Kirki is situated just 1.5km from this famous landmark in the village of Gastouri.
Kouloura
This impossibly pretty little harbour is one of the most photographed spots on the island, as the viewing spot on the coastal road can testify. In Greek the word 'kouloura' means ring, and accordingly the harbour curls round into an almost perfect circle. Why not hire a motorboat for the day from nearby San Stefanos to discover the many hidden coves along this dramatic coast, and drop anchor in Kouloura to enjoy a light snack at its waterfront taverna?
Did you know?…..
Pa-le-o-ka-str-it-sa (pronunciation: just let it roll off the tongue!) is set around three main bays. Famous for being Corfu's most treasured beauty spot, it can be busy in high season. Beat the crowds and for fantastic views, take the Troumpetas pass on the main Sidari road, just above Skipero.
Paleokastritsa
The rugged, dramatic scenery of the island's west coast is home to Paleokastritsa. This popular resort consists of two sandy beaches separated by a headland of rock, and is reached either from the south via an inland road, or from the north by taking a scenic route through mountain villages. With cafés and tavernas aplenty, Paleokastritsa is perfect for a day trip. Just 5km from Paleokastritsa sits our stunning residence of Villa Victor- perfect for large family getaways!
Lake Korission
On the south-west coast, about 30km from Corfu Town, Lake Korission is a beautiful saltwater lagoon separated from the sea by high sand dunes and surrounded by lush vegetation including unusual prickly juniper trees. Hundreds of different types of birds, among them some rare species, can be seen here including curlews, great white egrets, oyster birds, widgeons and cormorants. It is an area of great natural beauty with views inland to Mt Agios Matheos. Between Lake Korission and the sea is the beautiful beach of Halikounas- check out our property Helena for close access to the beach.
Mon Repos
Mon Repos was the former residence of the Greek royal family, and the birthplace of Prince Philip. The neo-classical building and its grounds can be seen from the air when arriving on the island.
Did you know?…..
Lying opposite the north-eastern part of Corfu is Albania. You can take a day trip to this interesting former communist country.
Kalami
This village off Corfu's north-east coastal road was the beloved summer home of the famous Durrell family. Their home, The White House, is now a taverna. The family spent several years here in the 1930s. Lawrence wrote 'Prospero's Cell' while actually staying in Kalami, and Gerald drew on his happy memories of the place to write 'My Family and Other Animals'. Partly because of this connection, Kalami can be popular in the high season; it is nonetheless worth a visit, as it also has a lovely beach.
Find out about Three lesser-known highlights of Corfu.
BEACHES...
The varied coastline of Corfu is dotted with some delightful beaches. The following is by no means an exhaustive list and part of the fun is getting out and about and discovering your own favourite.
Agios Giorgios
This long straight beach on the west coast is more shingle than sandy, but its peaceful setting between two cypress-studded headlands makes it a real gem. Find our sister properties Erato and Klio in this delightful location- the perfect spot to holiday without a car.
Nissaki
Nissaki beach is a small, pebbly and perfectly formed beach, protected by unbroken mountainside stretching away behind it. A couple of charming tavernas and a handy mini market make it ideal for a lazy day. Our popular property Klima is located just above the village of Nissaki.
Did you know?…..
Corfu has one of only a few organic breweries in Greece and the Avlaki taverna has pilsner and ale on tap. Try some together with a delicious meze for a great way to savour the popular beer!
Avlaki
A wide sweeping bay on the north/ north-east coast with crystal clear water and a pebble beach, Avlaki is great for blowing the cobwebs away with its cool breezes and stunning views.
Barbati
The resort of Barbati, whilst not particularly quiet, boasts a superb beach that is a good 100 metres downhill from the main hustle and bustle. It does mean that it is one of the busiest east coast resorts during high season, but also one of the most attractive. Sister properties Anatoli and Dysi overlook this attractive coastline.
Agni
Whilst it is undeniably as pretty as many of the beaches in the north- east region, the main attractions at Agni are the three excellent tavernas. Although it is possible to arrive by road, docking at one of the jetties in your hired boat or catching the speedboat service arranged by the tavernas is all part of the fun.
Halikounas
On Corfu's south-west coast the long stretch of Halikounas' sandy beach protects Lake Korission from the sea. The lake is a haven for over a hundred species of birdlife including great white egrets, oyster catchers and curlews. A small wooden bridge crosses the point where the lake flows into the sea and leads to a forest of cedar and juniper trees and then to Agios Georgios beach. Halikounas (or Chalikounas) beach has soft sand dunes, safe shallow swimming and is a popular spot for kite surfers. There are a few facilities at the beach and parking is easy.
Read here to find out more information on five of the most fabulous beaches in Corfu.
ACTIVITIES...
Walking, cycling, swimming, snorkelling, diving, sailing, horse- riding and water sports – Corfu has many activities to try.
Take the youngsters to Aqualand Water Park
The largest water park in Greece, 10 minutes from Corfu town in Agios Ioannis. Make the children an excuse and have a great time yourselves on the slides and flumes!
Did you know?…..
There are an estimated 3 million olive trees on Corfu, and many of the olive groves are centuries old. You will see them covered in black nets so that the olives can be gathered easily. They only give fruit every two years, so when the harvest is ready, everyone pitches in as it is back-breaking work and requires a lot of helping hands!
Explore the Agios Spiridon region's Nature Reserve
Walk around the Agios Spiridon region which is known in the north-east of Corfu as a nature reserve. There are many butterflies and wild flowers and the fish swim up the canal and lay their eggs here. The reserve is just a short walk or drive from the beaches.
Take the plunge!
If you are keen on water sports or would like to give one a go, there are a good number of water sports centres around the coast of Corfu. To name a few… Sidari and Acharavi are good places to go along the north coast; in the north-east, Nissaki and Barbati have plenty to offer; and in the south Halikounas beach is a mecca for surf sports especially. Sailing lessons are available in many locations, from beginner level to refresher courses.
Cycling
Even if you are just a moderately fit cyclist, travelling on two wheels is one of the most enjoyable ways to discover the delights of Corfu. The island has a good road system which means that nearly all of the most beautiful parts of the island are within easy reach for a day's ride. Away from the main roads there are quiet lanes through beautiful green countryside, olive groves and traditional Corfiot villages. Cycle hire is available so you don't have to bring your own.
Unfortunately for some (or fortunately for others) Corfu is a rather hilly island and all routes involve several hill climbs. Depending on fitness and ability, the coastal roads are less harsh than for instance the mountainous Pantokrator. However, most visitors who attempt the higher routes have found that the effort is well worth it as some of the views and scenery you will discover are among the most breathtaking in the Mediterranean.
CUISINE
Did you know?…..
Bourdetto is a spicy fish stew made from freshly caught scorpion fish, which it is very bony and far too fiddly to try to eat with a knife and fork. So the local way is to eat it with your fingers, with plenty of bread to mop up the salsa (sauce)!
As in the rest of Greece, the food in the Ionian Islands is centred on locally reared or produced ingredients such as fish, lamb, olives, tomatoes, figs and feta cheese.
The cuisine of the Ionian Islands is inextricably tied to their history, and the variety of foreign influences over time is what makes the food here so different to the rest of Greece. It is fascinating to look through a menu and try to deduce who brought what to these shores. For their part, the British introduced ginger beer, a slightly more spicy drink than found in the UK – delicious!
The four best known Ionian Island dishes display a Venetian influence: Sofrito (sliced veal cooked with vinegar, garlic and parsley); Bourdeto (a peppery fish stew); Bianco (a white, garlicky fish stew); and Pastitsada (a pasta and meat dish).
Find more traditionally Greek dishes with three of the most delicious specialities here.
MYTHOLOGY...
Corfiot mythology tells us that the Ionian Sea was named after Io, priestess to Hera. It is said that Zeus and Io were lovers, and when Hera caught them together she was so infuriated that she turned Io into a cow and tied her to an olive tree, with Argus (who had a hundred eyes all over his body) guarding her day and night.
Zeus sent Hermes to play the pipes until Argus was lulled into a sound sleep. Io was set free, but Hera sent a gadfly to plague Io, who fled by jumping over the now-named Ionian Sea to find refuge. She finally settled in Egypt and, having returned to her human form, bore Zeus a son.
Corfu is known in Greek as Kerkyra, which is said to derive from the name of the nymph Corkyra, also sometimes known as Gorgyra or Gorgo (the demonic Medusa) as she is depicted on the temple of Artemis near Corfu Town. It is said that the goddess of the harvest, Demeter, threw Corkyra's sickle into the Ionian Sea and upon landing it petrified and formed the sickle-shaped landmass of Corfu.
The more familiar name of Corfu is derived from the Byzantine Greek word Koryphai via its Italianised form, Korypho, meaning 'city of the peaks' referring to the two summits of the Old Venetian Fortress.
According to Homer, during his ten- year journey home to Ithaca Odysseus encountered what was thought to be Corfu or, as Homer called it, Scheria. Earlier in his trip, Odysseus and his crew had come across the Cyclops Polyphemus; a fight had ensued and Odysseus had killed Polyphemus. When Polyphemus' father, Poseidon, saw Odysseus sailing home he sent a storm to vent the anger he felt at losing his son. Odysseus, the only survivor of the storm, was washed up on Scheria, where the king's daughter Nausica found him. Her father, King Alcinoos, who was renowned for his hospitality, heard Odysseus' account of his travels and gave him a ship and crew to enable him to return home.