02 Jun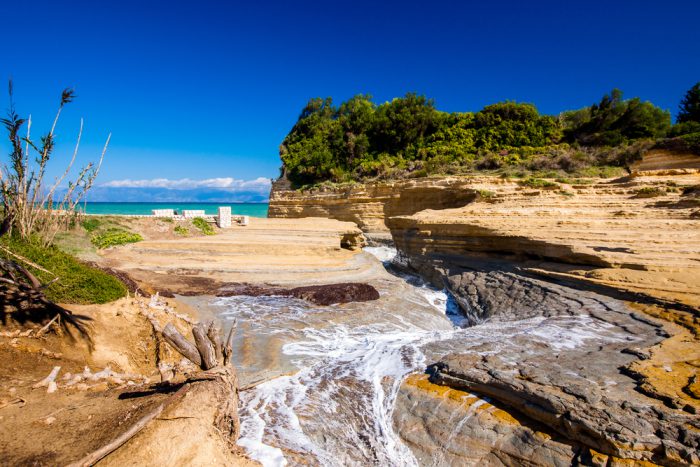 Corfu is known for its stunning coastline, scattered with beautiful beaches, where translucent water laps the golden sand and pretty pebbles. If you're lucky enough to be heading to this sun-drenched island sometime soon and are intent on finding some idyllic spots to lay out the towel and laze the day away, take a look at the following five fabulous beaches every beach-lover should strive to make part of their Corfu itinerary.
Kerassia Beach
If a pebbly beach is more up your street than sand, visit Kerassia Beach, hailed as one of the most picturesque and beautiful beaches on Corfu.
This small, pebbly beach is blessed with cobalt waters, backed by a verdant vista of trees plunging close to the shoreline. Kerassia Beach offers breath-taking views of the Albanian coasts and is perfect for those seeking tranquillity from the crowds not so far away in the popular town of Kassiopi, on the north-east coast of the island.
Kavos Beach
Stretching for around three kilometres in length, Kavos beach lies to the south of Corfu. This beach boasts excellent amenities, including beach bars, restaurants, sunbeds and umbrellas.
The water on Kavos Beach is beautifully azure yet shallow, making it a good choice of beach for families with young children.
Channel of Love
Known also as the Canal d'Amour, the Channel of Love is one of the most iconic and best-known beaches on the whole of Corfu.
This utterly unique natural masterpiece is essentially a beach that has been formed in the shape of a channel by the continuous effects of the corrosion of water on sandstone cliffs.
Legend has it that whoever manages to swim from one side of the channel to the other will find the love of their life.
The Channel of Love is situated on the northern coast of Corfu, between the villages of Peroulades and Sidari.
Sidari Beach
Sidari is a cosmopolitan seaside town to the north of Corfu. The beach at Sidari is long and sandy, with crystal clear, shallow water gently caressing the soft sand.
The beach has good amenities and is popular with families.
Palaiokastritsa Beach
Palaiokastritsa is a village on the north-west coast of Corfu. Nestled beneath steep emerald slopes carpeted in olive trees, Palaiokastritsa is considered one of the most beautiful villages of the island.
The village is home to several beaches, six, small enclosed bays in fact, which are ideal for swimming and water sports.
Being the greenest of the Greek islands, Corfu is blessed with a coastline of splendid scenery, where trees and vegetation tumble onto the bays, coves and beaches, providing visitors with idyllic spots to lay down their towels and enjoy the unique coastal scenery of this beautiful island.