Loading Results
Sorry, No Villas found
There are no villas that match your search requirements, try broadening your search criteria or give us a call on
01954 261 43101954 261 431.
Looking for inspiration?
Welcome to Crete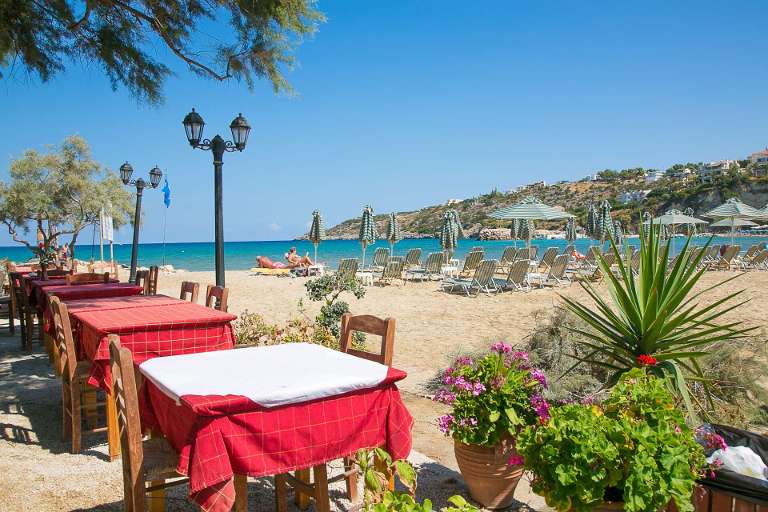 Crete is an island of contrasts. It is a land of majestic mountain ranges, serene plateaux and rolling hills, of gentle seas lapping golden beaches, dramatic waves falling against sheer cliffs; of mythical gods and ancient kings and a proud and strong people who are fiercely independent and yet hospitable and generous.
Of all the Greek islands, Crete is the largest. Its shores are washed by the Libyan Sea, and the Cretan, Myrtoan and Karpathian Seas. Being the southernmost island of the Aegean Sea, it is strategically located at the crossroads of three continents – Europe, Asia and Africa – which, to a large degree explains its tumultuous history.
Crete has a soaring mountain range that traverses the island from east to west. This mountainous landscape has in turn created an island that has an abundance of deep ravines or gorges, caves, valleys, dense woods, rivers, waterfalls and even two freshwater lakes and, of course, a coastline of glorious beaches ranging from rocky and pebbly to fine golden or white sands, many with the White Mountains as a backdrop.
Explore the beaches of Crete
The following is by no means an exhaustive list of some of the island's beaches. Part of the fun of course is getting out and about and discovering your own favourite. Crete boasts in the region of 100 Blue Flag beaches.
Almyrida
Almyrida is small and picturesque and still has the atmosphere of a fishing village. Approximately 22km east of Chania, it is located on the southern side of Souda Bay. It has two sandy beaches, a smaller one to the west and to the east a long curving beach where the water is fairly shallow, and so is an ideal choice for children. Sun beds and umbrellas are available for hire and there are also facilities on the beach for water sports. There is a choice of beachside tavernas, cafés and bars, and in the village itself a few restaurants.
Did you know?...
In ancient times, one of the world's first Greek physicians, Hippocrates, suggested that Crete's air was beneficial in healing several general illnesses and prolonging life.
Kalives Beach
lies in a sweeping bay just south of the Dhrapano Peninsula just along from Souda Bay. Extending either side of the village, it is a long stretch of beach that curves round to a small harbour at the eastern end. The sand is white and quite soft, but it slopes steeply into the water, so young children should be carefully supervised when paddling. Behind the beach, tamarind trees provide welcome shade in the summer months.
Falasarna Beach
With its superb fine white sand and warm, crystal-clear water, Falasarna Beach deserves its acclaim and recognition, having once been voted the best beach in Crete and one of the top ten beaches in Europe.
Falasarna covers a large, unspoilt area at the far west of Crete, actually spanning five beaches, from where the views are spectacular, and the sunsets astonishing. As an area of outstanding natural beauty and host to a variety of flora and fauna, Falasarna is part of the Natura 2000 programme.
Elafonissi
This is an islet linked to the far southwest of Crete by a shallow reef, over which you can walk to reach the island. The island and its inhabitants – endangered Carretta Carretta sea turtles and several rare animals – are protected under the Natura 2000 programme, and sand lilies and junipers (similar to cedars) grow on the many dunes of Elafonissi.
The beach, with its pink and red coral sand and shallow crystalline waters, is one of the prettiest in Crete, and as such can be very busy. Facilities include a popular taverna at the edge of the sand dunes, snack bars, umbrellas, sun beds and showers. There are also lifeguards on duty.
Read our guide for exploring the hidden beaches of Crete.
Explore the traditional villages of western Crete
One of the pleasures of exploring Crete is wandering through its timeless villages and soaking up the local atmosphere. Here are a few of our favourites.
Megala Chorafia (Aptera)
From its hilltop location, this picturesque village looks out over the surrounding lush landscape and enjoys a panoramic view of the majestic White Mountains. At the centre of the scattering of houses and farms that make up Megala Chorafia stands an ornate Orthodox church. The eastern side of the village lies on a ridge, reaching out towards the archaeological remains of the important ancient city of Aptera, which spreads over two hills. Beyond, a Turkish castle looks out to sea from its strategic position on a headland. Three tavernas and a coffee house provide refreshment and the village also has a minimarket.
Did you know?...
Crete is particularly famous for its lovely religious retreats. Around Rethymnon, there are several, including Agia (Saint) Irini, a newly built monastery for women. The women who live there all seem to be fairly young; kept busy cultivating immaculate grounds flowing with flowers and trees. It is customary to visit during set hours, for instance, early in the morning and usually after 5pm till closing. Be sure to check the visiting hours to avoid disturbing the solitary time that these devout nuns dedicate to meditation and prayer.
Gavalohori
Blessed with a natural beauty, the landscape in and around Gavalohori is hilly and mainly wooded with carob and olive trees, and it provides many opportunities for exploring. Many walls from the settlement of the village by the noble Gavaladon family in the 12th century still stand 500 metres from the village. Look out for a group of Venetian wells and a Roman cemetery. Gavalohori is an officially protected village and boasts numerous interesting buildings – an 18th century arched olive oil press, an old school, the churches of Panagia and Agios Sergios, and many traditional stone houses in its winding streets. A renovated Venetian building with stone arches houses a small but excellent folklore museum, an ideal chance to learn about the history and culture of Gavalohori. Here you can see examples of ancient crafts and learn about the processes in their creation.
Vamos
First inhabited in the 8th century by Saracen pirates, Vamos is now a large and lively village with many facilities, and the administrative centre of the area. It has a rich cultural tradition, with various activities taking place throughout the year, including the annual Snail Festival held in April. Many of its traditional dwellings have been restored using local stone and cypress wood. Interesting buildings include the Agios Nikolaos and Agios Georgios churches and the restored old school. There is still a preserved traditional stone road. With the area's only pine forest nearby, from its position at the top of a hill between Souda Bay and the valley of Vrisses, Vamos enjoys panoramic views over a diversity of landscapes.
Find out more about visiting Crete.
Active Crete
Walking, swimming, snorkelling, diving and horseriding are just a few of the activities that can be enjoyed whilst staying in Crete. It's up to you how many you choose to enjoy!
Scuba diving
The impressive rock formations for which western Crete is famous (such as the Samaria Gorge) continue underwater, especially along the dramatic south coast. Here divers can find many good caverns, gaps and reefs offering shelter to octopus, moray eel, grouper and a wide variety of other marine life. There are also depth walls with good drop off points along the south coast especially around the Plakias area. Besides the many sponges, spiny lobsters, crayfish and cuttlefish, you can also see barracuda, perch and much more.
Did you know?...
On the grave of Nikos Kazantzakis, the famous author who wrote Zorba the Greek, is a much quoted phrase that many Cretans feel sum up their philosophy for life: 'I hope for nothing, I fear nothing, I am free'.
Popular dive sites on the south coast at Skinaria have several underwater canyons which are overgrown with colourful flora. The north coast diving slope at Panormo reaches a depth of 35 metres with small overgrown caves full of shoals of fish and a Venetian anchor 'cemetery'. The Damnoni three-part cave is linked by narrow tunnels full of marine life.
Hiking and walks
Crete, especially in the west, is a walker's paradise. It has the unique combination of beautiful seas and high mountains. The geographical diversity and wild beauty of the island, the friendliness of its inhabitants as well as the climate are gradually making it into a choice destination for walking and hiking. The whole island is criss-crossed by trails, most of which are now disused since they were roads which were built or used only by shepherds. It is possible to walk all day without meeting a soul and still reach a village where you can eat and rest before setting off again. Truly dedicated hikers can go to areas that are practically unknown and totally uninhabited, with undisturbed flora and fauna, be it in deep gorges or high up on the mountains.
Cycling
Rugged coastal cliffs, traditional mountain villages, fragrant orange gardens, gnarled olive groves and the aromatic bouquet of Cretan herbs will accompany you on a bike tour, which will without doubt give you a true insight into the famous Cretan hospitality as well.
Read our guide to why Crete is a walker's paradise.
Did you know?...
A symbol of Crete's bloodthirsty ancestors lies in the story of the 'Cretan dagger'. Small and with a distinct black hilt, it was believed to protect humans against the fiendish powers of the invisible world and 'ill-fated moments' so deeply entrenched in Cretan culture. When a couple were married in Crete, it was customary for the groom to offer his new wife a small dagger known as the 'argyrobounlalaki'. The newly wed Cretan girl would wear it on her wrist, tucked inside a silk sash, indicating to other men that she was married and belonged to one man. However it also served as a reminder that she must remain devoted to her husband and that should she be unfaithful it would be used against her to take her own life. A strong inducement to fidelity indeed!
The Cretan people
With Crete having become part of Greece only in the early 20th century, and after centuries of defending their island against foreign occupation, Cretans are fiercely independent, proud patriots who often identify themselves as Cretans first, Greeks second.
This pride also extends to the different regions of Crete, each area's population retaining their own distinctive identity.
The language spoken on Crete has a different dialect and vocabulary to the rest of Greece. Particularly in rural areas there is a passionate determination to keep alive age-old customs and traditions – festivals, dialects, regional dishes, unique to Crete Mantinades poetry and music, musical instruments, dance and song. In the countryside you may see old ladies riding on donkeys, shepherds herding their flocks, men congregating in 'kafeneia' (coffee houses) after their afternoon sleep, and older folk wearing traditional dress.
The people of Crete are renowned for their hospitality, and instinctively treat strangers as esteemed guests. They are rightly proud of their 'filotimo' (dignity and sense of honour') and 'filoxenia' (hospitality, welcome, shelter). Be assured that you will receive a warm welcome.
The mythology of Crete
The stories from ancient times, passed down through the generations, are enjoyed around the world to this day. They provide a window into the lives of people from the earliest civilisations: their history, their beliefs, and their interpretation of natural phenomena for which responsibility was attributed to gods, who then had to be appeased with offerings after disastrous events and when plans were unsuccessful. Their lives revolved around keeping the gods happy.
Probably Crete's best-known legend involves King Minos (son of Zeus and Europa, a Phoenician princess), the Palace of Knossos, and the Minotaur. Minos had received an offering of a bull from Poseidon, who insisted the animal be sacrificed in his honour to acknowledge his support of the Cretan king. However, Minos was taken with the beauty of the stunning white bull and chose to keep it, deceiving Poseidon by instead sacrificing another bull. When Poseidon discovered Minos's duplicity, he took revenge by using his power to make Minos's wife Pasiphae fall in love with the bull, and 18 appointed Daedalus, an inventor, to make it possible for the bull to mate with the smitten Pasiphae, who then gave birth to a creature with a man's body and the head of a bull, the man-eating Minotaur. King Minos called upon the skills of Daedalus to construct a complex labyrinth under the Palace of Knossos, in which to imprison the Minotaur.
Did you know?...
The first olive press in the world was found on the island of Crete in around 1600 BC and a large percentage of all of the world's olives are grown here.
A son of Minos, Androgeus, had been killed by local citizens in Athens, prompting his father to wage war against the city. To avenge his son's death, Minos demanded that the vanquished Athenians regularly transport seven young men and seven young girls to Crete, to be abandoned in the labyrinth as food for the Minotaur. Appalled by the humiliation of Athens, Theseus, a son of the city's king, insisted on being one of the seven young men sent to Knossos, with the intention of killing the monster. On arrival in Crete, Theseus met Ariadne, Minos's daughter, and the pair fell in love. Ariadne vowed to help Theseus, and gave him a ball of thread, at the suggestion of Daedalus. Having secured the end of the thread at the entrance to the Labyrinth, Theseus ventured into the complex maze, found and slaughtered the Minotaur, and followed the thread back to the entrance.
Having later discovered that Daedalus had helped Poseidon in his revenge against him, Minos imprisoned him and his son Icarus in the Labyrinth. Ever inventive, Daedalus constructed two pairs of wings from feathers, held together with wax.
Despite Daedalus warning his son not to fly too close to the sun, Icarus soared higher and higher in his youthful excitement. The heat of the sun melted the wax and the wings disintegrated, causing Icarus to plunge to his death in the sea.
Daedalus, flying carefully, was able to reach Sicily. Minos, however, had an inglorious end. He was murdered by the daughters of King Kokalos while he was in Sicily searching for Daedalus in order to punish him.
Read our guide to the three top archaeological highlights of Knossos.
Cretan cuisine
Cretan cuisine is considered one of the healthiest diets in the world. Often seasonable, particularly in the mountain villages, it includes lots of olive oil and vegetables cooked in many ingenious ways to make the most of the natural produce grown organically on the island.
Olive oil is the most important ingredient in Cretan cuisine. Virtually everything has a spoonful (or two or three) of olive oil thrown on top. Some Cretan dishes even swim in the golden liquid, only to their benefit.
Did you know?...
The Cretans love to offer the fiery raki, a strong liquor, when entertaining friends and they can be offended if it is refused! However, declining because you are driving is acceptable, and ladies also have a get-out clause if they do not wish to partake, as women are not generally expected to drink a lot of alcohol!
Here are a few local dishes to try….
Dakos: A very typical Cretan dish. Rusks; traditional dried breads that are baked several times and kept for months, are moistened in a bit of water and topped with grated tomato, olive oil, cheese and oregano. Crunchy, light and full of flavour, it makes a perfect snack.
Sarikopitakia: These pastries, filled with sheep's cheese and fried in olive oil, are named after the iconic traditional scarf, of the same shape, worn by the men of western Crete.
Fasolakia: Fresh beans cooked with a little crushed tomato and olive oil. The simplicity of this dish belies its taste and reminds us never to judge a book by its cover.
Artichoke hearts with wild hare: A dish overflowing with artichoke hearts stewed with wild hare and crushed tomatoes.
Raki: It's hard to visit Crete without drinking raki a couple of times a day. Although raki is made in the same way as Italian grappa- from the remains of grapes (skins)- it is fortunately smoother and less potent. Moreover, it's almost always served with food such as savoury snacks or dessert.
Read more about three mouth watering Cretan dishes.