13 Dec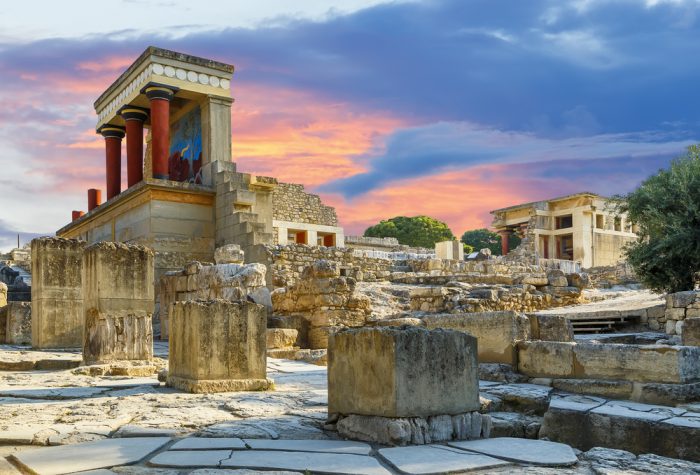 Crete is steeped in history and culture, crammed with great sites to explore and get a glimpse of the forgone civilisations that this incredible Greek island has been home to for many centuries.
The archaeological site of Knossos, five kilometres to the southeast of Iraklion, is Crete's most famous historical attraction. Knossos is the largest Bronze Age archaeological site on the island and is referred to as the oldest city in Europe.
Knossos was first inhabited by a Neolithic settlement in the seventh century BC. It stayed inhabited for several thousands of years until it was finally abandoned in 1375 BC after its destruction, which marked the end of Minoan civilisation.
Here are three of the most fascinating archaeological preservations of Knossos.
The Great Palace
The Great Palace is the largest of the Minoan palatial centres that have been preserved on the site. The Great Palace is made up of four wings, which comprise of courtyards, a throne room, baths, a huge palace, private apartments, breath-taking frescoes, and much more.
The Little Palace
The Little Palace lies to the west of the Great Palace. This building is the second biggest in Knossos. It was in the Little Palace that an incredible Bull's Head constructed out of steatite was found, which is now on display in the Archaeological Museum of Heraklion.
Temple Tomb
Temple Tomb can be found approximately 600 metres to the south of the Great Palace. The tomb was connected to the House of the High Priest. It is believed that one of the last remaining kings of Knossos from 17 – 14 century BC was buried here. The imposing Temple Tomb features some wonderful architecture, including a two-pillar crypt, and a courtyarded entrance.
If you are interested in the ancient history of Greece, then you simply must take a trip to Knossos and witness the many fascinating ancient sites there.