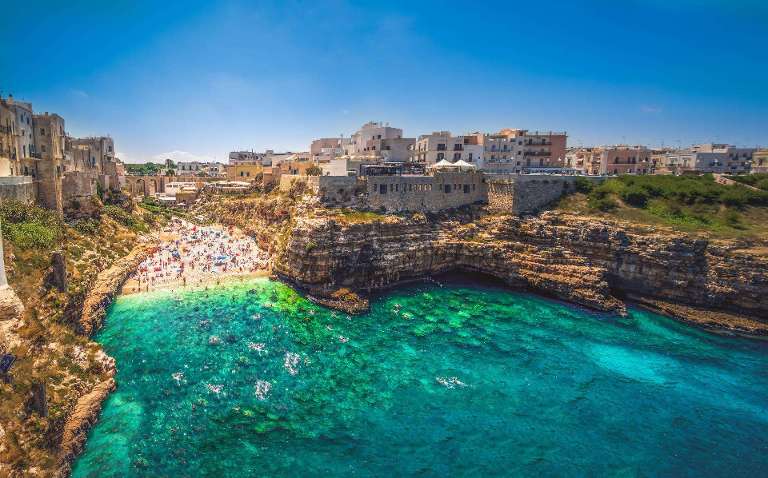 Puglia is a region located in the southeast of Italy, in the "heel" of the country's boot-shaped peninsula. It is a stunning destination for a villa holiday, thanks to its unique blend of stunning coastline, gorgeous countryside, and fascinating culture.
Famous for its unique architecture, particularly the iconic "trulli" houses, these traditional stone
buildings with their distinctive cone-shaped roofs are a UNESCO World Heritage Site and offer a
fascinating glimpse into the region's rich history and culture.
Another of its most striking features is its beautiful coastline, which stretches for over 800 km and offers a range of breathtaking beaches and crystal-clear waters. From the dramatic cliffs of Polignano a Mare to the long sandy stretches of Torre Lapillo, there is something for everyone here.
Inland, Puglia boasts an equally impressive landscape, with rolling hills, picturesque villages, and
stunning countryside dotted with olive groves and vineyards. The region is home to several national parks and protected areas, including the Gargano National Park and the Alta Murgia National Park, which offer ample opportunities for hiking, cycling, and wildlife spotting.
Travelling to Puglia
Puglia has two airports, Bari and Brindisi, both of which are accessible from several airports in the UK, including Dublin, Edinburgh, Gatwick, Manchester, and Stansted. Follow this link to find out more about airports and airlines that serve Puglia.
Travel options within Puglia are abundant, whether you prefer to rent a car or use public transportation. Although bus services can be infrequent in isolated villages, getting around Puglia by public transport is relatively easy for major towns and cities. FS trains offer connections to most of the main locations, while smaller, privately owned lines serve more remote areas such as Gargano and Le Murge.
Picture Perfect Towns & Cities
Puglia is home to a wealth of charming towns and cities, each with its own unique character and
attractions. We especially love Cisternino where we offer a choice of charming villas with swimming pools.
Cisternino is a small and charming town nestled in the heart of the Valle d'Itria, offering an authentic Italian experience to its visitors. Its historic centre is characterised by narrow streets and traditional stone houses with pointed roofs. These buildings, painted white, give the town its unique appearance and make for a picturesque and peaceful setting. The town is also famous for its cuisine, particularly its grilled meats and locally produced wine. You can indulge in traditional dishes like "orecchiette" pasta, "friselle" bread, and fresh seafood at one of the many restaurants in the area.
Despite its small size, Cisternino has a lively atmosphere, particularly in the summer months when the town's main square comes alive with music and entertainment. You can mingle with the locals, browse the market stalls, and soak up the vibrant atmosphere.
Cisternino's location also makes it an excellent base for exploring the region. Nearby attractions include Alberobello, Ostuni, and the stunning beaches. View our villas in Cisternino.
Beaches
The beaches and secluded coves in Puglia are some of the most beautiful in Italy, with crystal-clear waters and stunning natural scenery. Bordered by the Adriatic Sea on one side and the Ionian Sea on the other, the region is known for its unspoiled coastline, offering visitors a peaceful and relaxing escape from the crowds of more popular destinations. Here's a selection of some of our favourites:
Baia dei Turchi
is a secluded cove located on the Adriatic Sea that is surrounded by beautiful pine forests and crystal-clear water. The beach itself is sandy and offers plenty of space for swimming and sunbathing, while the surrounding area is perfect for hiking and exploring. Visitors can take a stroll through the lush forest, enjoy a picnic on the beach, or simply relax in the tranquil atmosphere.
Porto Selvaggi
,located on the Ionian Sea, is a beautiful nature reserve that boasts some of the most picturesque beaches and coves in Puglia. The beach itself is sandy and surrounded by lush vegetation. Visitors can take a dip in the crystal-clear water or explore the reserve's many hiking trails, which offer stunning views of the sea and surrounding landscape.
Torre dell'Orso
is famous for its pristine white sand and crystal-clear water. The beach is surrounded by beautiful cliffs and rock formations that provide ample opportunities for snorkelling and diving. Visitors can explore the area's many caves and grottoes or simply soak up the sun and enjoy the breathtaking views.
Wherever you choose to stay in Puglia visitors can easily plan a day trip to one of these stunning
beaches, enjoying the beauty of Puglia's coastline and the tranquillity of its secluded coves.

Read our guide The Best Beaches & Coves of Puglia for a full list of our favourites
Things to Do
One of the many things to do in Puglia is exploring the picturesque countryside, which offers stunning views of olive groves, vineyards, and hilltop towns. Walking or hiking through the countryside is also a popular pastime, with several walking trails to choose from.
World Heritage Site Alberobello
Visiting UNESCO World Heritage site Alberobello is a must. The unique and well-preserved trulli houses that dot the town's landscape is a spectacle. The town is divided into two parts: Rione Monti and Aia Piccola. Rione Monti is the larger and more popular part of the town, with over 1,000 trulli houses clustered together on the hillside. Many of these houses have been converted into shops, cafes, and restaurants.
Grottoes
Visiting the grottoes is another popular attraction in Puglia. The region is home to several cave systems, including the famous Castellana Caves, which are one of Italy's largest cave networks. Visitors can take guided tours of the caves to see the beautiful stalactites and stalagmites.
Water & Adventure Parks
For those seeking more adventurous activities, there are several water parks and adventure parks in Puglia. Aquapark Egnazia is a popular water park located near Fasano, with water slides, wave pools, and other attractions. The region is also home to several adventure parks, including the Indiana Park adventure park in Castellana Grotte.
History
If history is of interest to you, the region has many ancient ruins, including the Roman amphitheatre in Lecce and the well-preserved Greek city of Metaponto. Visitors can also explore the mediaeval castles and churches that are scattered throughout the region.
Traditional Food & Drink
The region boasts a cuisine that is both flavorful and varied, with a focus on simple yet high-quality ingredients.
One of the most iconic dishes from Puglia is orecchiette con le cime di rapa, which is a type of pasta made from durum wheat semolina and served with a sauce made from turnip greens, garlic, chilli pepper, and olive oil. Another popular pasta dish is cavatelli, which is similar to orecchiette but with a slightly different shape.
Seafood is also a major component of the Puglian diet, given its proximity to the sea. Some popular seafood dishes include the cozze alla tarantina (mussels cooked with tomato sauce and chili pepper), and the baccalà alla pugliese (salt cod stewed with potatoes, tomatoes, and onions).
If you like a tipple with your meal Primitivo is a popular drink in Puglia. This wine is known for its intense flavour, high alcohol content, and deep colour. Tourists can visit local wineries to taste Primitivo and learn about the winemaking process.
Overall, tourists visiting Puglia can expect to indulge in a diverse range of dishes that highlight the region's use of fresh, high-quality ingredients, simple cooking techniques, and a deep appreciation for the land and sea.
One of the most iconic dishes from Puglia is orecchiette con le cime di rapa, which is a type of pasta made from durum wheat semolina and served with a sauce made from turnip greens, garlic, chilli pepper, and olive oil.