Loading Results
Sorry, No Villas found
There are no villas that match your search requirements, try broadening your search criteria or give us a call on
01954 261 43101954 261 431.
Looking for inspiration?
Welcome to Catalunya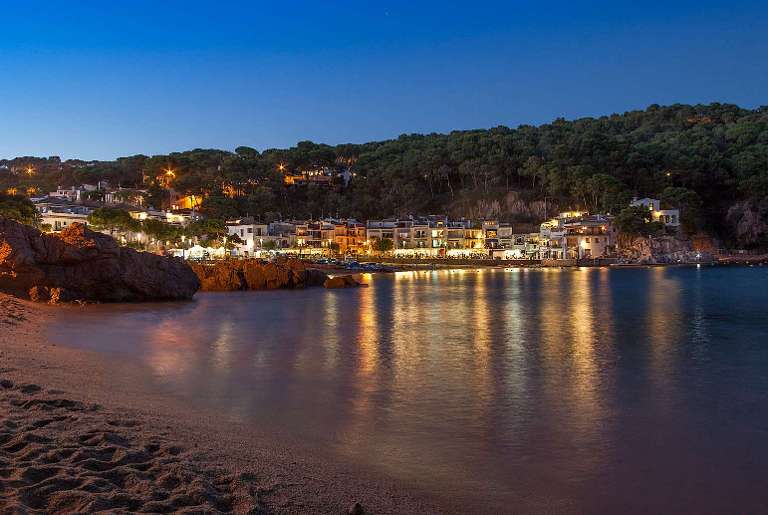 Tucked away in the northeast corner of Spain, Catalunya is a diverse region that is steeped in history. It has so much to offer, with its rugged coastline, majestic Pyrenees, rolling hills and vibrant cities.
Catalunya is very distinct from other regions of Spain. With its own language, culture and traditions, it offers a wide choice for the discerning holidaymaker. It caters for everyone - beach lovers, adventure seekers and history buffs. From the quiet Penedès wine region in the south to the tree-clad rocky coastline in the north; from the imposing Pyrenees Mountain range to the stylish cosmopolitan city of Barcelona (a must on any trip) Catalunya has all the ingredients for a memorable holiday.
With its chequered history of power and oppression, the region has no shortage of historical landmarks which span the most important eras in our history. Take a stroll around the medieval villages of Pals, Peratallada and Ullastret. Visit the Greco/Roman ruins in Empúries. The cities are also steeped in history, from Barcelona's cathedrals and Gothic quarter to Girona's well-preserved Jewish quarter. There is no end to the possibilities.
There are beautiful golden beaches to suit all tastes. Long sandy beaches are ideal for water sports or for a day soaking up the sunshine, whilst the many hidden coves make snorkelling in their clear waters a delight.
Best for…
Best for Crafts:
For a large selection of ceramics, La Bisbal is the pottery capital of the region. Take a stroll along the main street and purchase some of the handmade pots or tiles to take back home. Or why not explore some of the numerous antique shops to be found here?
Best for Gastronomy:
The Costa Brava is noted for its cuisine and has many excellent restaurants. For some excellent seafood, choose a table at one of the many restaurants in the coastal villages and enjoy the freshly cooked dishes whilst looking out across the Mediterranean.
Alternatively, do as the locals do and try out one of the renowned restaurants to be found in the inland medieval villages of Palau Sator, Peratallada or Sant Feliu de Boada.
Best for Sports:
For those wishing to take advantage of the many water sports in the area, Platja de Pals is a great place to go since this long sandy beach is ideal for windsurfing and a variety of water sports. Alternatively, why not hire a boat from the harbour in Palamós or a kayak from the beach of Tamariu or Llafranc and spend a day admiring the beauty of this rugged coastline from the water?
Best for Diving & Snorkelling:
The Costa Brava is a diver's paradise. The diving is excellent here, especially around the protected Nature Reserve of the Medes Islands. The smaller coves around Palafrugell and Begur are also great places to dive and snorkel and all have dive centres to make your experience more enjoyable.
Best for Hikers:
The best way to take advantage of the spectacular scenery of the Costa Brava is on foot. The geography and scenic variety of the region make it the perfect place for hiking and cycling. Take one of the many well signposted routes (green signs for hikers, brown for cyclists) either along the coastal paths or head inland through the forests and hills. There are many maps available indicating these routes and the difficulty of each one.
Read our guide for more Things to Do in the Costa Brava.
The Beaches of Catalunya
The beaches on the Costa Brava are some of the finest to be found and many of them have been awarded a Blue Flag for the facilities and cleanliness.
There is such a great variety of beaches that all tastes are catered for. From long golden sands ideal for sunbathing to hidden coves that will delight snorkelling enthusiasts, there is something for everyone. On the larger beaches, windsurfing and other water sports are available for sports enthusiasts.
A selection of some of the area's best beaches:
Platja de Pals – A long bay stretching over four kilometres with a fine, sandy beach. The northern part of the bay is backed by dunes and marshes and is a nature reserve. The southern part has a sprinkling of bars and restaurants. Ideal for windsurfing, wake boarding and paragliding with many water sports on offer.
Platja de Sa Riera (Begur) – A small cove with coarse golden sand, a moderately sloping shelf and lovely views out to the Medes Islands. Bars and restaurants are available along with a few local shops and public showers. Excellent for snorkelling. In the peak season parking can be a problem so it is advisable to get there early in the morning.
Platja d'Aiguablava (Begur) – This extremely pretty bay is one of the most picturesque spots along the coastline. Its small fine sandy cove beach is backed by pine covered slopes on either side and its waters change colour from deep blue to turquoise depending on the seabed. It faces east and has a gently sloping shelf. Bars and restaurants are available, along with public showers. There is a car park adjacent to the beach, although this can become busy in the height of the summer so it is advisable to arrive early in the morning or later in the day. View our villas in Aigua Blava.
Sa Tuna (Begur) - Exposed to the north, this beach is pebbly, with a gently sloping shelf. There are bars and restaurants available here. The water is normally calm and it is good for snorkelling. Like Sa Riera, being a very small cove parking can be difficult in peak season.
Tamariu – Facing south east and situated alongside the pretty fishing village of Tamariu, this is a delightful horseshoe shaped cove beach, backed by a pedestrian promenade lined with a good selection of local restaurants and bars. It is excellent for snorkelling. Boats and kayaks can be hired and it is an ideal location for exploring the nearby rocky coastline from the sea, including the hidden 'Cova d'en Gispert'. View our villas in Tamariu.
Llafranc- Facing south, Llafranc beach has a pretty marina and golden sands and is backed by a tree-lined promenade with hotels, bars and an excellent selection of restaurants, and public showers are available. For a wonderful view across both this and the neighbouring bay of Calella, follow the road that leads from Tamariu to Palafrugell and turn left at the turning signed 'Far Sant Sebastia'. This takes you via the lighthouse where you can stop at the top and admire the stunning coastal panorama. View our villas in Llafranc.
Calella de Palafrugell- Facing south, this is a picturesque fishing village with a choice of attractive cove beaches, all with public showers and plenty of bars and restaurants. The Canadell Beach can be reached on foot from Llafranc via a scenic coastal path that starts at the steps of the southern end of Llafranc beach. Both Llafranc and Calella come alive at night and at certain times of the year you will hear the 'havaneres' (sea shanties) being sung in Calella. View our villas in Calella de Palafrugell.
These are just a few of the many beautiful beaches and coves this coastline has to offer. There are, of course, many more hidden corners to be discovered and to describe each and every one would be an impossible task!
The Towns and Villages of Catalunya
The Costa Brava, so named because of its rugged coastline, was sculptured by wind and sea. Its rocks descend down into the sea and its shoreline is indented with coves of many sizes.
It is an area of outstanding natural beauty with a mild Mediterranean climate, and stretches from Portbou in the north to Blanes in the south. It is divided into three regions: the Alt Empordà, the Baix Empordà and La Selva. For those who wish to explore and appreciate the diversity of this majestic area, it holds many surprises.
Although it would be impossible to include all of the wonders of the Costa Brava here, we have picked out a selection of some of the towns, villages and sights that we think are worthwhile visiting.
Púbol
This little village is a must for all art lovers. Here you can find the Castle of Púbol, the third stop on the Dalí triangle. This 14th century building was bought by Salvador Dalí in 1970 for his wife Gala Diakonova. The three-storey castle became Gala's refuge and was restored by Dalí who put his personal stamp on it. It contains a personal and interesting collection of Gala's memorabilia including her clothes, furniture and even the Cadillac used to pull her hearse. When Gala died in 1982, she was buried in Púbol and the Casa-Museu Castell Gala Dalí de Púbol was opened to the public in 1996.
Pals
The medieval town of Pals, built on the hill of Puig Aspre and surrounded by paddy fields, offers a panoramic view of the countryside around. There are many noteworthy buildings to be found in the town, such as the church of Sant Pere, which dates back to 944, the Bell Tower, the Gothic Quarter and the medieval walls. View our villas in Pals.
Peratallada
Peratallada, which literally means cut stone, gets its name from the fact that the rock that the town is built on had to be excavated to build the town. This well-preserved medieval town is dominated by its castle and its walled enclosure, inside which many towers can be found. It is well worth a visit.
La Bisbal
The capital of the Baix Empordà region, La Bisbal has a very important ceramic industry. This is very evident as you stroll through the town, past the abundance of colourful ceramic shops, stocking everything from flowerpots to tiles to plates. The main street is lined with these shops and there is also a Terracotta museum at the southern end of the town. Dotted around the town, you can still see the antique chimneys. View our villas in La Bisbal.
Begur
Overlooked by its medieval castle, the hilltop town of Begur is a town that has lots of charm. Historically, the town prospered due to the coral trade of its fishing coves such as Sa Riera, Aiguafreda, Sa Tuna, Fornells and Aiguablava. However, many of the buildings that we see there today are a legacy to a number of its emigrants who returned wealthy from Cuba (referred to locally as Indians) and who built the large houses that give the town its character. Begur is also well known for the Fira d'Indians – this not to be missed fair is normally held at the beginning of September and celebrates Begur's links with Cuba. View our villas in Begur.
Palafrugell
The market town of Palafrugell is a bustling place. Historically, it depended on its cork industry. Now, although this industry still prospers here, the beauty of its coastline and the villages of Tamariu, Llafranc and Calella de Palafrugell make it a very sought after destination for the discerning tourist. There is a lively fruit and vegetable market here every morning, except Mondays, and its covered fish and meat market is a great place to buy your fresh produce. View our villas in Palafrugell.
Tamariu
Of the trio of Palafrugell's coastal villages, Tamariu is the smallest, but makes up for this in beauty. Tamariu, named after the Tamarind trees which grew here, is situated in a horseshoe-shaped cove and is ideal for swimming or snorkelling. From here, you can visit many caves, either by boat or kayak or you can walk around the coast to other little coves such as Cala Pedrosa. View our villas in Tamariu.
Llafranc
Just to the south of Tamariu, you will find Llafranc, a delightful coastal village which is quite lively in summer and boasts a small marina. It is a must to include on any itinerary and from its lighthouse, El Far, high above the harbour, you can appreciate views of Calella, Palafrugell and the blue immensity of the Mediterranean. View our villas in Llafranc.
Calella de Palafrugell
Distinctive, with its whitewashed arches, Calella has a character all of its own. Many artists have set up their easel here to paint the little coloured boats on Port Bo beach. Unlike Tamariu and Llafranc, due to the more rugged coastline, Calella is divided into several smaller beaches. The largest of its beaches is Canadell, but the smaller beaches of Port Pelegrí, Can Clau, Port de Malaespina and Sant Genis are definitely worth seeking out. For over 40 years, Calella has hosted a festival of traditional havanera music (sea shanties) on Port Bo beach. Despite the limited space on this beach, on the first Saturday of July every year, the festival attracts up to forty thousand people. View our villas in Calella de Palafrugell.
Food and Drink in Catalunya
Catalan cuisine encompasses flavours that most of us love – tomatoes, olive oil, garlic, onions, dried nuts and lots of dried herbs.
There are two basic styles of cooking. One is the fisherman style dishes of the coast – seafood stews, black rice with squid cooked in its own ink, grilled fish, 'Suquet' (fish and potato stew) and 'Rossejat' (pasta sautéed and cooked in fish broth with clams). The other style has a more country farmhouse feel to it - grilled rabbit with alioli, duck with turnips and wild boar stew. Sometimes the two styles come together to give us dishes such as prawn and chicken stew with nuts, herbs and chocolate.
A special mention must be made of Calçots, grilled spring onions that are dipped in Romesco sauce and eaten with fingers (a special bib is provided). It is a specialty of Valls and most restaurants have it on their menu.
Tapas
In Catalunya, as in the rest of Spain, 'tapas' are a way of life. Most bars offer some form of 'tapa' whether it be olives, morsels of Manchego cheese or wedges of potato and onion omelette. The origin of the word 'tapa', which literally means 'cover', can be traced back to the middle of the 18th century and the south of Spain. In Andalucía, roadside innkeepers used to cover the glass of wine they served to thirsty horsemen with a slice of ham, cheese or bread. This 'tapa', or cover, was meant to protect the glass of wine from dust or rain.
Read our guide to the Origins of the Spanish Tapas.
Wine and Cava
Wine has always been part of the Spanish culture and, with about one million hectares of vines, Spain accounts for around 16% of the world's wine production. Grape vines first came to the Catalan shores with the Phoenicians and Greeks but it was the Romans who consolidated and spread the art of winemaking.
The six main wine producing regions of Catalunya are Penedès, Priorato, Terra Alta, Alella, Tarragona and Empordà. There are however many small bodegas to be found in the many villages dotted around the Catalan countryside. The native grape varieties include Ull de Llebre, Macabeo, Carinyena, Garnatxa, Malvasia, Monastrell, Parellada and Xarel.lo. When it comes to imported varieties, Chardonnay, Cabernet Sauvignon, Sauvignon Blanc, Pinot Noir and Merlot are the most common.