Travel Advice
The Foreign & Commonwealth Office and National Travel Health Network and Centre have up-to-date advice on staying safe and healthy abroad.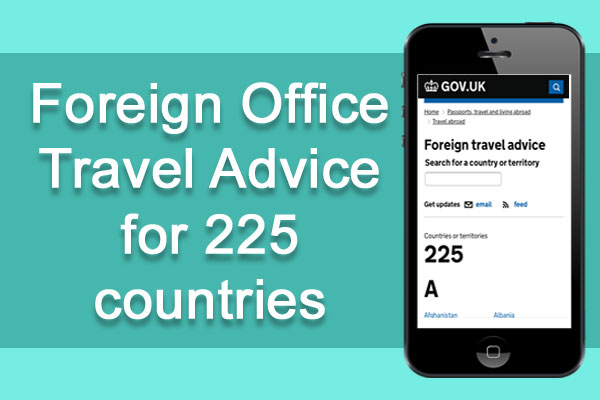 For the latest travel advice from the Foreign & Commonwealth Office including security and local laws, plus passport and visa information check www.gov.uk/travelaware and follow @FCOtravel and Facebook.com/FCOtravel or call 020 7008 1500.
You may wish to take account of the following sources of travel advice.
Passport Agency information on UK passports. www.ukpa.gov.uk
Department of Health information on health requirements and vaccinations. http://www.dh.gov.uk
Your right to holiday health care in Europe
If you are a UK resident you are entitled to free, or reduced cost, state provided healthcare when visiting a European Union (EU) country, Iceland, Liechtenstein, Norway or Switzerland. However to be covered you will need to take a currently valid European Health Insurance Card (EHIC) or apply for the new Global Health Insurance Card (GHIC).
For further information, including how to apply for a card http://www.dh.gov.uk/. This is to not to be used as a substitute for full holiday insurance cover but only as an addition to.