We have you covered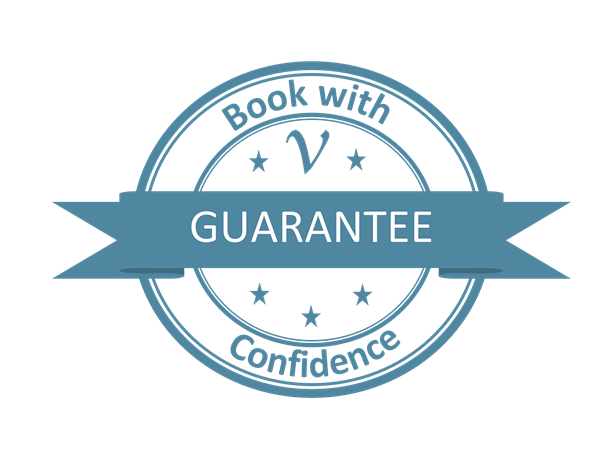 Book with Confidence – We have you covered
Our clients are now travelling for their long-awaited and well-deserved holiday and are having an amazing time.
However, we do recognise that some may be hesitant about booking a holiday for some time in the future in case travel become restricted once again - if this does happen we have you covered.
At Vintage Travel we sell many holidays well in advance and bookings for next year are well ahead of where they would normally be at this time of the year. To ensure you can book the property that you really want it is always best to book early and avoid the disappointment of your chosen weeks no longer being available.
Book with Confidence – Our Guarantee

For imminent departures, you will be entitled to change your booking without any amendment fee in the following situations:
Your* government requires all travellers to stay in a 'quarantine hotel' when returning from the destination of the property you have booked.

The borders to the destination of the property are closed due to Covid-19.

You* are under a national Government imposed Covid-19 lockdown which makes it illegal for you to travel.
*of the lead client
The Small Print
1. The 'start of your holiday' is deemed to be the arrival date at your property as shown on our Booking Confirmation.
2. The guarantee relates to accommodation only and if a booking is moved you will need to pay any difference in price.
3. You must have adequate travel insurance in place within 48hrs of the time of booking for each person on the booking.
4. Holiday balances must be paid within 5 days of the due date.
5. Applies to all departures up to 31 December 2022.
FAQ's
If under the guarantee I am able to move my booking, will I have to pay any more for the holiday?

Not necessarily. You will only pay more if the price for the new holiday is more expensive. If it is cheaper we will, of course, hold a credit for the difference on your account.
What if I need to cancel the holiday because myself or a member of my party has contracted Coronavirus?

This would be a cancellation under our normal booking conditions, in the same way that a cancellation would be treated for any other illness. This is why we cannot stress enough how important it is to have a good quality travel insurance in place around the time of you confirming your booking.
Can you recommend a good insurance policy

Due to the fact that everyone's needs are different, you should assess which policy meets your needs and requirements. The ABTA backed insurance policy ABTASURE is worth looking at. . Please make sure that, whichever policy you choose, it fully meets your requirements.
What happens if I get Coronavirus whilst I am holiday?

This will be treated like any other illness whilst on holiday and again this is why a good quality insurance is important.
Can I defer my balance payment?

Whatever the travel conditions/restrictions are on your balance due date, you should pay your holiday balance, of course your money is still protected. If the balance is not paid the property owner will cancel the booking under the terms of the contract. We will, of course, send you timely reminders when balances become due.
What if I have just changed my mind and don't want to go on holiday?

If you hang on in there and go on the holiday, we know that you will have a great time, but we understand that sometimes people just don't want to go – for a whole range of reasons. If this happens please let us know as soon as possible and we will do our best to resell the holiday so that we can refund you in line with our standard booking conditions.
(Click here to take a look at of our client feedback)
We just love to talk
At Vintage Travel we appreciate how many have been affected and in so many ways. Throughout this crisis we have always tried to do the right thing, not just legally but morally too. We appreciated that many of our clients would want to speak to us in person, and that is why we have continued to have adequate team members ready to take your calls and answer your queries.
We have received 1000's of calls (and made 1000's too), 99.9% of which were answered within just a couple of rings and always in person – never by an automated system! Having been in business for over 30 years we value and respect our clients too much to have it any other way. Thank you to all our wonderful clients who have been so supportive of our team and for the many kind comments that you have sent in.
'A real person not a robot!'
"I needed to change my holiday booking and was able to do this by phone, whereas other companies I have dealt with recently are online only. The staff were really helpful and sent a confirmation immediately."
We look forward to speaking with you again soon.
We are proud in 2020 to have been awarded the Platinum Trusted Service Award from Feefo, along with being voted in the Top 20 in the Condé Nast Traveller's Readers' Choice Awards 2020 – Villa Companies and in the 'Best Villa Companies 2020' by the Sunday Times.
Taking great care of our guests for over 30 years