Three Traditional Mouth Watering Cretan Dishes
Food on the island of Crete is centred on tradition. Dishes typically rely on local produce, in particular the island's unique cheeses and renowned olive oil. Meals are cleverly flavoured with local herbs and greens.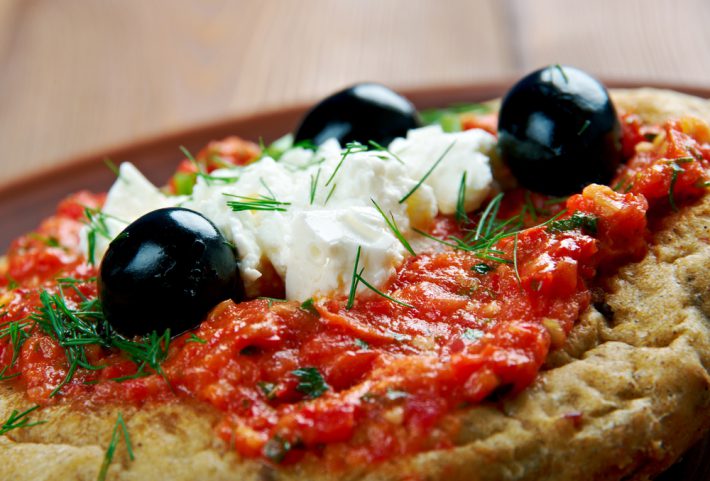 Cretan food is not over complicated but is certainly nourishing, tasty and wholesome.
If you're a fan of Cretan cooking take a look at these three mouth-watering suggestions…
Dakos
Dakos is one of the more famous Cretan dishes. Depending on which area you visit it will have a different regional name, from Koukouvagia (owl), don't worry it's not cooked owl, to Kouloukopsomo (puppy bread).
Dakos is basically a great Greek salad, not unlike bruschetta. The main ingredient is barley rusks soaked in virgin olive oil, and then covered with tomato that has been grated, and a wonderful goat's milk cheese called mizithra. Feta cheese is sometimes used. Various herbs such as oregano, plus peppers and salt are added.
This dish ideally needs to be eaten fresh, directly after preparation. It may not seem a big meal, but with some great local bread, and a full glass of wine, Dakos is ideal during the day.
Lamb with stamnagathi
The Cretan people love to add wild greens to their dishes, and stamnagathi, which grows wild locally, has become a favourite, especially with meats such as lamb. The meat is sautéed in olive oil with added oregano, and the stamnagathi greens. An egg and lemon sauce called avgolemono is often drizzled on the lamb, to add some bite to the taste.
Gamopilafo
This traditional dish is rice-based and will often be served at Cretan weddings, although many bars and restaurants on the island have it on their menus. It is somewhat similar to a risotto, but classier.
The dish comprises of a very rich broth, created by extensive simmering of meats, such as goat, lamb or even rooster, with a splash of lemon. This is combined with a considerable quantity of stakovoutiro, a creamy skin of boiled goat's milk, that becomes a rich butter or roux.
Crete is also famous for punchy liqueurs. You may know the name raki, a very strong brandy based on local grapes that was originally developed as an alternative to absinthe.
Raki is probably best left to the evening, after a wonderful traditional Cretan meal.