10 May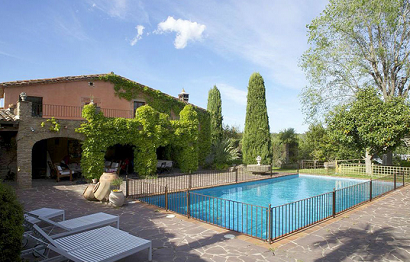 Salvador Dali thought so much of his beloved Gala, that he bought her a castle in a very beautiful part of north eastern Spain. Vintage Travel also thinks this area of Spain is extremely lovely and, as proof, has just added an incredible 18th century house to their armoury of luxurious places to stay for your dream holiday in northern Spain.
The stunning house is situated in town of La Pera, which is loved by artisans and nature lovers alike. Prettiness abounds around La Pera, and the house, known as Mas Noguer, does the region it abounds more than deserved justice.
The owner of this luxury villa in La Pera lives in an adjoining privately entered wing of the house. He is an artist and, by all accounts, sounds very interesting and worth meeting. Mas Nouger's owner is however discreet and understands fully the need for privacy for holidaymakers and his living quarters do not overlook the huge swimming pool or fabulous garden.
Mas Noguer is packed with authentic features, such as the vaulted ceiling in the kitchen, which was once a manger. The original ceramic tiles of the kitchen are a joy to walk upon, as are the beamed ceilings which run throughout the house. Mas Noguer has seen history and has been history,  right up to the day when a huge 11.5 x 6.0 metre swimming pool was built within its grounds of extensive views and well-kept gardens.
This huge luxury villa in La Pera sleeps eight and even has a lift from the ground floor! The ground floor consists of an entrance hall leading to another hall, which take you on to a covered terrace. There is a living room with a fireplace plus a lift which takes you upstairs to a twin double bedroom. Also on the ground floor is a splendid dining room, a TV sitting room, cloakroom and a further kitchen/ breakfast room.
The first floor boasts a grand library with doors leading to an upper terrace overlooking the pool. Three double bedrooms and one twin double provide the sleeping quarters. Two of the doubles have en suite facilities and another has a shower room.
Despite its antiquated interior appeal you can expect all the usual mod cons in this house, including a dishwasher, microwave and WiFi.
The equally delightful exterior has mature gardens with covered and open terraces. A garden shower room enables you to shower before and after bathing in the truly superb large swimming pool equipped with lavish Roman steps.
If you can manage to prize yourself away from this tremendous Catalan property, there are plenty of local delights just waiting to be discovered. One such local treasure is the nearby town of Pubol. In 1969 Salvador Dali bought and restored the 11th century castle in Pubol, which is now a museum and is considered to be one of the three points of the Dali triangle. You can see Pubol and the castle from Mas Noguer.
The coast is not too far away and is the inland area around La Pera and Pubol, which provides a great day out on the beach for all the family.
For tapas enthusiasts there are plenty of interesting local restaurants in the vicinity of Mas Noguer to ensure that you have a lion's share of the extremely fabulous choices on offer when it comes to Catalan cuisine.