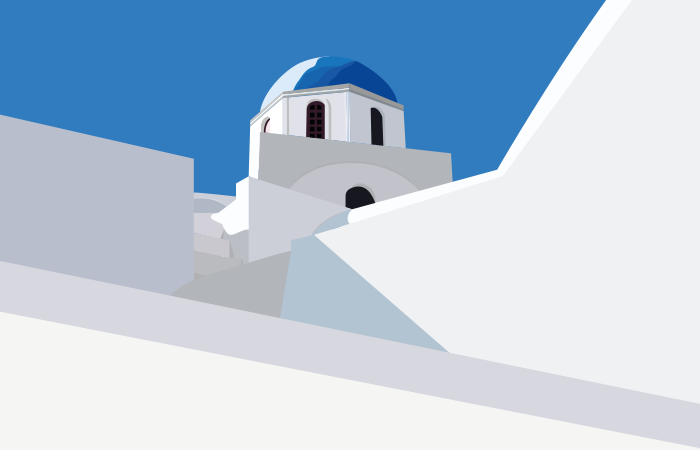 top holiday destinations in
greece
It is far from simple to narrow down the top holiday destinations in Greece. You have incredible architecture such as the Parthenon, the glorious beaches of Kos, and the rich history of Olympia. Add to that more than 6000 islands, four seas, and towering mountains – and well, you have one of the best holiday destinations in the world.

Fortunately, we've tried to do the impossible here and narrow down some of the best Greek holiday destinations. There's something for everyone, whether you want a quiet relaxing break to enjoy the warm sunshine in your holiday villa in Greece, or you want to get out and explore everything it has to offer.
Ithaca
Odysseus, the fabled hero of the Odyssey, attempted to make his way back to the legendary land of Ithaca following the conclusion of the Trojan War – and it's not hard to see why he was in such a rush to get back! Ithaca is a jewel of an island, hidden away in a waterway between the much bigger Kefalonia and the Greek mainland, and bordered by bijou coves of luminous stones.

Ithaca is just around 13 miles long from one end to the other, so you could theoretically walk the entire island if you wanted to.

Explore our Villas in Ithaca
Crete
In addition to being the largest of the Greek islands, Crete is also widely considered one of the country's top tourist attractions. Whether it's the stunning rose-tinged isle of Elafonisi on the south coast or the turquoise streaks of water flowing into the Balos Lagoon up north, there are enough locations to keep the jaw-dropping for weeks on end.

Hikers will also enjoy traversing the rugged mountains of Crete as part of their holiday. The Lefka Ori is a beautiful landscape filled with ancient donkey pathways leading to Mount Ida's peak, which is more than 2,400 metres above sea level. Below, the Samaria Gorge calls out to daring explorers, with its vertigo-inducing canyon walkways and native mountain goats. This stunning area is recognised as a UNESCO World Heritage Site.

Crete isn't just mountains and beaches, though. History buff? Visit the ancient Minoan palaces at Knossos on your next trip. Hoping for some nightlife? Check out the buzzy strips that Malia has. Vacations with the family? To find hotels near the beaches on the north coast of Crete, head to Chania. Not only that, but Crete is easy to get to since it has not one but two airports and many boat connections across the Aegean Sea.

Explore our Villas in Crete
Corfu
There are many reasons why Corfu offers one of the best holiday destinations in Greece. Even the people of ancient Greece recognised it as one of the most beautiful islands to visit! Poets and painters found inspiration in its verdant interiors and towering mountains, butterfly-filled valleys, and exquisite coastline with coves and caves.

Because of its well-known status, tourism in Corfu has experienced significant growth in recent years and, as a result, it is home to some of Greece's most popular destinations. On the eastern coast are the popular Benitses and Messonghi resorts. These resorts have family hotels and pebble coastlines that are ideal for swimming. There is also Kavos, a pulsating party centre for young adults aged 18 to 30, buzzing virtually non-stop between May and August.

Thankfully, the island of Corfu is big enough to accommodate a significant number of visitors while still maintaining some hidden gems. For example, in the western part of the island, you will find Paleokastritsa, a collection of pebble beaches nestled in a dramatic cleft in the shore, sheltered by an ancient monastery.

Explore our Villas in Corfu
Kefalonia
Kefalonia is not only the largest Greek island in the Ionian Sea, it is also widely considered to be amongst the most stunning islands in that region. Kefalonia is one of the most diverse and interesting places in Greece with its incredible natural scenery, unique beaches, attractive fishing villages, and mysterious underground caverns.

The island is known worldwide for its magnificent beaches, stunning terrain, and excellent gastronomy. As a result, the island draws in and enchants millions of tourists each year. An exotic vacation paradise situated in the heart of the Ionian Sea, the beautiful beaches of Kefalonia are, without a doubt, the primary draw for tourists returning to the island. There is not a beach in Kefalonia that will not take your breath away.

Explore our Villas in Kefalonia
Lefkada
Sticking to the subject of stunning beaches, we have Lefkada. It's not an understatement to say that the incredible beaches found on the island are primarily responsible for its immense popularity. You may have already seen a lot of images of the famous beaches of Lefkada, and trust us when we say that they more than live up to any expectations. The beaches will astound you with their dunes and shrines, hypnotising aquamarine waves, and untamed natural surroundings.

Spectacular cliff backgrounds, pristine white sand, stones that sparkle in the Ionian sun, crystal clear seas, and untamed natural surroundings combine to provide some of the best beaches you have ever seen!

In addition to the beaches of Lefkada, visitors to the island will be rewarded with seaside villages, natural wonders like the waterfalls of Dimosari, mouthwatering cuisine, and a plethora of exciting activities.

Explore our Villas in Lefkada
Peloponnese
As for holiday destinations on the mainland of Greece, the Peloponnese is one of the most popular locations you can hope to find. Many tourists stay in villas in the Peloponnese region of Greece throughout the year because of its proximity to Athens, its stunning resorts, and its fascinating sightseeing opportunities.

Greece's primary focus has been on this region ever since the prehistoric ages. It is home to some of the most important ancient sites in all of Greece, including Mycenae, Olympia, and Epidaurus. In addition, you will find a stunning array of amazing beaches, as the Peloponnese region is entirely encircled by water. Nafplion, Gythio, Monemvasia, and Pylos are among some of the other most idyllic and well-known locations in the region.

Explore our Villas in Peloponnese