22 Jan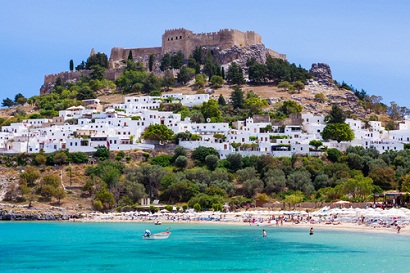 Historical sites, rapturous views and a periphery of golden sand – Why Rhodes remains a popular tourist destination!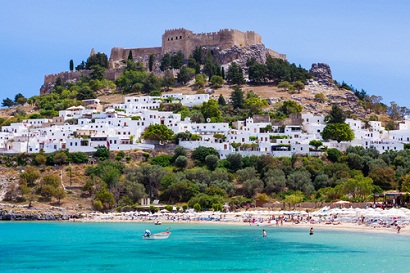 There was once a huge statue that stood in the port of Rhodes known as the Colossus. It was a representation of the Sun God, Helios and today is remembered as one of the seven wonders of the ancient world. The statue stood more than100 feet high at the harbour's entrance and was no doubt an imposing sight to any would-be assailants.
Unfortunately the Sun God was brought down by an earthquake just 56 years after it was erected between 303 and 291 B.C. Its authority, splendour and influence has lived on, as even the Statue of Liberty in New York is said to have been modelled on the Colossus of Rhodes.
Located off the south-western tip of Asia Minor, where the Aegean Sea meets the Mediterranean, the island of Phodes was an important economic centre in the ancient world.
Due to the position and strategic importance of Rhodes, the island has suffered in the hands of many rulers and invaders.
The Venetians fortified Rhodes town in medieval times and the old part of the town is today regarded as being one of the best preserved medieval towns in Europe.
Tiberius Caesar, the frighteningly menacing ruler of the Roman Empire came to Rhodes to retire in the year 6 B.C. Tiberius's retirement to the island was sparked by his unhappy marriage with Julias, whose promiscuity and outrageous public behaviour brought shame and embarrassment to the Cesar.
Rhodes' tumultuous and fascinating history undoubtedly augments the island's charm, intrigue and constant flow of tourists. With its generous smattering of interesting historical sights, it's periphery of beautiful golden beaches and pebbly coves set against a backdrop of a pine forests, mountains and panoramic views as far as the eye can see, Rhodes is an incredible place to spend a holiday.
Maybe you might consider one of Vintage Travel's villas in Rhodes, if you are planning a visit?