12 Dec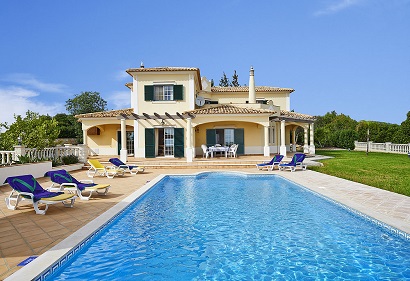 When it comes to villas possessing a Mediterranean 'feel' Villa Gomes in the Algarve is surpassed by little. Set in two acres of fertile gardens, the discerning visitor can truly relax in a place of great tranquillity. Being well secluded, this is a perfect private villa in the Algarve.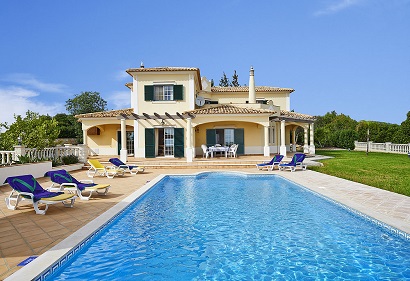 Shades of white and terracotta dominate the villa, surrounded by emerald green broken up only by a deep blue pool. The only other colours on show is the golden sun, the flowering plants and whatever colour your swim wear happens to be.
A traditional cobbled driveway greets the visitor followed by a large space for ample parking. Palm trees line the lawn besides the pool strategically planted as if the landscapers predicted one day these immature trees will be huge. Nothing is cramped or hemmed in at Villa Gomes and as consequence there is a real feeling of space.
The interior adopts the same theme of space and airiness, with subtle, elegant décor augmenting the overall style. The first of the villa's three bedrooms is on the ground floor and with its own bathroom and air conditioning radiates luxurious comfort. The living /dining area has doors that lead out onto the covered dining terrace, which overlooks the large and inviting pool. For those yearning an even more luxurious bedroom you may want to 'bagsy' the master bedroom, which has its own spa.
A large sun terrace is accessed from upstairs and offers stunning views of the ocean – the ideal place to sit with a glass of local wine as the sun goes down below the horizon.
The nearby hilltop village of Estoi is well worth a visit with two millennia of history to peruse. Situated in the foothills of the Serra De Caldeirao, Estoi is endowed with narrow winding cobbled streets that lead down to a charming little square. On the second Sunday of the month a lively market takes place in this charismatic square. If you happen to be in Estoi in August a fantastic equestrian event is held, an enriching experience particularly if you witness the horseback night time entertainment. The "Pink Palace" is another focal point of this traditional Algarve village, which was built by a rich aristocrat in the 18th century. Another nearby highlight includes the Milreu Roman ruins which date from the 1st and 2nd centuries AD.
Of course a holiday in the sun-drenched Algarve would not be complete without spending many a lazy day on the beach. Long stretches of soft, golden sand await with nearby convenience to Villa Gomes.
For further information on this private villa in the Algarve click HERE.