07 Sep
Ibiza is endowed with of 8o beaches around its coastline. Most of these beaches are certainly worthy of laying a towel down for an afternoon, some of them you would recommend to a friend, whilst a decent number of them are exceptional.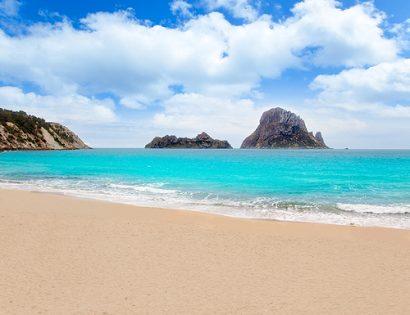 Huge stretches of pristine white sand wait patiently for you, your friends, your picnic and your towel, as do the more dramatic beaches tucked away among Ibiza's rocky coves.
Take a look at a snippet of some of Ibiza's best beaches, the best seaside haunts that Ibiza's diverse and utterly stunning coastline is home to.
Cala Salada
Cala Salada is a beautiful sheltered cove at the end of San Antonio Bay. Wonderful restaurants with delicious food and a friendly and relaxed vibe generate a great family day out. The cove is extremely picturesque and is the kind of view reserved for postcards and oil paintings.
Punta Galera
Whilst there is no beach as such at Punta Galera, the wild and rocky shoreline is popular with those with a sense of adventure. Diving off the cliffs is one popular pastime at this windswept and rugged spot. The views and isolation make this bay on Ibiza's west coast a rather special treasure on an island that is brimming with pleasant surprises.
Cala Llonga
By contrast if you're looking for sand, loungers and first-rate facilities, you could do a lot worse then head to Cala Llonga. This huge sandy beach is just ten kilometres from Ibiza Town towards Santa Eulalia and is popular with locals and visitors alike. You can actually take a bus from Ibiza Town to Cala Llonga, which can be fun in its own right, and eliminate the hassle of parking. Despite its popularity, Cala Llonga is so vast that you will always find room for your family and friends to take a pew.
Cala D'Hort
Cala D'Hort (pictured) is 21 kilometres to the west of Ibiza Town. One of the highlights of this exceptional Ibizan beach is the wonderful view of the magical islet 'Es Vedra', which lies several hundred metres from the shore.
This small beach is backed by cliffs and is located at the end of an extremely steep road, so nervous drivers beware! Another trait of Cala d'Hort that helps give the beach its 'exceptional' label are the sunsets here, which can only be described as sensational.
Playa d'en Bossa
It is true that Playa d'en Bossa can get quite crowded but there are three good reasons for this. It is fairly close to Ibiza Town, it is the island's longest stretch of sand and it is dotted with quality bars and beach restaurants. In order to avoid the droves of holidaymakers that flock to Playa d'en Bossa during high season, spring or autumn might be a favourable time to visit this popular Ibiza hotspot.
Now, how about a selection of Ibiza's best villas?