14 Mar
Villa Le Rual is a very attractive house. It's in lovely high location between fields and woods that are easily accessible and fantastic for walks. If you're looking for a little peace and quiet then you can't go far wrong. The property is completely private and the ideal place to visit if you don't have an agenda as such.
The pool is beautiful, the house well equipped, the owners lovely (and generous) – expect a welcome pack including chocolate mousse – yum !
Although quite tranquil in the summer, there are still many things happening around and places to visit for people of all ages – for example.
Lacapelle-Biron: 30mn away:
The Parc'en Ciel to climb from tree to tree with a little crazy golf
Le Bugue 1 hour drive but plenty to do
The beautiful Aquarium
The reproduction of a 1900s village with an old fashionned merry-go-round, an old school, shops, works such as blacksmith, bakers, etc….
Caves, a nice market on Tuesday, a pretty town and a nice area of the Dordogne: a nice day out
There are also golf courses in the area, a fishing farm, lovely walks to Montacbrier for the brave where you can find a little grocery, bread, market, and all the welcoming warmth of the locals and people on holiday.
There are quite a few evening markets in the local vacinity as well, amongst them, the only one I have ever been to in Loubéjac, close to Maison Fleurie: an evening to never forget!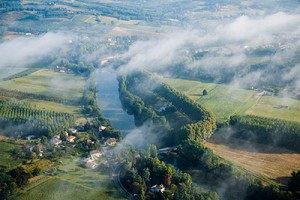 This tiny village of Loubéjac is so so pretty. A little winding road, a narrow lane runs through the village with a small square completely shaded by trees on one side and 2 or 3 houses and a lovely little church on the other side with a little field next to it. It's boarded by old stone walls on three sides, like a courtyard and that opens up on the rolling fields. In that little grassy yard, local producers set up open air kind of kitchens or barbecues and cook, in front of you lay their lovely fresh produces. The hardest decision is choosing what's on the menu: an organic lamb kebab with homemade chips or a lentil salad with roast chicken, crisp jucy pork or duck saucissages, patatoes cooked with cepes, bacon, parsley and garlic, creamy or stinky cheeses as you prefer, local wine, local fruit juices, home make tarts and cakes and ice creams and anything or everything you want.
It all smells so nice. Take a tray, buy what you want and sit with the locals at one of the long, long tables with benches, enjoy your food, the music, talking with the totally relaxed locals, dance and laugh in this gentle, mild summer evening.
Written by Louisa, our very local French representative. Please call us for more information.