06 Feb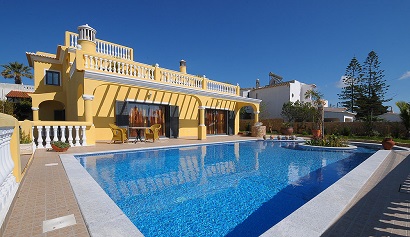 If you have the pleasure of staying at Villa Vitor, all you'll really need in this Algarve family holiday home are your flip-flops and your bathing suit. The villa's pool is an absolute delight – dominant and sparkling and with a kiddie's pool attached, is perfect for families with young children.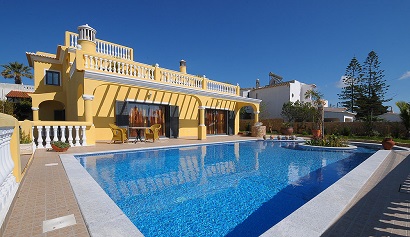 And it's not just the pool which creates an aura of grandiosity in this spectacular villa. The whole of the house and grounds are impressive, with its balustrades and balcony casting incessantly moving shadows down the poolside wall of the house. In fact balustrades adorn this villa producing a quintessentially Algarve look.
Positioned on the fringes of the popular coastal town of Carvoeiro, Villa Vitor's quiet residential location yet being close to the vibrant action the Algarve coast, means this colourful villa is perfectly positioned for those seeking sunny and vibrant beach holiday.
The villa sleeps six in the comfort of three bedrooms. The principle double bedroom is located on the ground floor and is not only en-suite but comprises of a corner spa, providing guests with some luxury pampering. In fact all three bedrooms are en-suite and have air-conditioning, which is required for much of the year in this sun-drenched European hot spot. Bedrooms two and three have access to a shared balcony terrace where a marvellous view of the sea will hypnotise you. There is nothing quite like being transfixed onto a distant horizon as a glass of chilled rose wine wets your lips.
The luxury decor of Vitor's bedrooms is woven throughout the whole of the house. Plump and sumptuous cushions complement the fancy draped curtains which frame the villa's windows. Fabrics of purples and cerise and olives and tangerines stand out in this opulent interior, which is welcomingly homely and comforting. Every room has its very own colour scheme. Penny pinching was not top of the list when this house was fitted out and one spectacular and unusual feature inside the house is a charcoal (or olive wood) fired barbeque. This fantastic fire is a great feature to add to any kitchen and it is more usual to find such features in bars and restaurants rather than private houses.
As well as a comprehensive indoor kitchen you will find another outside at the  exterior barbecue area, which has everything including the kitchen sink. No need to keep on running back and forth to the kitchen for that chilled bottle of white wine. The owners obviously hold dining outside with great esteem and rightly so as that's what makes the long summer evenings so special.
For nights eating out, you don't have to wander too far from Villa Vitor before you come across a decent bar or restaurant. The lively town of Carvoeiro is only 2 km away and has a great beach, as well as a fine choice of restaurants and shops. Other splendid beaches can be reached in 10 minutes by car. Incidentally, your car will be kept cool during the day under a covered car port at the villa.
For more information, photos, accessibility and pricing to stay at this delightful Algarvan villa click HERE.