Why Andalucia's Alpujarras are a magical place to visit
Dominated by the Spanish Muslims, for many centuries Andalucía and the Alpujarras were considered to be the poor man's part of Spain, owned by absent landlords. Poor farmers had a tough life on the land. In more recent times, however, the Alpujarras' fortunes have changed and the area is known for its wonderful landscape, likened in parts to the Garden of Eden.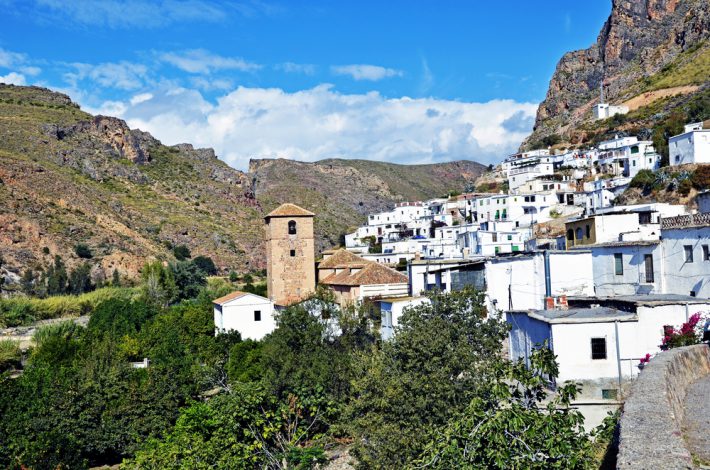 The mountain villages known as Las Alpujarras perch on the southern flanks of the Sierra Nevada mountain range, where sheltered valleys and fertile gorges head down towards the Mediterranean. The area has a unique mini-ecology, the lands are constantly watered by melting snow, forming a high-altitude verdant oasis, a stark contrast to the arid foothills below.
The fifty or so mostly small villages in the area have retained their traditional Berber architecture. Terraced bunches of white box-shaped houses with flat clay roofs, similar to ones found in the Atlas Mountains of Morocco, are testament to the Alpujarras' Moorish history.
Several of the higher profile villages that are accessible on the wonderfully panoramic tourist road of the Poqueira Valley, have become very popular with visitors. Pampaneira bustles with people and craft emporiums. Bubión is less crowded and prides itself on its huge church tower. Capileira at the top of the valley is more authentic with rough rocky streets, overhanging passageways and stone houses that appear to sag!
Goats roam the mountains in herds and present great photo opportunities when they stand outlined on rocky crags, but you won't be able to get near them. This is ideal hiking terrain for adventurous visitors who love to hike off the beaten track, but come prepared as the average altitude here is 4,000 feet above sea level.
The main town of the area is Órgiva, now a retreat for hippy communities who hold an interesting craft market. Further along at over 4,800 feet, is the highest village in Europe – Trevélez, famous for its superb mountain hams.
Gerald Brenan's famous book "South from Granada", was written about this area and the author's experiences living in a rustic community. It recounts his adventures after World War I, when he attempted to get away from it all. He often invited friends from the fashionable Bloomsbury group in London to stay in the Alpujarras – people like Virginia Woolf, reduced to riding a donkey!
This part of Spain is best seen by hiring a car and touring through the amazing changes of scenery, stopping at one interesting village after another.
If you are looking for self-catering accommodation to have a base to explore this incredible region of Southern Spain, Vintage Travel has a handful to choose from.
Casa Encantadora, Orgiva, Alpujarras, Granada
Casa Encantadora is set in pretty, lush gardens that are enclosed and private. This one-bedroom property has its own private pool and is only 100 metres from the market square of Órgiva. Ideal for a couple looking for a romantic retreat in the Alpujarras.
Casa Anvife, Órgiva, Alpujarras, Granada
The beautiful property of Casa Anvife sleeps six guests who can enjoy views, which are simply astounding with the green slopes of the Sierra de Lújar spread out before you.