21 Mar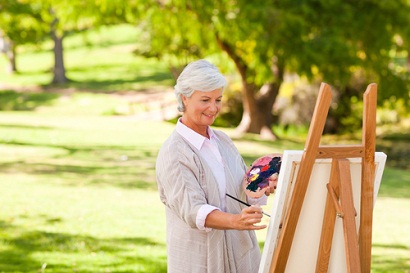 Nestled in the heart of Italy, the region of Le Marche brags some of the most stunning countryside this beautiful country retains.
With vineyards stretching as far as the eye can see, bordered by a backdrop of the snow-capped Sibillini Mountains, verdurous rolling hillsides, fertile woodlands and pastoral pastures scattered with the cheerful colours of flowers, fruit trees and fauna, Le March has long been a favourite location to inspire and stimulate artists from all over the world.
Given its ageless capabilities of prizing the very best from a painter's brush, Le Marche is home to plenty of painting holidays and art workshops.
Offering art courses in Le Marche is The Retreat, a family-run business which provides courses for painters of all abilities to relax, take in the sheer beauty of this stunning Italian region and be inspired. Ran by John, a professional English artist and art tutor and Jana, who is an exceptional cook, The Retreat offers art courses in Le Marche for individual painters, couples and groups.
So that artists are inspired to their optimum, The Retreat puts on seasonal themes, and in the spring the landscape theme includes an emphasis on painting the sunflowers, olive groves and vineyards, when they are at their most visually spectacular.
From 7 – 14 April 2012, The Retreat is hosting a seven-day intensive course called 'Life Drawing: The Human Figure'. The course is aimed at enhancing drawing skills as well as engaging in techniques used by the Renaissance artists.
From 28 April – 5 May 2012, there will be a seven-day 'Printmaking' Course, whereby students will be introduced to the process on printmaking, using traditional printing techniques.
From 19 – 26 May there is a seven-day 'Introduction to Painting' course available, designed for anyone wishing to take up painting for the first time, or for painters who feel they are a little 'rusty'. The course will cover many aspects and different painting techniques, including water colour, gouache, oil painting and acrylics.
Although it is during the 'Painting the Italian Landscape' course that students will be able to fully appreciate the extent of the beauty of Le Marche. Held from 30 June – 9 July 2012, this ten-day course will provide artists with the opportunity to paint the area's many romantic, charming and breath-taking assets.
For more information about art courses in Le Marche at The Retreat, visit lemarcheretreat.com. And for some breathtaking luxury villas in Le Marche, just click on the link.