24 Mar
Barba Yiannis is a fabulous two bedroom, one-storey cottage sat high above the town of Gaios in Paxos. This splendidly elevated property boasts tremendous views of the town below that stretch out towards the sea.
This spacious cottage can sleep four guests and is cleverly designed to make the most of the breath-taking views that surround it.
Its name, Barba Yiannis, translates as 'Granddad John' and refers to the owners' great grandfather who built the property.
High ceilings made of wooden rafters, brick walls, stone tiles, an open-plan design and large windows and doors, craft a sense of spaciousness, elegance and rustic Greek decor in this beautiful single-storey house.
Large patio doors lead guests from the living/dining room onto a pretty pool terrace. With high rafters overhead and cool granite tiles underfoot, accompanied by stylish furniture and fittings, Barba Yiannis' two bedrooms are tastefully designed. Both the double and the single bedrooms are en-suite, so guests can really spread out and enjoy some privacy.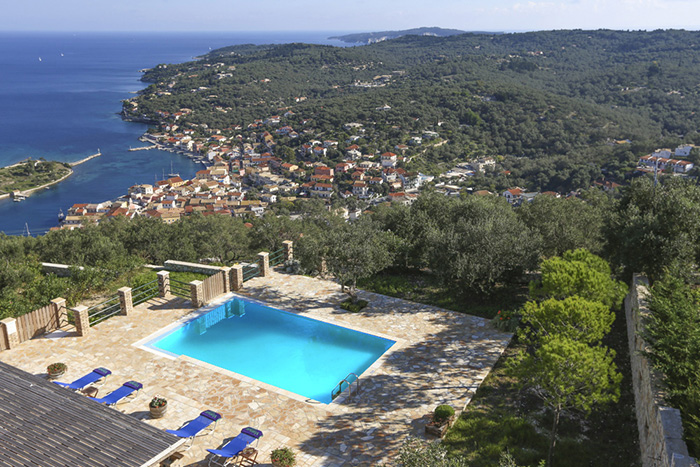 The kitchen shares the spaciousness the whole of the house enjoys and combines both traditional features with modern fittings and appliances to generate a true sense of comfort.
Outside the pretty sandstone tiled patio is in keeping with the natural beauty of the stunning visas that surround it.
Gnarled olive trees and potted geraniums sporadically dotted across the grounds add colour and character to Barba Yiannis' beautiful exterior.
A large pool invites guests into its translucent water and to absorb the wonderful panoramic vistas that frame this delightful cottage.
A shaded and open terrace provides the perfect spot to relax and barbecue whilst watching majestic sunsets on the horizon.
Being close to a lively town and not far from the beach, the very best of Paxos is on your doorstep at Barba Yiannis.
Gaios, the capital of Paxos, is an atmospheric port town, which extends along the waterfront. With its narrow streets lined with quaint shops and vibrant bars, you are never far away from somewhere to eat, drink and shop in Gaios.
Those yearning some Greek culture and history on holiday won't be disappointed in Gaios as the town and its vicinity is home to some incredible ancient sites, such as the ruins of the 15th century Fortress of St Nicholas and the Monastery of Panagia which can be found on an islet that lies opposite to Gaios.
Some wonderful sandy beaches are close to the house, which can be accessed down a delightful goat track.
If you want more information, photos and to check availability and prices to stay at Barba Yiannis visit the Vintage Travel webpage at: https://www.vintagetravel.co.uk/villa_details.cfm?p_id=2331