The Beautiful Villa Of Blanche d'Armagnac
Blanche d'Armagnac is a fabulous, newly-furnished villa that can sleep up to 12 people in the Gers, one of the sleepiest regions of South-West France. This beautiful area in the heart of Gascony is well off the tourist roadmap, yet is home to great many attractions.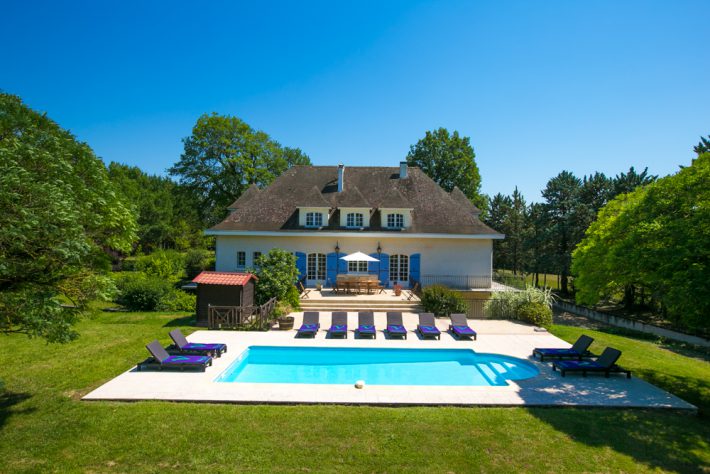 Blanche d'Armagnac is brand new to the rental market. With six bedrooms and four bathrooms, the villa offers a great opportunity for both large parties and small parties, as there is a small party rate.
Blanche d'Armagnac's interior is exceptionally stylish, with a brand-new kitchen and bathrooms. Its white façade, Dorma windows, pale blue shutters and tall roof give the villa a quintessentially French look. Its décor is simply stunning, refurbished to the highest of standards, with travertine flooring facing delicately-painted, wooden beamed ceilings. The living room's striking original fireplace with a wrought iron balustrade is a focal feature of the interior.
The property sits on spacious grounds. A large private swimming pool is surrounded by an emerald lawn, blending seamlessly with the thickets of shrubs and trees that border this tasteful villa.
A spacious terrace and dining patio link the villa with the pool, providing the perfect spot to wine, dine, sunbath, relax, or enjoy a glass of mouth-watering Armagnac, produced in one of the many local wineries this corner of South-West France is home to.
We couldn't say we'd blame you for not wanting to leave this incredible villa, but you'd certainly be missing out on the many delightful sights and vistas this part of France enjoys.
Blanche d'Armagnac is just 3 kilometres from the nearest village of Fourcès, where you'll find a restaurant and a small local convenience store. This pretty, little village is hailed with the lucrative title of being one of France's 'Most Beautiful Villages.' The village is about half an hour's walk from the villa down delightful country lanes.
14km from Blanche d'Armagnac is the larger town of Condom. Closer still, you'll find two more villages with a 'Most Beautiful Villages of France' name tag – Montréal, which is 9km away and Larressingle that's 11km from the villa. Yes, it's safe to say that in this unspoilt part of France you are simply spoilt for choice for charming, unique and traditional towns and villages.
To find out more about the Blanche d'Armagnac, view photos and check availability, visit the property's webpage here.