06 Aug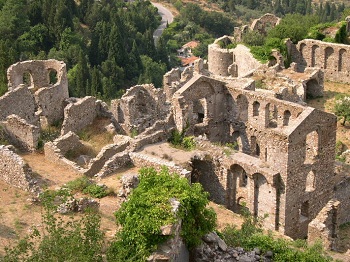 The Peloponnese is a huge peninsula on the southernmost tip of mainland Greece. It has a history that dates way back to the Bronze Age and is an incredibly popular destination for those of you looking for a little ancient culture. It was once the heart of Sparta and is home to a large amount of ancient ruins, some in better shape than others… but none the same, still incredibly interesting places to visit. Here is our top 5 things to do in The Peloponnese (in no particular order).
Mystras, Sparta
This is an ancient Byzantine site that is deffinately worth a visit. The adventure starts before you even get there as you'll no doubt drive through the breathtaking gorges of the Langhada Pass, and impressive Taygetos Mountain Range – just keep your eyes on the road if you're driving!
You'll know when you have arrived as you'll see the grand Fortress Gate to the upper city. Park up and give yourself a good few hours to get around the upper, mid and lower parts of this ancient city. It is literally like stepping back in time as you stumble across the stunning byzantine religious art within the abandoned churches.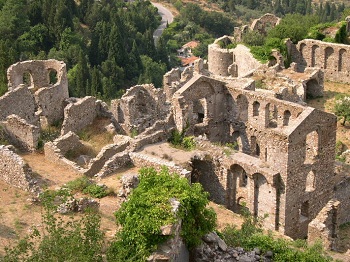 Make sure you take some food and drink with you as facilities are limited – there is one restaurant by the Lower Gate called Xenia, which serves traditional dishes but is a little expensive.
Epidaurus Theatre
This ancient Greek theatre was built in the third century and today remains very impressive. Definitely worth a half day out, especially at weekends when theatrical performances still happen!
Epidaurus holds up to 15,000 people along 55 rows and is reknowned for its unique acoustics, which are said to permit almost perfect intelligibility of unamplified spoken word – the reason: the rows of limestone seats filter out low-frequency sounds, such as the murmur of the crowd, and amplify/reflect high-frequency sounds from the stage.
Ancient Olympia (Archaia Olympia)
One of the area's most popular tourist destinations (but don't let that put you off), this is yet another archaeological site where the Olympic Games were founded. When you visit the arena you'll get a good feel for the athletic abilities of historic athletes.
The site has suffered a lot of natural destruction over the years, mostly from earthquakes. This means that you have to bring your imagination with you a little, but at 6 Euro it is definitely worth a visit.
Head to the Philippeion, the Nymphaion and the Palaestra (the gymnasium, bath houses and social quarters for the Athletes) as these are still in good shape.
A little bit of history for you –  The first Olympian Games were held at Olympia in 776 BC and repeated there after every four years until their outlaw in 393 AD by the (Christian) Roman Emperor Theodosis. Men travelled from every part of the Ancient World to compete in these prestigious games, winners of events at Olympia became Legends within their own lifetime – such was the importance of the games.
Caves of Dirou
The Caves of Dirou should be a MUST on your things to do in The Peloponnese. The journey through the caves will take you on a boat (about 1km) and partly on land and makes for a truly exhilarating experience for intrepid explorers. The stalactite and stalagmite formations are possibly some of the best in Europe. Be sure to check out the passageways of Alepotrypa, which measures 500 m in length. The total cave area covers a massive 6,500 square meters.
As far back as 4000BC the caves have been used as shelter, dwelling, workshop, storage place, cemetery and a place of worship for Neolithic man.
Achaia Clauss Winery
Famous for its fortified red wine, Mayrodaphne, The Achaia Clauss Winery is a great day out for connoisseurs of fine wine. The winery was founded in 1861 by German, Gustav Clauss and is today one of the area's leading wine makers. Its 60 acres are perfect for growing grapes thanks to its unique climate and eco system (500 metres above sea level).
Today, the winery has over 70 different labels, which it exports to over 40 countries – this equates to an annual production facility of twenty-five million bottles!
Be sure to check out the vast cellar, which contains casks from every vintage, each dedicated to a head of state or visiting dignitary. These fine wines are still enjoyed by royalty and important luminaries all over the world… lucky things!
The two casks containing 1882 are considered the ultimate wine!