19 Apr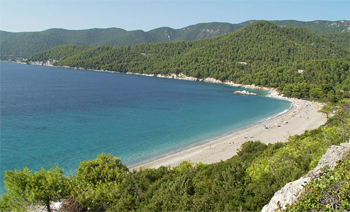 Skepolos is a small Greek island that measures just 17km long from NW to SE and only 8km at its widest point. Made famous by the recent box office hit Mamma Mia, Skepolos is one of those places that has remained unchanged for centuries and that includes the exquisite beaches. The great thing about Skopelos is that you are never far from a beach… or a great teverna. There are loads of beaches to choose from, some easy to reach and others not so.
However, many of the beaches can be reached from Skopelos Town by bus or hire car and range from tiny secluded coves to long stretches of white pebbles or sand/shingle. The water is crystal clear and the swimming/snorkelling is fantastic.
Here's our guide to the best beaches in Skopelos:
Milia (approx 17km from town). This is pebble and sand beach, which offers an incredibly picturesque setting and has views of rocky outcrops and Dassia Island. It's not unusual for dolphins to visit here in the early mornings so make sure you get there early. Also, there is a fantastic tavern and beach bar and a bus stop about 500m away.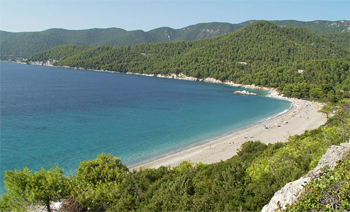 Hovolo (approx 20km from town). This beach may only be accessed by excursion boats but is well worth the trip if you are looking to escape the crowds and looking for seclusion.
Limonari (approx 10km from town) is a perfect sandy beach popular for weddings. The only way to reach it is via foot or water taxi as there is no bus stop. Make sure you have an ice cold refreshment from the tavern here – excellent.
Glysteri can only be reached by water taxi as it is a deep inlet on the northern coast with a shingle beach. If you want to lose the crowds then this is a great option and it also has a fantastic taverna on the beach.
Glyfoneri is approximately 20 minutes walk from the old town and is best known for it's incredible green/blue crystal waters and a small shingle beach. It does get busy here, but you can always escape to one of the several tavernas and ouzeries.
If you're looking for accommodation in Skopelos please check out our unique range of luxury private villas.