Camp d'Avall: A characterful farmhouse nestled deep within stunning Mallorcan countryside
For large parties looking for stylish, spacious and comfortable accommodation in the characterful town of Pollenca, Mallorca, you may be interested in learning more about Camp d'Avall. This large country farmhouse comprises of five bedrooms and five bathrooms, sleeping up to ten guests.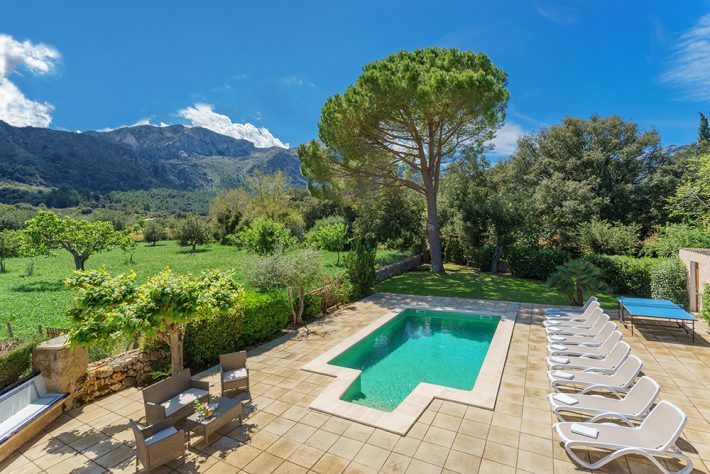 This tastefully-designed and beautifully-furnished farmhouse is nestled deep within the fertile Mallorcan countryside, encircled by fabulous bucolic views of the Val d'en March, well-known for its incredible natural beauty.
With fabulous country walks on your doorstep, sandy beaches within easy reach and the bustling old Roman town of Pollenca and its many treasures just 6km away, Camp d'Avall provides something for everyone in your party, regardless of their age.
This impressive country abode dates to 1883 and has proudly retained many traditional features, including a cobbled patio to the front of the property, traditionally-patterned floor tiles, exposed stonework and chunky wooden beams overhead, providing snippets of evidence of the house's former farming past.
Camp d'Avall successfully combines a contemporary appeal into its traditional splendour while the furnishings tastefully combine a contemporary and antique style. The rooms are spacious, airy and bright, and the whole house is home to mod-cons to ensure guests can enjoy optimum comfort, including air-conditioning, Wi-Fi and a heated swimming pool.
Externally, Camp d'Avall boasts a panoramic scene of stunning scenery, where both shaded and sun terraces provide the perfect spot to relax, unwind and soak in the remarkable views that surround the farmhouse in every direction.
The azure water of the property's private pool blends with the natural tones of predominantly greens and blues that stretch from Camp d'Avall's grounds and beyond to the distant mountains.
We wouldn't blame you for not wanting to leave this oasis of natural splendour but if you can manage to visit the nearby town of Pollenca, we are sure you won't be disappointed. This rural town in north west Mallorca attracts a trail of tourists to its narrow streets and characterful courtyards. Though, despite its popularity, Pollenca clings on to its traditional charm, with its bohemian streets and picture-postcard looks continuing to draw in writers, artists and celebrities.
Further afield will bring you to the sweeping sandy bay of Port de Pollenca and the pretty coves of Cala Sant Vicenc, ideal spots to enjoy a relaxing day on the beach.
For more information on this incredibly characterful Mallorcan farmhouse and to book to stay at Camp d'Avall, visit the property's webpage here.