01 Aug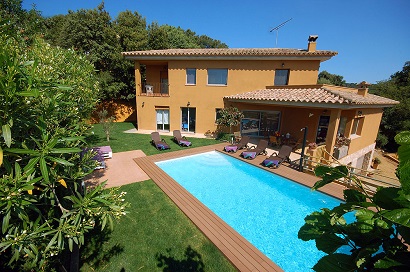 Vintage Travel is delighted to have added the stunning Can Cirilo to our portfolio of Catalan properties. This five bedroom, two bathroom villa can sleep up to seven guests in spacious comfort. Situated just a stone's throw from the sleepy village square of Mont Ras, at Can Cirilo you can enjoy the conveniences of town amenities yet with a real pastoral vibe.
Internally, Can Cirilo is smart, open-plan and well-equipped. Style, spaciousness and comfort is at the heart of this Catalan villa, in which guests can really spread out and feel at home. With an en-suite dressing room and access to a private sun terrace, guests who have the privilege of sleeping in the master bedroom will enjoy particular spaciousness, as well as breathtaking panoramic views of the rooftops of Mont-Ras and the pine-laded hills that surround the characterful Catalan town.
Like most of Spain this region of Catalonia is blessed with fine weather for much of the year without being prone to the oppressive heat the south of the country can experience. To make the most of the warm, sunny weather, Can Cirilo's exterior is geared towards spending time outdoors.
A large private pool is the central focus of Can Cirilo's grounds, which is big enough for all the family to simultaneously enjoy. An immaculate lawn sits adjacent to a spacious covered dining terrace, the perfect spot to enjoy wining, dining and drinking in Can Cirilio's incredible surroundings.
Mont Ras is a beautiful and tranquil village located on the aesthetically stunning Costa Brava between the larger towns of Palamos and Palafrugell. This historic village sits just inside the beautiful Gaverres Natural Park. The Gavarres mountain range is a protected area of unparalleled natural beauty, blessed with imposing forests of cork oak, quaint stone chapels and ancient dolmens.
Whilst many of Mont-Ras' remnants date back to Roman times, the first mention of this village was made in the tenth century in reference to a watchtower which once stood where the current church of Saint Esteve stands. This ancient village has all the amenities required to make your stay at Can Cirilo convenient, including a bakery, several bars and restaurants, a fishmongers and a quality supermarket.
This sunny stretch of Catalan coastline is brimming with quality sandy beaches, interspersed with quirky coves and intimate rocky inlets. Just 5.5 kilometres from the villa lies the towns of Llanfranc and Callela de Palafrugell, both of which radiate upmarket fishing village charm and sport fantastic family beaches.
For more information, photographs and to book to stay at Can Cirilo click HERE.