11 Oct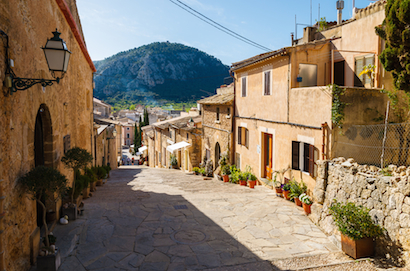 Traditional yet modern would be an apt overall description of Ca'n Trillo. Located not far from the traditional town of Pollenca on the eastern end of Serra de Tramuntana, this beautiful villa sleeps up to six guests in comfort and luxury.
The exterior and interior building design has been used to make houses like this one for a hundred years. The American style fridge in the kitchen is however a relatively recent addition along with all the other modern day necessities that contemporary society demands.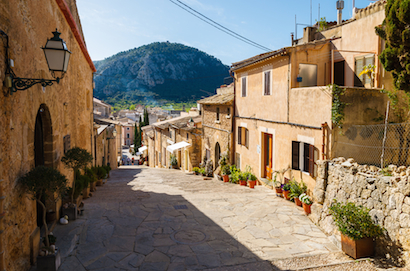 Wooden beamed ceilings and ceramic floor tiles with white-washed walls give a genuine Spanish feel to Ca'n Trillo. The colourful and stylish furniture, artwork and furnishings place a modern stamp on a bygone age of house design. Cool, light and roomy, houses such as Ca'n Trillo were built to a practical standard in order to deal with many hundreds of hours of sunshine beating down relentlessly onto the rooftops of the houses of Mallorca.
The house has three bedrooms plus three bathrooms. The traditional bedroom layout with iron beds and wooden cabinets contrasts with the modern requirements of satellite TV and air-conditioning. All the bedrooms are en-suite and comprise of two twins and a double. Doors lead out into the garden from the bedrooms.
The kitchen, dining room and lounge fuse together in one huge light and roomy open plan room. Cooks can enjoy getting to grips with the local cuisine in Ca'n Trillo's well-equipped kitchen.
Ca'n Trillo's exterior is equally as alluring. A sparkling swimming pool surrounded by a large lawn area means guests can bathe and dry off spread out under the sun. As well as the inviting pool there is a hot tub for guests to relax in. Whether it's being immersed in the hot tub or bathing in the pool, with pretty pencil thin cypress trees planted round the perimeter you can enjoy total privacy at Ca'n Trillo. .
The built in barbecue is further enticement to lure guests at Ca'n Trillo into outdoors. It is easy to imagine a vibrant and joyful party taking place in this beautiful outside area of the house.
Less than a ten minute drive from Ca'n Trillo and all its fabulous amenities puts you at the horse shoe-shaped bay of Pollenca. This characterful town is framed by two mountains, each with their own sacred site on top. Pollenca and all its charms looks incredible against the backdrop of the Tramuntana Mountains.
With wonderful scenery, great restaurants and glorious beaches, your time spent holidaying in this refreshingly unspoilt region of Mallorca will be torn between staying at Ca'n Trillo or exploring the town of Pollenca.
For more information about Ca'n Trillo visit: https://www.vintagetravel.co.uk/villa_details.cfm?p_id=1269