17 Aug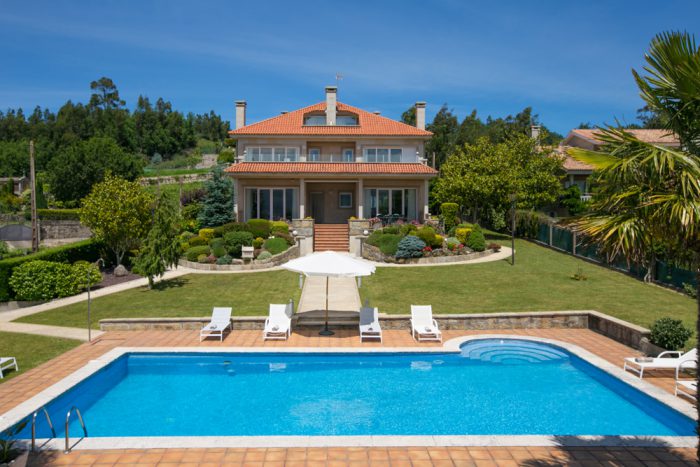 The imposing Casa Cándida 1 is the latest addition to our programme of properties in Galicia. This magnificent country home comprises of four bedrooms and four bathrooms, accommodating up to 7 and 8 guests.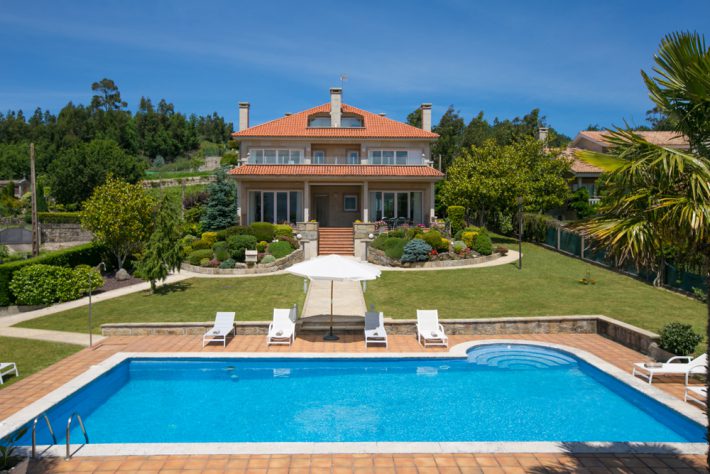 Casa Cándida 1 is a striking, symmetrically-designed villa sitting within extensive grounds comprising of lawns, flowerbeds, open and covered terraces and a large private swimming pool.
Internally, the villa exudes glamour and style in every room, with large windows letting swathes of sunshine filter in and providing access to the wonderful views Galicia's beautifully unspoilt southern coast is blessed with.
Contemporary furniture and fittings enhance the tasteful elegance of Casa Cándida 1 and a multitude of mod-cons, including Wi-Fi, a laundry room, central heating throughout, and a fully-equipped kitchen, will ensure every guest has a comfortable, home-from-home stay.
Patio doors lead from the villa's split-level sitting/dining room, onto a spacious dining terrace, which looks out towards the most splendid of vistas of hillsides carpeted in trees. Asides doing lengths in the 12-metre pool, guests feeling sporty can play the racquet game of paddle in the paddle court, or head to the games room and have an exciting game of table tennis, table football or pool table.
Though Casa Cándida 1 is all about relaxing and enjoying this remarkably pretty spot of Galicia's coastline by lounging on the terraces and meandering round the well-maintained lawn admiring the flourishing flowerbeds backed by a border of emerald shrubs and mature trees.
This imposing country home is just 600m from a local restaurant, where guests can enjoy sampling authentic Galician cuisine. The beautiful Playa America is just 3.3km from the house, a 1000-metre long and 30-metre wide expanse of golden sand, which is justifiably one of the most popular beaches in southern Galicia.
Casa Cándida 1 is actually one of two identical houses, each with their own entrance doors to the rear of the properties. For 2018, the owners are only offering Casa Candida 1. The other house will be closed and unoccupied, so guests will have private use of the fabulous spacious grounds, including the 12-metre pool and a paddle court.
For next year, the owners will be offering the whole property, accommodating up to 16 people.
If you would like to stay at the fabulous Casa Cándida 1, head to the property's webpage for more information, photos and to book to stay at this remarkable Galician villa.