29 Jan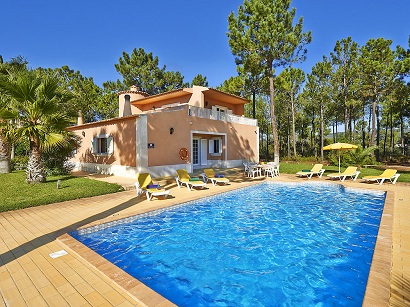 What is striking on arrival to Casa do Ludo are the magnificent pine trees which soar above the roof of the villa. Tropical palm trees and a luxurious well kept-lawn add opulence to the massive 10,000 square metre expanse of enclosed gardens.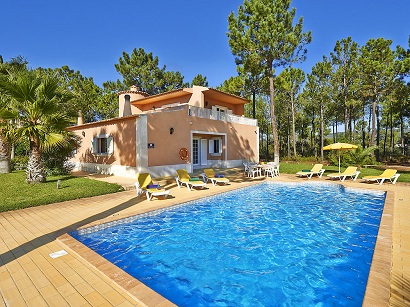 The tennis court and 10 x 4 metre swimming pool round things off nicely – Welcome to paradise.
Facing the wonderful Ria Formosa Natural Park, which is a major stop-off point in the bird migration routes between Europe and Africa and one of the seven wonders of Portugal, Casa do Ludo is located in one of the Algarve's most 'at one with nature' spots.
The interior of Casa do Ludo is rustically-themed, brimming with natural materials, in-keeping with their surroundings. With wooden beamed ceiling filled in with polished planking is a sight in itself. From small and quaint tiles in the bathrooms to a myriad of quirky shapes and designs created by the tiles on the living room walls, the tiling that clings to the villa's floors and much of its walls, is masterfully done. Intricate and well-proportioned brickwork is yet another fine feature found in many of the rooms. In fact in every direction you look in Casa do Ludo there is superb craftsmanship to admire.
The house sleeps six people in three bedrooms. On the ground floor there is a double and a twin room. The principle bedroom is on the first floor with a huge en-suite shower room and access to a terrace which overlooks the swimming pool. All of the bedrooms are big and spacious. Oval windows provide light, air and stunning views, complemented impeccably by stunning wooden beamed ceilings, clever tile work and attractive brickwork.
Many items of furniture in Casa do Ludo are made from solid wood, augmenting the natural style of this beautiful country villa. The cupboard fronts in the kitchen are designed  in a wooden crisscross diamond style making them chicly see-through and impressively unusual. So much thought and care has gone into the fixtures and furnishings of this villa and not once do you feel the weight of clutter. In some ways the house feels almost minimalistic with no unnecessary furniture hanging about without good reason.
This villa and its gardens are ideal for children as well as adults. There is a climbing frame for the kids to have a go on after swimming, playing tennis and exploring the wonderful expansive grounds. Let's not forget the impressive barbecue area, which is likely to end up being the focal point of life in the villa. Yes it's safe to say that children and adults alike will have plenty to do in Casa do Ludo.
There are many great places to visit nearby if you can ever drag yourselves away from this fantastic villa. The nearby Rio Formosa Natural Park offers great walking and cycling trails. Michelin-starred restaurants and a number of atmospheric bars and interesting shops can be found just ten minutes drive away at the towns of Almancil and Quinta da Lago. There are great sandy beaches within 15 minutes drive from the house and being in the Algarve, golf addicts don't have to travel too far to get their golfing fix.
For more information, photos, availability and prices of this sensational Algarve villa click HERE.