16 Dec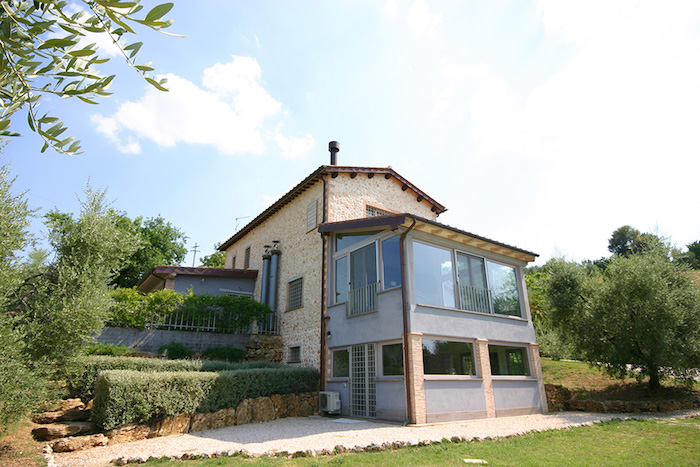 Vintage Travel is delighted to introduce the exceptionally smart and contemporary Casale Loredana, the newest addition to our properties in Umbria. Casale Loredana is a stunning three bedroom, three bathroom villa situated in Giove in the Terni province of Umbria, Italy.
This recently-renovated country home can sleep six guests in comfort, style and complete rural bliss. What's been described as an 'artist's hideaway', Casale Loredana's enviable position next to an olive grove on a gently sloping hill, means the property overlooks the lovely Lower Tiber Valley on the Umbria/Lazio border.
Casale Loredana has been renovated to a remarkably high standard in a style that quaintly blends the character and cosiness of a traditional Umbrian cottage with the original art and abstract design of Casale Loredana's owner, an artist based in Rome. Tasteful paintings and sculptures are set against the natural stone walls and enveloped between charming chunky white beams and a naturally-tiled floor.
All three of the stylishly-restored bedrooms are well-positioned within the house for guests to feel their own sense of space and privacy. Large windows throughout the home not only let in floods of daylight but also enable guests to soak up the fabulous views of the surrounding Umbrian countryside. The stylish dining room has French doors making access to Casale Loredana's external delights easy and convenient.
Guests can enjoy soaking up the tranquility and natural beauty of this special Umbrian spot in the property's large private swimming pool. For guests visiting with children, Casale Loredana has a children's swimming pool for the safe paddling and swimming of youngsters.
Surrounding the pools and the outdoor shower are extensive sloping grounds, dotted with trees and terraces, as well as a covered dining area, a sun terrace and a barbecue for some memorable al fresco wining and dining.
Just 700 metres from Casale Loredana is the hilltop Giove, a pretty little town which was originally a Roman settlement on the banks of the River Tiber. Set amongst grapevine and olive groves, Giove and its popular bars, restaurants and shops, is a real pleasure to visit.
Slightly further afield are the larger towns of Orvieto and Todi, with the stunning Lake Bolseno, the medieval town of Viterbo and not to mention the magnificent city of Rome all within striking distance of Casale Loredana.
For more information, photos, availability, pricing and availability to stay at this remarkable Umbrian country house, visit the Casale Loredana webpage.