10 Jun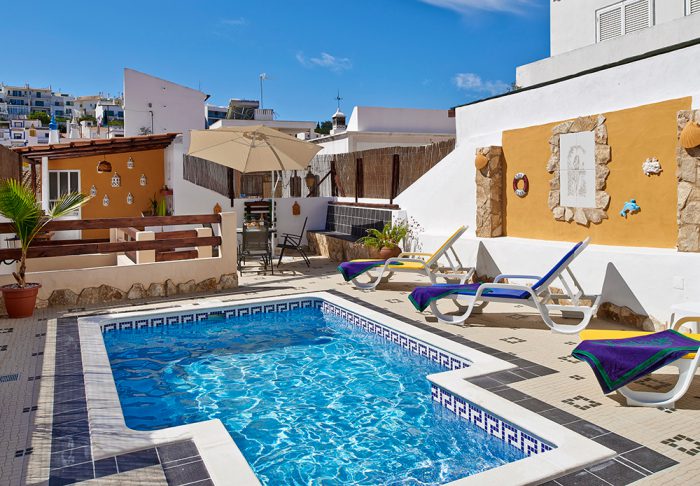 If you're looking for great accommodation in the Algarve, with restaurants, shops, and the beach on your doorstep, then look no further than Casinha Goa in the beautiful fishing village of Ferragudo. This two bedroom, two-bathroom house can sleep up to four guests in real comfort.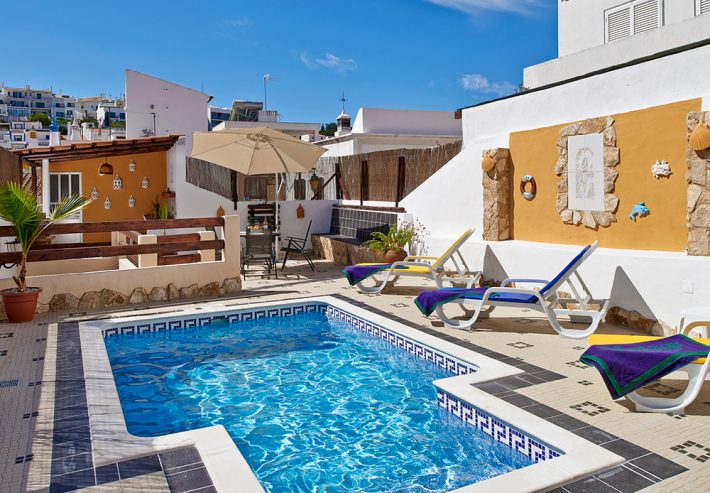 This newly-renovated and stylish holiday home is inconspicuously positioned down a cobbled street of Ferragudo. Renovated to a high quality, Casinha Goa blends colourful and quirky furnishings and décor in a tasteful and inviting style. The property's open-plan living, dining and kitchen area provides a spacious appeal that enables guests to spread out and relax.
The villa boasts all the mod-cons for a truly 'home from home' feeling; including Wi-Fi, satellite TV, a dishwasher, microwave and a washing machine. Guests can dine with ease on Casinha Goa's dining terrace on its external courtyard, which can be accessed via doors from the living room. Stairs lead from this appealing courtyard to Casinha Goa's upper terrace, where stunning views of the village's whitewashed houses 'tumbling' down to the water's edge can be enjoyed.
As well as soaking up the sun's rays and taking in the great views, guests can enjoy cooling down on this stunning upper terrace in the property's plunge pool. A covered BBQ on the terrace provides the perfect spot for some al fresco wining and dining from an elevated position.
Ferragudo to the west of the Algarve is a quaint and traditional village, perfect for experiencing authentic Portugal. This pretty fishing village is situated across the river estuary of Rio Arade. Cafes, restaurants, art galleries, antique stores and shops are plentiful in this lively little town. Ferragudo's pleasant village square is the perfect place to watch life go by in this traditional fishing village from one of the square's friendly bars.
If you can manage to drag yourself away from the laidback lifestyle at Casinha Goa, then the magical town of Silves is just 17 kilometres from Ferragudo. Walking enthusiasts will also be at home in the shaded paths of the Serra de Monchique, where peace, solitude and stunning rural scenery is there to be enjoyed.
If you would like to view photos and check prices and availability to stay in the charming Casinha Goa in the beautiful fishing village of Ferragudo, check out the property's official webpage.