24 May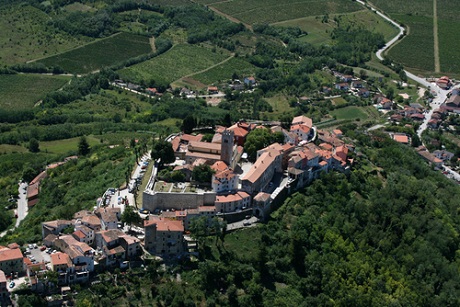 "Hike up the mountain of films" with the Motovun Croatian Film Festival 2011.
"Film illuminates the world", and for 13 consecutive years, the medieval town of Motovun in the heart of stunning Croatia, stages its own film festival, aimed at exploring and presenting new trends in the world of contemporary cinema whilst developing contacts between international and Croatian filmmakers.
In its fourteenth year, the Motovun Film Festival is being held between 25 July 2011 and 29 July 2011 and is inviting visitors to come and discover some of the most exciting cinematic experiences the world has to offer.
This year's film festival is still calling for entries, the only stipulations being that the films must have been produced in the last 18 months  prior to the date of the festival, and that they have not been publically screened in Croatia before.
A series of awards are awarded at the Motovun Film Festival 2011 in various categories. "The Propeller" is the main award of the festival, which is given to the "best film", decided by an international panel of judges.
Since 2003, the "FromAtoA" award has been implemented, which aims to bring awareness and to break through national boundaries to help stimulate the distribution of films made in the region from Albania to Austria.
One of the oldest and most prestigious associations of film critics, the Federation Internationale de la Presse Cinematographique, also gives an award at the Motovun Film Festival.
The Fipresci award is yet more evidence of how prominent and internationally recognised the Motovun Fil Festival has become, and it is little wonder the award has gained exceptional popularity amongst filmmakers.
Visitors to the festival are also encouraged to actively become involved in the festival's award ceremony with the "Audience Award". Guests can rate films via text and the film with the highest number of votes wins.
In order to raise both awareness and money over issues related to human rights, in 2002 the Amnesty International Film Festival inaugurated presenting the Amnesty International Human Rights Award on other festivals.
The award is now presented at the Motovun Film Festival in association with Amnesty International Croatia.
Visiting the picturesque, ancient and quirky town of Motovun, surrounded by rivers, vineyards and undulating hills, in central Istria is fantastic, but it is in July when visitors can relax in the cobbled squares watching some of the most inspirational films from all over the world projected onto the walls of this beautiful 15th century hillside town, when a visit to Motovun is particularly magical and memorable.
Click HERE for more information on the Motovun Film festival.