25 Aug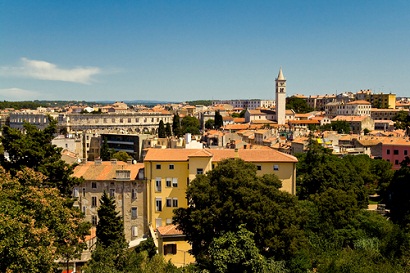 From September 1 until September 4, 2011, the Outlook Festival will be taking place at Fort Punta Christo in Pula, Croatia.
Having been cited as being "The best four days of bass music in Europe, if not the world" and with previous Outlook Festival attendees describing the event as , "Without a doubt the most unique festival I have ever experienced, and quite possibly the best," Europe's largest bass music and soundsystem culture festival, really is something to experience.
Part of the Outlook Festival's unique charm, asides from its sensational music, is its setting.
Held in an abandoned 18th century fort in the town of Pula in the beautiful and culturally inspiring region of Istria, surrounded by the ocean, the festival's location is the perfect spot for soaking up some sun-drenched bass music partying.
The Outlook Festival is growing in popularity and worldwide prominence each year, attracting an international and cosmopolitan bunch of visitors. Now in its fourth year, the Outlook Festival 2011 looks set to rock Fort Punta Christa like never before with a truly tremendous line-up.
174 artists from the Drum & Bass, Garage & Techno, Dub & Reggae, Hip Hop & Grime and the Electronica & Beats genres, will adorn a more than receptive crowd, dancing and basking in the Croatian sun.
These artists include Barrington Levy. Distance, Kode9, Pharoache Monch, Benga, Rockwell, Skream, Shy FX, Scuba, and many, many more.
The Outlook Festival 2011 is just one of a string of music and film festivals being held in Croatia this summer and autumn. From August 27 until September 8, the Julian Rachlin & friend's festival of chamber music, which features many celebrated musicians from around the world and is led by Australian violinist Julian Rachlin, will take place in Dubrovnik.
Whilst from September 10 – 17, the Split Film Festival is taking place in Split, showcasing new films from around the world.
In mid-October Zagreb will play host to the Zagreb International Chamber Music Festival whereby various classical concerts take place in the city.
In November the seventh VIP Zagreb Jazz Festival is due to take place with various top international jazz artists showcasing their talents at the Zagreb Youth Theatre.