Why the city of Lucca should be part of your Tuscan holiday itinerary
The walled city of Lucca is quite simply a must to visit if you're staying within its vicinity in Tuscany. The first thing that stands out when you arrive at Lucca are its well-preserved Renaissance walls that surround the historic city.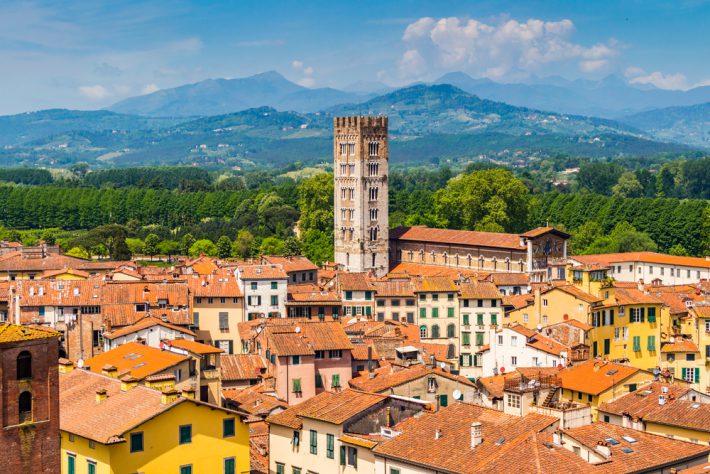 A path lines the walls of these imposing 16th and 17th century ramparts. Following the path around the periphery of the city, on top of its wall by foot, or bike, is a great way to become acquainted with Lucca and catch sight of the cobblestoned squares and vibrant city life below.
Hours can be idled away in Lucca meandering around the tree-lined alleys, visiting the upmarket boutiques and enjoying wining and dining under the boughs of a tree in a shaded restaurant terrace. Though, as enjoyable as shopping and eating and drinking out in a plush Italian city may be, in Lucca, you simply have to visit one or two of its ancient sites.
Cattedrale di San Martino
One such site is the Cattedrale di San Martino. This beautiful Romanesque cathedral dates to the 11th century. Its stunning façade was built in a Lucca-Pisan style. Inside the cathedral visitors can feast their eyes on many ancient treasures, including a 15th century tomb and the Volto Santo (Holy Countenance).
Palazzo Pfanner
Another site to be marvelled at in Lucca is the Palazzo Pfanner, a magnificent 17th century palace. Augmenting the romantic grandeur of Lucca's Palazzo Pfanner is its baroque-style garden, where a lemon house, ornamental ponds and statues of Greek gods scattered amidst the lemon trees create a truly captivating garden setting.
When you visit the Palazzo Pfanner, it's not difficult to understand why the palace was the setting for the 1996 film 'Portrait of a Lady', starring Nicole Kidman and John Malkovich.
Whether you visit the top tourist sites, explore the captivating streets and squares, or encircle its imposing city walls on bicycle, Lucca is a fabulously romantic, chic and easy-to-navigate city. The only problem you might encounter is not wanting to leave!