18 May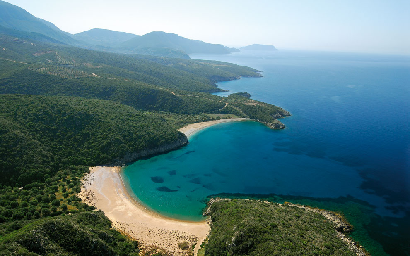 When "Captain" Vassillis Constantakopolous looked long and hard at the beautiful coastline in the south western area of the Peloponnese, he vowed to put his money down on the table and turn the place into a 'must see' holiday.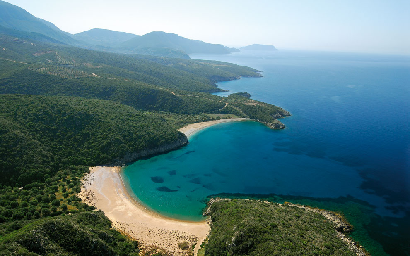 "Captain" Vassillis Constantakopolous was one of Greece's most prominent shipowners and luxury hotel developers who passed away in 2001. The "Captain" has been accredited with establishing Peloponnese's popular Costa Navarino – A subtle, high-end resort, which is at harmony with the surrounding nature.
In fact, Constantakopolous stipulated that 90% of the surrounding nature must remain untouched and it has to be said that the buildings on the Costa Navarino have been built true to the Captain's orders and blend in beautifully with the rugged countryside, which down the years has consisted mainly of olive groves.
As 6,500 olive trees were planted here, Constantakopolous instructed for the area to have its own brand of olive oil.
Cookery lovers will feel at home in this beautiful spot of Peloponnese as many cooking courses on offer, where you can pick most of the produce yourself and learn about the benefits of the Mediterranean diet.
Other highlights include the nearby Voidokillia Beach, which is almost an impeccable circular shape with only a tiny inlet preventing it from being a perfect circle. In fact so spectacular, pristine and photogenic is Voidokillia Beach that it was voted the world's number one beach by the New York Times.
Golf is the primary activity on Costa Navarino, which is home to several golf courses. The Dunes golf course was designed by the world famous German golfer, Bernard Langer.
Considering the reputation of Peloponnese as being the 'Garden of Greece, it is difficult to understand why any developments for the Greek national tourism industry have taken so long to come to fruition in the region. Tourism will undoubtedly play a major part in the revival of the Greek economy and, as we have seen with the development of the Costa Navarino, tourist complexes and Mother Nature can go hand in hand.
In the sixties and seventies some hideous concrete monstrosities went up at European resorts and are likely to be regretted now, especially with a new worldly appreciation of all things environmentally friendly.
"Captain" Vassillis Constantakopolous did the right thing – Opening up a beautiful part of the world to the tourist trail without threatening its natural beauty.