15 Sep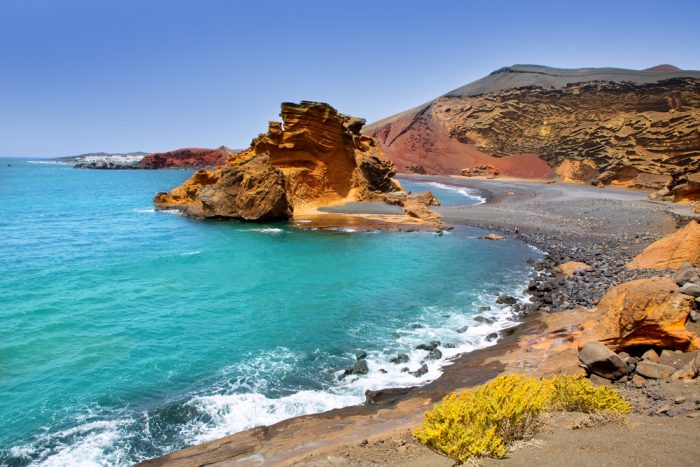 Lanzarote has many hidden natural treasures for discerning travellers to explore, and none more so than the half-submerged volcano, known as El Golfo. Over the centuries the volcano has been slowly eroded by the sea, leaving a magnificent wall of a crater adorned in tones of autumnal oranges and reds.
A stunning emerald-coloured lagoon lies at the foot of the crater wall. Laden with volcanic minerals and algae, the acidic green waters of 'Lago Verde' are stunningly unique. Black volcanic pebbles surround this moon-shaped lagoon, which is a true marvel to visit.
Sitting behind El Golfo and Lago Verde is a backdrop of striking weathered cliff faces, where strange formations are gouged into the rock, crafted from years of erosion from the sea.
This spectacular wild landscape has long-attracted artists and filmmakers to its shores. One famous scene filmed at El Golfo was of Raquel Welch draped in an animal skin bikini in 'One Million Years B.C.'
This remarkable feat of Mother Nature is a short walk from the traditional fishing village of El Golfo, renowned for its large number of seafood restaurants. Fish and shellfish enthusiasts are certainly in for a treat as the restaurants here offer a hugely diverse range of seafood, all of which is served deliciously fresh.
These coastal restaurants boast incredible seascape vistas of the Atlantic waves crashing off the rocks and sunsets worthy of being photographed.
Narrow streets wind round pretty whitewashed houses and lead down to the water's edge, where fishing boats are moored on the black sand in this atmospheric little town.
El Golfo and Lago Verde are located on Lanzarote's south-western coastline. If you're looking to discover the natural delights this incredible island is home to, a trip to El Golfo and the breath-taking Lago Verde is highly recommended.