26 May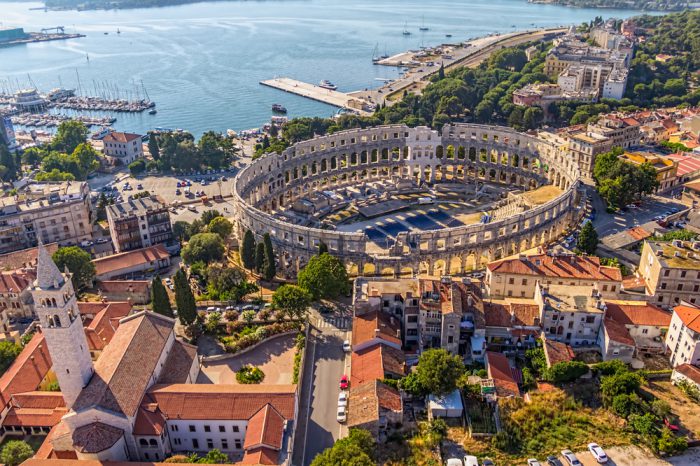 The Arena of Pula, in Croatia's province of Istria, overlooking the harbour to the northeast of the old town, is a spectacular reminder of the past where gladiators fought to the death. It does not take much imagination to picture sitting in one of the rows and envisage the roar of a blood thirsty crowd. The amphitheatre could hold 20,000 people but now it stands silent, and if you go out of season you may well be the only person standing in this vast space.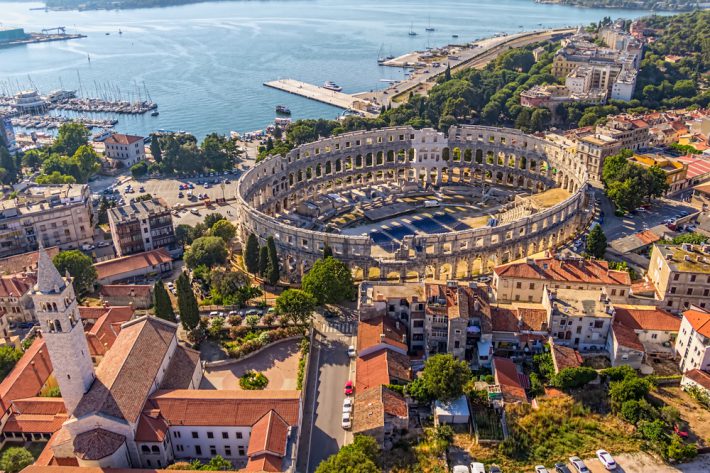 The amphitheatre was built in the reign of the Emperor Vespasian. It was made from local limestone slotted together by skilled craftsmen. Even after the Roman Empire vanished, the arena found favour in the Middle Ages, when it was used as a jousting arena for knights. The local villagers would also hold fairs, which attracted people from all over the region, hoping to sell their wares.
Even today the ancient amphitheatre still has a function to play other than being a tourist hot spot. Summer performances and music concerts, film festivals and even equestrian events take place under its impressive presence.
Today, some 5,000 people may well dance the night away under strobe lighting. Tourists are encouraged to attend the weekly Spectavia Antiqva during the summer months, in which enthusiastic local actors dress up and recreate a gladiatorial spectacle. There are also workshops involving Roman clothing and hairstyles. You can even try your hand at Roman cooking. The more gregarious can dress up in suitable garments and have their picture taken with the impressive arena behind them.
The underground gravel floored chambers once frequented by gladiators have a small but interesting museum, featuring viticulture of the area during Roman times, including mills, presses and containers for storing the local olive oil.
Istria has much to offer those seeking a different kind of holiday. It is actually shared by three countries: Croatia, Slovenia, and Italy, and seems to have been ruled by half of Europe at some time or other in its history. Subsequently, Istria offers a wealth of incredible historical sites and none more so than the Arena of Pula.