Discovering the vast and varied lands of the Parco Nazionale d'Abruzzo
Parco Nazionale d'Abruzzo is a huge national park in Italy that covers almost 192 square miles. Whilst most of the park is located in the Abruzzo region, it includes land belonging to Lazio and Molise. This stunning park of intense natural beauty and biodiversity has gained a justifiable reputation as being a role model for nature conservation. The park has managed to safeguard its environment, partly by working closely with the towns and villages it encompasses.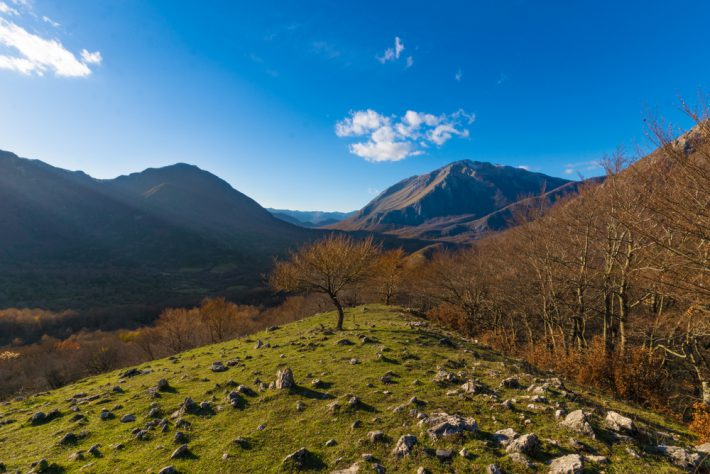 Many of the traditional settlements found in Parco Nazionale d'Abruzzo have benefitted by being part of the park's structure and have consequently remained relatively un-modernised.
However, in the 1950s, a building boom in the region saw 12,000 trees cut down in the park, with the area suffering greatly from the urbanisation. Though the national park managed to bounce back and has since gone on to witness extension. Fortunately, Parco Nazionale d'Abruzzo is now well controlled by sympathetic management.
Being a haven for biodiversity and wildlife, the park has a huge responsibility in the preservation of certain species, in particular the Marsican Brown Bear, the Italian Wolf, as well as the local breed of Chamois. Sadly, the bear population has decreased in recent years despite the park's best efforts, whilst the wolf population has grown.
Other animals this area of natural splendour is home to include deer, boar, polecats, badgers, otters and two species of marten. It has numerous species of birds, including falcons, hawks, buzzards, kestrels, owls and some six breeding couples of Golden Eagles that can be seen soaring high overhead. Naturally, the Parco Nazionale d'Abruzzo is an ideal place for bird watching.
A sea of flourishing beech trees carpet this stunning area of Italy. There are also mountains within the park, the highest being Petroso, which boasts a lofty altitude of 2,249 metres.
There are several information centres dotted around the park, most in the local villages, some of which have small museums and botanical gardens.
If you enjoy walking, you'll be in your element in Parco Nazionale d'Abruzzo. You can choose from 150 hiking trails, covering over 750 kilometres. Each trail is clearly identified on local maps. There are also facilities for horse riding, cycling and even canoeing on the local rivers. During the winter months, Alpine and cross country skiing is available in this incredibly diverse and scenic Italian national park.