02 Aug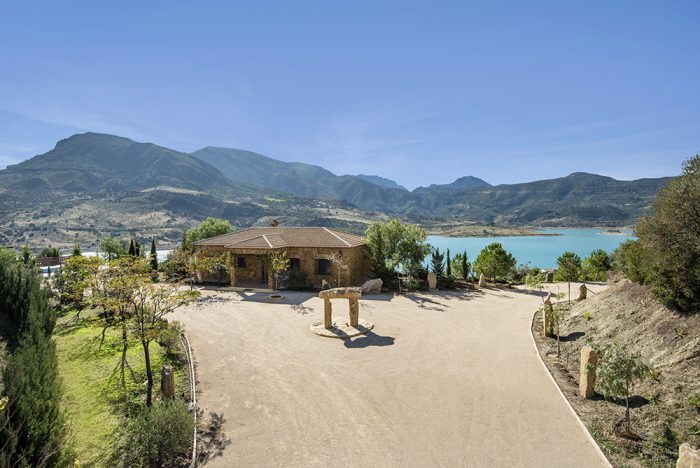 The beautiful whitewashed village of El Gastor, close to the more famous town of Ronda in Andalusia, is a true gem to visit. If you are thinking about staying near this fabulous hillside village and discovering authentic Spain, then why not stay at El Dolmen de Alaju?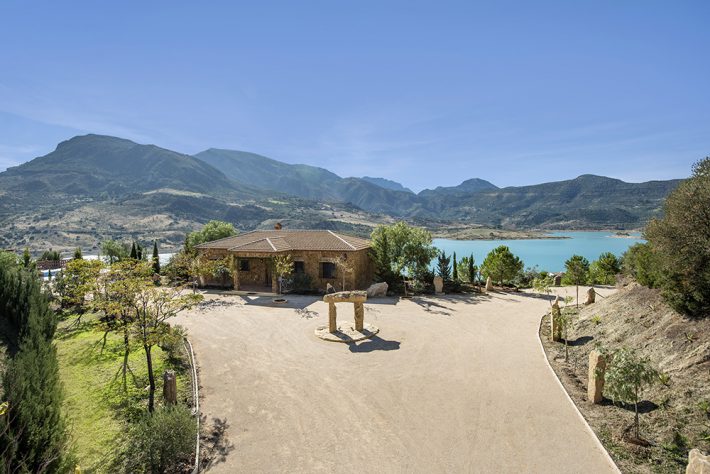 This three-bedroom, two-bathroom villa can sleep up to six guests. Located at an elevated position overlooking a beautiful, azure inland lake that's surrounded by the jagged outline of mountains, El Dolmen de Alaju enjoys the most stunning of views.
This quirky rural accommodation gets its name from the impressive reproduction of the megalithic structure found as you enter the property's gates. El Dolmen de Alaju's extensive grounds are truly impressive, with imposing stone figure statues taking centre stage. Though rivalling these tasteful statues for supremacy is undoubtedly the villa's private pool, which overlooks the incredible natural vista of the Embalse de Zahara lake twinkling below, against a backdrop of the striking mountains of El Algarin and Las Grajas.
An outdoor terrace with an inbuilt barbecue provides the perfect spot to enjoy eating and drinking in the pollution-free Andalusian air whilst soaking up the magnificent views.
We couldn't blame you for being mesmerised by the external splendour of El Dolmen de Alaju but we have to admit the villa's interior is equally inviting!
This thoughtfully-designed property is spacious, airy and furnished to a fabulously high standard and with all the mod-cons you'll need for a comfortable break in the heart of the Andalusian countryside, including Wi-Fi and air-conditioning.
This region of Spain is well-known for its 'pueblos blancos' – 'whitewashed villages' – and none more so than the fabulous El Gastor and Ronda.
El Gastor is just a ten-minute drive from El Dolmen de Alaju. This enchanting hillside village shares similar fantastic views as El Dolmen de Alaju. You'll find everything, from friendly locals, tasty tapas, a lively market and some great shops in the quaint cobbled streets of El Gastor, which is just 20 km from the Sierra de la Grazalema National Park and its breath-taking beauty.
A 30-minute drive will bring you to the more well-known town of Ronda, which is widely recognised as being one of the most beautiful and charming towns of the Iberian Peninsula.
For more information on El Dolmen de Alaju, to view photos and to book to stay there, visit the property's official webpage.