02 Mar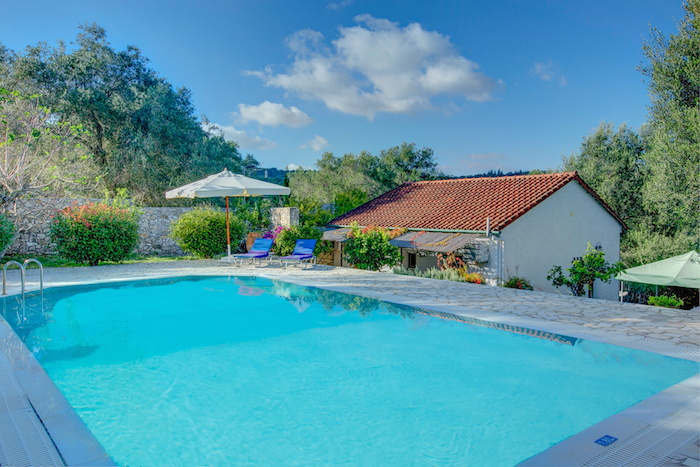 Eleana is a two bedroom villa close to the Paxos capital of Gaios. This pretty country cottage has everything a party of three will need to have a holiday to remember on this idyllic Greek island, and more besides.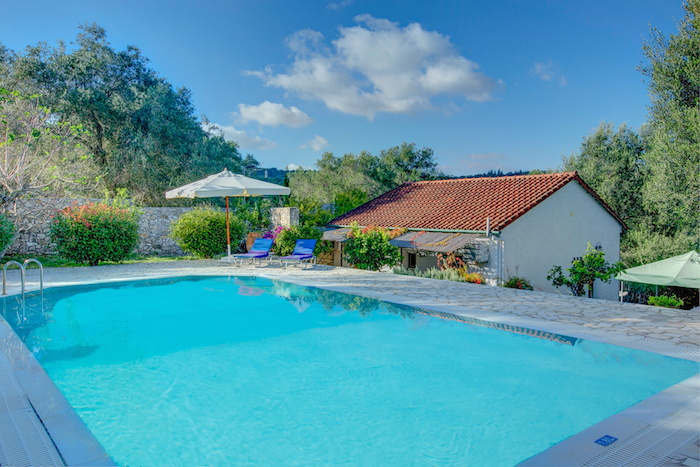 Being sheathed by blossoming olive groves and dense forests that stretch down towards the sea, villa Eleana is a true hidden retreat designed for those yearning peace and tranquility in the most spectacular of surroundings.
Gnarled and characterful olive trees provide shade and privacy at Eleana. When you enter the property's grounds you'll step into an oasis of natural rapture. This secluded county cottage is geared towards making the most of the great Paxos weather. An ample-sized private pool lies above the house. Terraces and lawns tier sporadically down towards Eleana, augmenting the pleasant natural 'chaos' of the landscape.
Eating and drinking in the fresh Grecian air is encouraged at Eleana in the house's fabulous Marque-style pergola where a table and chairs sit conveniently next to a barbecue, all parked on pretty stone slabs.
With ivy crawling around the stone façade and pretty green shutters augmenting the traditional and bucolic style of the house, Eleana could be put onto a painter's canvass with ease.
As pretty, quaint and idyllic as Eleana's exterior is, its interior is as special.
A spacious open-plan living and dining room are decorated to a high standard with elegant furniture and fittings crafting an air of taste and sophistication. A high wooden ceiling faces a tiled floor, generating a cool and pleasant style, which is particularly welcoming in the heat of the summer.
The kitchen is equally as stylish and practical, grasping a modern edge which is ideal to rustle up some great home-cooked meals. The bedrooms continue the elegant, tasteful vibe the whole house exudes and are definitely synonymous with enabling guests to get a good night's sleep!
After a refreshing night's sleep there is plenty for guests to do in the immediate vicinity of Eleana. Stroll through the thick forests and olive groves and you may stumble across the popular tavernas of Bohemmias and Biris, which are only 500 metres from the house.
Lazy days spent on the beach are awaiting at Eleana as there are a number of great beaches on your doorstep. Just a 20 minute walk down a pleasant goat track and you'll come across Yana Beach on the periphery of Gaios.
Taking a boat trip is perhaps the best way to become acquainted with the many secluded coves that bless Paxos's dramatic coastline.
For more information and to view photographs of Eleana visit: https://www.vintagetravel.co.uk/villa_details.cfm?p_id=2332