30 May
Lixouri town on the Greek island of Kefalonia has a reputation as being one of the friendliest places on the island, famous for the charm of the locals and the entertainment they provide.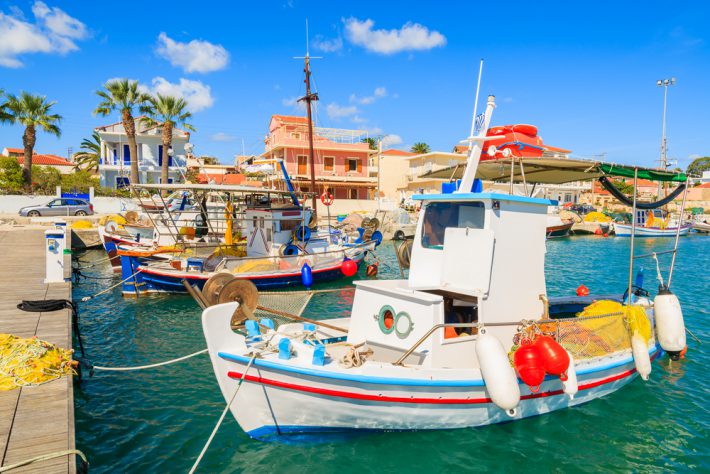 Many parts of Kefalonia suffered terribly in the great earthquake of 1953, but from this disaster has risen some outstanding resorts that have kept account of traditional architecture, yet provide great holiday experiences.
Lixouri is on the peninsular of Paliki to the west, it is a peaceful environment, one in which you can have a relaxing holiday, yet with all the conveniences of great bars, restaurants and shops. You'll also see a lot of people admiring the statues placed around the town, each depicting famous figures from the island's history.
Find a comfortable seat down at the picturesque port and enjoy coffee and pastry. In fact, food is something you will just have to investigate when spending time in Lixouri. Delicious local recipes that have been handed down for generations are well worth a try, such as the tasty meat pies, the 'lagoto' dish that is cooked with rabbit or 'sofigado' with goat, cod fish and garlic sauce, 'Trytsigaridia' (greens cooked with tomato sauce), and wash it all down with Robola, the local dry wine of Kefalonia.
Take the ferry between Lixouri and Argostoli, stroll around, then dinner by the waterfront and take the night ferry back under a bright moon as the lights of the town twinkle on the water.
Hiring a car on Kefalonia allows you to see some of the fantastic beaches not far away, many of them almost deserted and all very beautiful. Head for the sandy beaches at Xi, Lepedes, Petani and Mega Lakkos, all of which are great for swimming
Visit the cave lake of Melissani, which is one of the most impressive sights in Kefalonia. A unique vision of nature that is part lake, part roofed cave, Melissani was discovered in 1951, and during the day when the sun is high, shafts of light strike the blue waters and shine.
Ainos Mountain towers over the area, and is the only National park on a Greek island. You may see small wild horses, and the unique local fir trees that appear almost black. There are various hiking trails of different levels of difficulty, if you are looking for a more energetic pastime during your holiday on the stunning island of Kefalonia.