28 Feb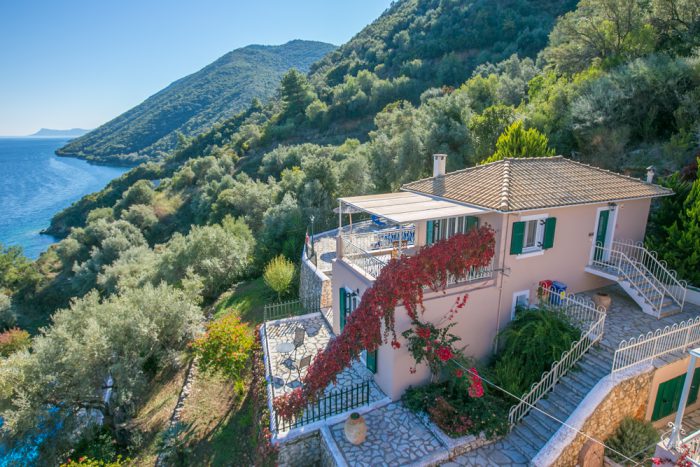 Renowned for its traditional, white-washed villages, turquoise waters met by sheer cliffs and an emerald landscape of rolling mountains carpeted in pine trees, the island of Lefkada is a true delight to visit. Vintage Travel is thrilled to have a programme of villas located on this beautiful Greek island.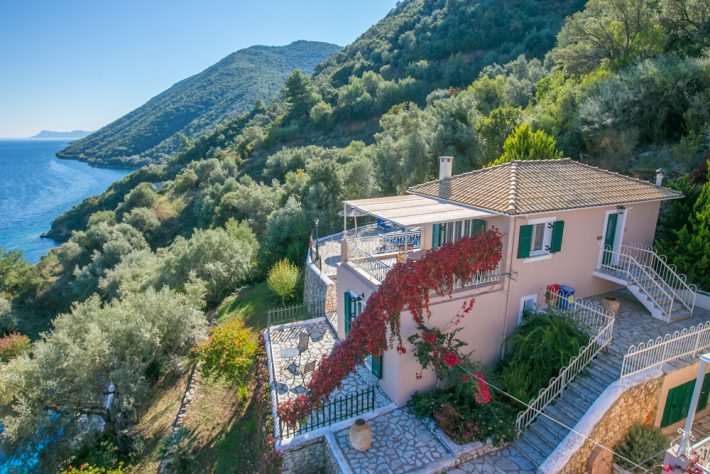 One of our Lefkada villas goes by the name of Akrogiali. Akrogiali is a two-bedroom, two-bathroom villa, which looks out to the most stunning of seascape views. The villa clings onto a hillside above a pretty bay. The rose-hued façade of the villa contrasts tastefully with the emerald and cobalt landscape that surrounds it, an uplifting combination of sprawling olive and pine trees and the incredibly blue waters of Desmini Bay below, facing an equally cobalt and cloudless sky.
This beautifully-positioned and well-presented villa really makes the most of its unrivalled views. French doors lead from the interior onto a dinning terrace where guests can wine, dine or simply relax and gaze at the remarkable rural vista that stretches from Akrogiali in every direction.
The double bedroom on the lower floor opens out to a spacious terrace where, again, guests can soak up the tremendous vista and of course the rays of the sun soaring high overhead. The twin bedroom provides easy access to the pool area via the property's side terrace.
The homely ambience of the villa projects traditional Greek charm, with creamy tiles providing a cool touch underfoot, and traditional wooden vaulted ceilings bringing rustic character to this hillside country home.
One focal point of this delightful rose-coloured villa is its private pool, which is backed by a hillside carpeted in fragrant-smelling pine trees. After a dip in the refreshing water, guests can spread out on the poolside terrace while gazing down on the leisurely actions of the boats coming in and out of the bay down below.
For guests who muster up the energy to step foot outside Akrogiali's hypnotic grounds, they won't be disappointed, as an old pathway will guide them to the water's edge where they can enjoy the revitalising water of the Ionian Sea.
Just 750m from the villa is the waterside tavernas at Desimi, serving authentic Greek cuisine. The livelier town of Vlicho is just 2.8km from the property on foot, where guests can pick up essential holiday amenities and dine in one of the top-quality restaurants this busy little town is home to.
You can view photos, check availability and book to stay at the beautiful villa of Akrogiali on the property's webpage.