11 Jan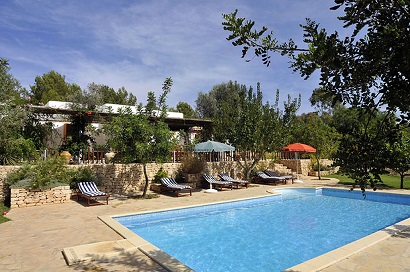 In the heart of Ibiza close to the bohemian town of Saint Gertrudis you'll find Villa Escandell, set in beautiful gardens where green is the visible colour of all four points of the compass. A house surrounded by flourishing plants and trees, Escandell is a true natural escape from the noise and busy goings on of the modern world – A place to relax in tranquillity.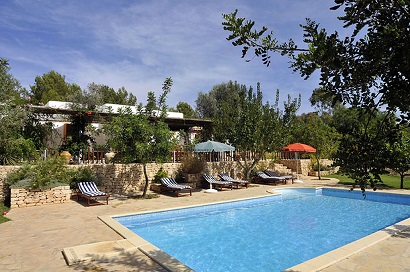 The nearby Saint Gertrudis is a free-spirited delight with many great bars, boutiques and restaurants. Artists have been coming to Saint Gertrudis for many years and much of their work is on display in the bars here. The pedestrian-friendly plaza is the ideal place to spend and evening,eating and drinking outside, under the stars and moon of a balmy Ibizian night.
The owner of this private family villa in Ibiza is clearly a keen gardener and the grounds are lovingly laid out with beautiful plants, trees and shrubs. There are many interesting nooks and crannies in the garden where one can read, sunbath and relax without any interruptions.
The interior of the house is equally as sublime, tastefully furnished with an extremely stylish wood burning fireplace being the focal point of this exquisite Ibizan villa. The open plan lounge/TV room and dining room give a feeling of space and light, as does the stylish kitchen which is comprehensively equipped and designed to enable visiting cooks get become acquainted with the local cuisine with ease.
Two double bedrooms, a twin bedroom and a single room spaciously sleep seven people, all of which are impeccably furnished, airy and bright. The traditional tiled floors provide coolness under foot in the intense summer heat and complements the Mediterranean style of the whole house.
Only the unique wood burner stands out as somewhat offbeat as the chimney tube meanders its way up the wall from a triangular burning chamber. Although if you visit this house in the summer months it's highly unlikely that the wood burner will see any action. In fact you will probably eat al fresco every night on Escandell's second dining table on the stunning covered terrace where a comprehensive barbecue area will make outdoor wining and dining an effortless and memorable feature of your Ibizan holiday.
With a large swimming pool with Roman steps and a sunbathing terrace lay adjacent, surrounded by a beautiful garden interspersed with trees and shrubs,  it's  safe to say a lot of time will be spent outdoors if you stay at Escandell.  If you are feeling energetic you can even enjoy  a game of table tennis under a purposely shaded area.
Put simply, Escandell's location is fantastic. The delightful nearby village is bohemian, arty and relaxed and if you want a day on the beach, you are spoilt for choice.
For more information on Escandell and availability visit: www.vintagetravel.co.uk