20 Apr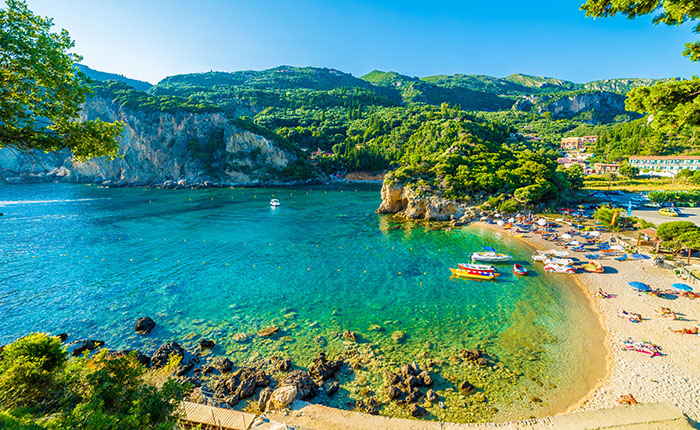 Corfu is blessed with paradisiacal beaches, invigorating scenery and beguiling villages and towns. One such captivating village is Paleokastritsa, settled on the island's north-west coast.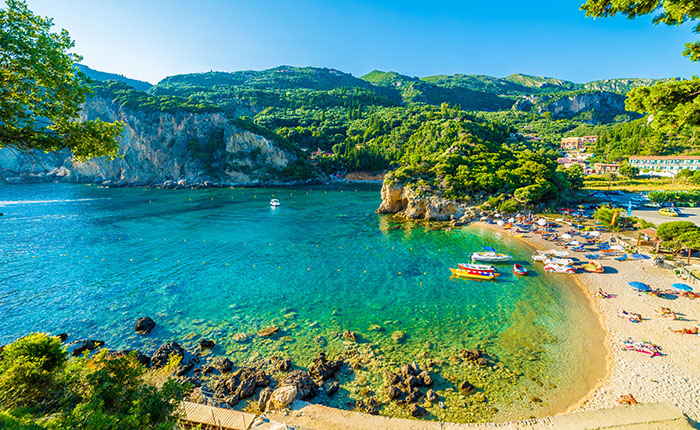 This pretty and lively village is surrounded by fertile woodland and olive groves, Corfu countryside at its most idyllic. The town is overlooked by an old monastery, that lies at the pinnacle of a hill and casts a watchful eye on Paleokastritsa and its inhabitants.
When it comes to beaches, at Paleokastritsa you really have a pick of the crop! A series of beautiful small beaches are scattered across the clover-shaped bay. The principle beach is known as Agios Spyridon, a stunning coastal spot where white sand is gently caressed by the sea.
A 200-metre walk from the village will bring you to another great beach, Agios Petros. This shingle beach enjoys relative seclusion. Though don't be fooled by its peacefulness, as a number of white-knuckle water sports take place from Agios Petros' wooden jetty, including water-skiing, canoeing and even paragliding!
Finding somewhere to shade from the sun and tuck into some delicious Greek cuisine, washed down with an ice-cold beer or glass of local wine, is not difficult at Paleokastritsa, as there's plenty of tavernas and bars dotted across the seafront and around the village itself.
Once you're suitably refreshed, you may want to take a 20-minute drive to Angelokastro, a 13th-century Byzantine fortress perched on a hilltop above Paleokastritsa. Some stone steps lead from the carpark to the top of the fortress where you can meander round the ruins of the cemetery and enjoy breath-taking views of Corfu's stunning north-western coastline below.
Yes, it's safe to safe, if you yearn for a slice of unspoilt, authentic and magical Corfu action, the traditional yet lively village of Paleokastritsa is a place to find it.