04 Jan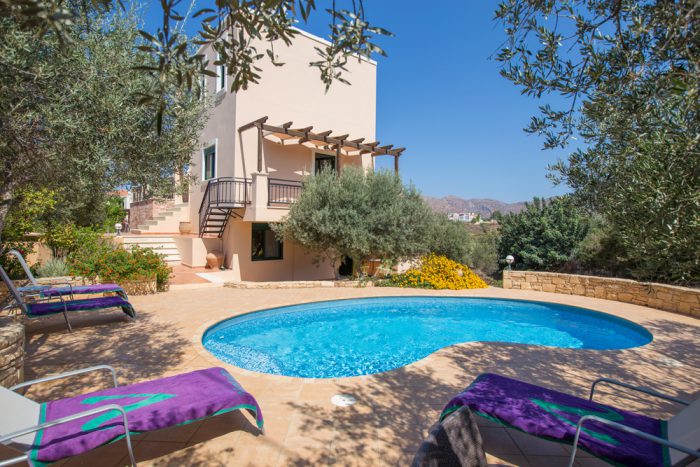 The sun-drenched and laid back island of Crete has long been a popular tourist destination for those seeking a relaxing and culturally-uplifting holiday. If you are thinking about visiting Crete and are wanting high-quality, self-catering accommodation, why not stay at the beautiful villa known as No1 Old Vineyard?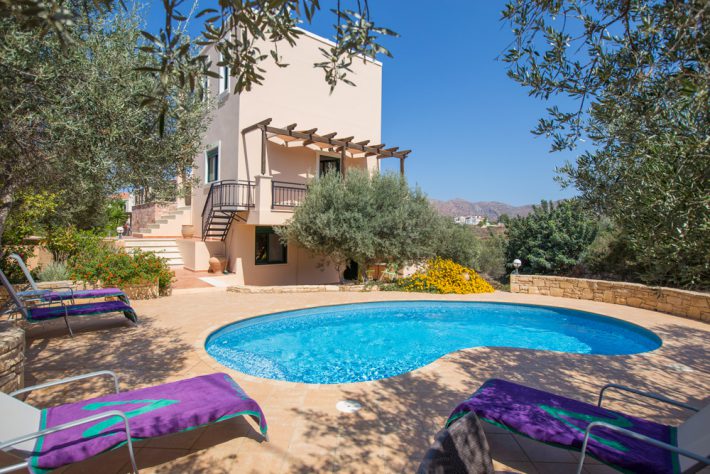 With three bedrooms and three bathrooms, the specious confines of the No1 Old Vineyard can sleep up to six guests in comfort. This stylish villa is close to the village of Horafakia. With four tavernas and two mini-markets on your doorstep, you won't have to travel far to enjoy authentic Cretan cuisine and to pick up some essential holiday groceries.
This spacious country home has been decorated to an exceptionally high standard. Style oozes on each of No1 Old Vineyard's three floors. The pretty light pink pastel tone of the villa's façade is mimicked on the inside of the house, which is brought to life by soft pastel colours, quirky abstract artwork and inviting furnishings.
No1 Old Vineyard has Wi-Fi, air-conditioning and everything you'll need in the kitchen, for a real home-from-home holiday experience. The villa's open-plan living/dining room and kitchen, with a door to the outside terrace enables guests to spread out and relax in comfort. With both built-in and freestanding barbecues, the exterior's terrace is geared up for convenient dining under the warm Cretan sky.
Additional outdoor terraces provide the perfect spots to sit, soak up the sun's rays and take in the fabulous views of the natural environment that surrounds the No1 Old Vineyard and the twinkling sea in the distance.
Meander around the villa's grounds, home to an interesting selection of indigenous shrubs and a herb garden. Or splash about it the villa's private pool, which is framed by a spacious sun terrace lined with mature olive trees, providing some much-needed shade.
Just a 15-minute walk from the No1 Old Vineyard is the picturesque cove known as Tersanas, where you can also enjoy a drink or a meal in the popular beachside taverna.
Many a fabulous beach can be found on this stretch of Cretan coastline, including the incredible beach of Stravas, famed for its role in the 1964 film, Zorba the Greek.
Just 6.3 kilometres from No1 Old Vineyard is the town of Kounoupidiana, which has a comprehensive selection of shops, bars and tavernas. Just a thirty-minute drive from
No1 Old Vineyard is the bustling Venetian harbour town of Chania, which is the second largest town on Crete.
For more information and to book to stay at the fabulous villa of No1 Old Vineyard, visit the property's webpage here.