14 Feb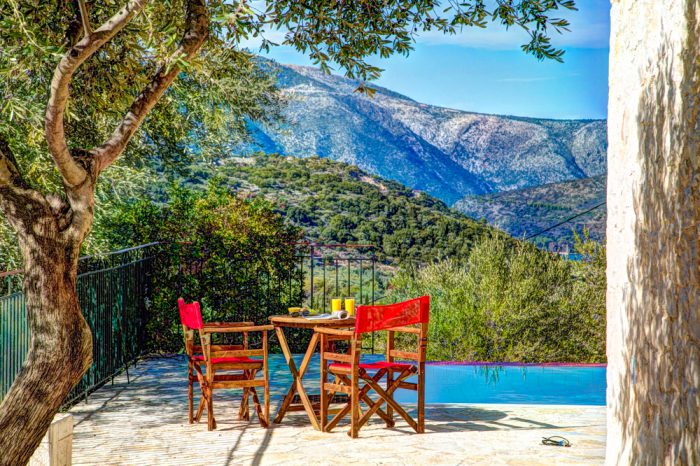 Another fabulous villa we are delighted to have added to our Ithaca portfolio goes by the name of Eos, after the Goddess of Dawn. This pretty stone-cladded villa boasts an attractive elevated position down a quiet country lane, just 1.5km from Ithaca's capital of Vathy.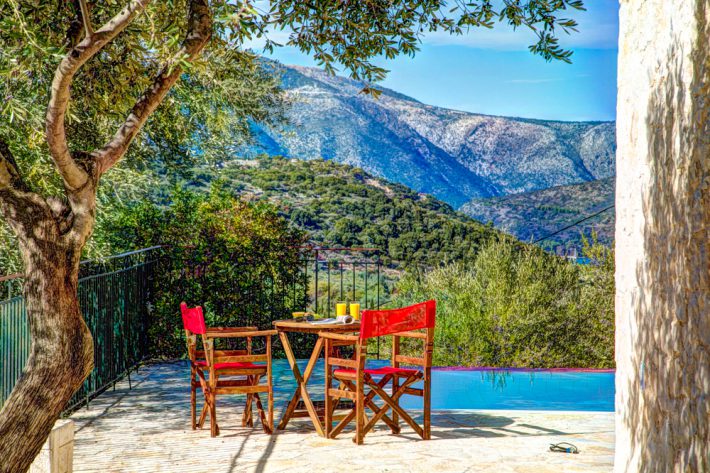 With two bedrooms and two bathrooms, this spacious country home can sleep up to four guests, making it a great choice for families or couples looking to enjoy a peaceful, authentic holiday, within easy distance to a vibrant town and beautiful beaches.
Eos is as inviting and beguiling on the inside as it is on the outside. Exposed stone walls and cool tiles underfoot, tastefully contrast with a more contemporary finish, infused in soft pastel shades. French doors lead from the house onto the pool terrace, enticing guests to step outside and take a dip surrounded by a verdant landscape of rolling hills and the Ionian Sea in the distance.
A shaded, slightly raised area for eating with a built-in barbecue encourages guests to dine in the great outdoors and make the most of the tranquil country spot on the island of Ithaca.
With two sister properties – Naias and Nereus – located above and below Eos, this small cluster of country villas could be perfect for larger parties comprising of separate families looking to holiday together while retaining some privacy in their own, self-contained grounds.
Just 2.5km from Eos is the town of Vathy, which has been the island's capital since the 16th century. This bustling little port town is a mesmerising place to explore to discover unspoilt Greece and the laidback lifestyle this serene island clings on to. Guests can also enjoy tucking into authentic Greek cuisine as Vathy is home to a number of quality tavernas.
Adjoining Vathy is a pretty little valley, bursting with vineyards, citrus trees, olives and farmland. Yes, it's safe to say if you're looking for a peaceful holiday to experience another culture that's off the beaten track and a million miles from mass tourism, staying in the charming villa of Eos on Ithaca is unlikely to disappoint!
For more information, to view photos and check availability, visit Eos' webpage here.