Experience the stunning romantic retreat of Doukas, in the spectacular Peloponnese
Vintage Travel is delighted to have added a new property to our portfolio of self-catering villas with private pools in Peloponnese, the fabulous Doukas. This one bedroom, two-bathroom villa is located just a five-minute drive from the coastal village of Stoupa, on the west coast of the Mani peninsula.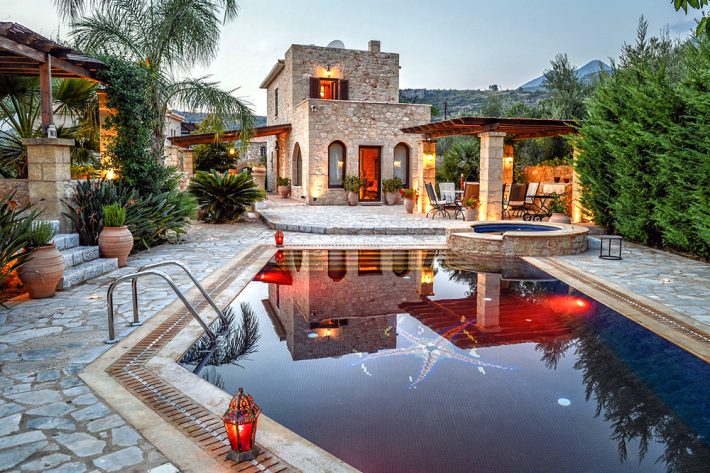 This stunning stone-façade villa provides a tranquil haven for those yearning for a romantic break in the heart of authentic Greece. The views from Doukas can be described as stunning, with the azure sea on one side and majestic mountains on the other.
Doukas' interior is designed to blend seamlessly with the bucolic splendour that surrounds the villa. Wood and natural stone take centre stage in the house, with exposed stonework and a grand fireplace, enhancing the character of property steeped in traditional splendour and charm. Antique prints, glass chandeliers, gilt-edged mirrors, carved wood lintels, and other quirky features, set aside a plethora of vibrant fabrics, of bold colours and vivid designs, craft an inviting interior that is a true pleasure to amongst.
The unique traditional character of Doukas is given a contemporary edge with a range of modern fixtures and appliances, including a modern fitted kitchen that is stylish, spacious and practical, Wi-Fi, and air conditioning.
Externally, Doukas is equally as inviting and exciting. A spacious covered terrace, bordered by the shade of leafy palm trees, provide the perfect space for guests to enjoy a romantic meal in the warm Greek air, whilst looking out towards the sparkling sea.
Doukas' raised pergola, providing ultra-comfy seating on plump cushions, is a tranquil spot to enjoy the serene, picturesque environment that surround this romantic retreat.
One of the most taxing decisions guests will have to make during their stay at Doukas is whether to bathe under the sun in the villa's private pool or enjoy relaxing in the circular spa that's next to the pool.
If you and your partner can manage to drag yourselves away from this oasis of romance, the seaside village of Stoupa is just five minutes from the house and has plenty going on, despite its small size.
Take your pick from a handful of seafront tavernas and cafes, or get to grips with snorkelling at the snorkelling centre on the beach. Small motorboats and pedaloes are also available to hire during peak season.
Explore this beautiful stretch of Peloponnese coastline by meandering along an interesting coastal path, which leads from Stoupa to the traditional fishing village of Agios Nicolaos, which is four kilometres from Stoupa.
The whole of the Mani peninsula is covered in a verdant blanket of olive trees, gently lapped by the azure water of the Ionian Sea.
For more information on this rather special romantic retreat in an incredibly special part of Greece, visit Doukas webpage, where you can view photos and make a booking to stay at the fabulous villa of Doukas.